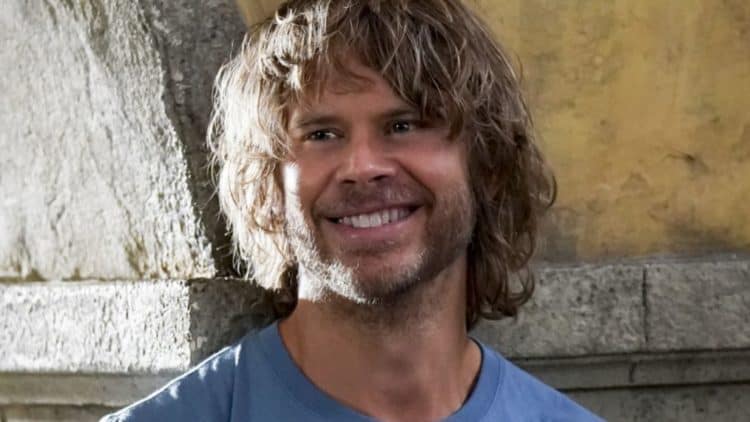 You know him from this role as NCIS: Los Angeles' Detective Marty Deeks, but what else do you know about the talented Eric Christian Olsen? He's been around for more than just a few years, but most people ignore the fact that he is a real person with a real life outside of fighting crime, taking down criminals, and making women swoon. That leaves us here, with 10 things we are willing to bet you did not know about the talented actor:
1. He's a Gemini
You needn't follow astrology to know that the sign is one that symbolizes twins. He's not a twin, but he was born right in the middle of the sign's dates. Born on May 31, 1977, Eric Christian Olsen is 42-years-old, and doesn't look a day over 35. He's aging well, and fans are a little sad to know he's not a twin because his female fans love him.
2. His Older Brother is His Stunt Double
The good news about this particular actor, however, is that while he may not be a twin, he does have an older brother. Calm down, though, because his older brother, David, is married to a fellow actress. Aside from that, his older brother is also the more dangerous of the two considering he stands in as his brother's stunt double in movies and on television. Their parents must love that while one son is safe in dangerous scenes, it's the other one keeping him that way.
3. He's Not an LA Native
He might reside there now, but he's a man of midwestern origins. Specifically, his family is of Norwegian descent, but he was born in Oregon. He was then relocated with his family to Iowa, where he spent most of his school age life. As an adult, he's still in love with life outside the big city. He and his family spend ample time in their Jackson, Wyoming vacation home.
4. Success Runs in the Family
Not only is he a successful actor, but his brother is a successful stunt double. We think that they learned the value of hard work and dedication from their parents. Their mother is a non-denominational Chaplain. She worked most of their childhood in her chosen career. Their father is a college professor. His specialty is English, but he also spent a great deal of time coaching a college track team, and he also coached the cross country team. It's clear that this is a family who doesn't shy away from taking on their dreams, working hard, and making success and everyday situation.
5. He's Worked A Lot
You might not recognize him from anything other than what you're watching right now, but he's been all over the place. In addition to his primetime role on NCIS, he's also acted in movies and other television shows. He's been part of shows such as "ER," "Tru Calling," "Community," "Brothers & Sisters," and so many more. He's also one of the lead actors in the hit movie, "Dumb and Dumber: When Harry Met Lloyd," as well as many other movies.
6. He's Not Just an Actor
Did you know that your favorite detective also has a love of all things behind the scenes? He is not just a man who likes to be in front of the camera. He also likes to spend his time behind it, working as an executive producer. He even has his own production company called "Cloud Nine Productions," and it's a lot more than just a passion project for the multi-faceted talent.
7. He's Been A Reality Television Star
This is a fun fac you did not know, for certain. Once upon a time, in 2015 to be precise, Olsen was featured in an episode of "House Hunters" alongside his wife. The couple were shopping for their vacation home in Jackson, Wyoming with their two small children. Did you see it?
8. Sorry Ladies, He's A Married Man
If you were hoping that our mention of a wife from the last slide meant nothing with the divorce rate in Hollywood, you'd be wrong. He's a happily married man. His wife is Sarah Wright. They dated and got engaged in 2011, got married in 2012, had their first child a little more than a year later in 2013, and they welcomed their second child in 2016. Their firstborn is a son, Wyatt. Their second is a girl, Esme.
9. He's Been Nominated for A Razzie for "Worst Screen Couple"
While he might not have an Oscar or even an Emmy to his name, he's been nominated for many awards. It's true he's never won any of those awards, but there are some that are just as good as others. He was nominated in 2000 for a Young Artist Award for his role in "Get Real" along with Jessee Eisenberg and Anne Hathaway for their ensemble cast. He was nominated again in 2003 for a Teen Choice Award for his role in "Dumb and Dumber," for Choice Movie Chemistry. He was also nominated for a Prism Award in 2014 for his role in his hit primetime show as Detective Marty. However, it was his nomination for the worst screen couple at the Razzie's that is our favorite. He didn't win, but we loved that movie, so we are all for it.
10. He's Fascinated by Other Cultures and Languages
Growing up, he was very interested in acting. It's obvious given his exceptional talent, but he was not just interested in the arts as a child. He was also interested in sports, and he pursued his love of sports throughout his childhood. However, it's his love of learning Japanese and Chinese that is most interesting to us. He spent his high school years actively pursuing his interest in both, which is just not something you see too much of. Both are interesting cultures, and both are rich with history, but we imagine learning Japanese and/or Chinese would be difficult considering the complexity of the language and their use of the alphabet. It makes us think he might have a very high IQ.