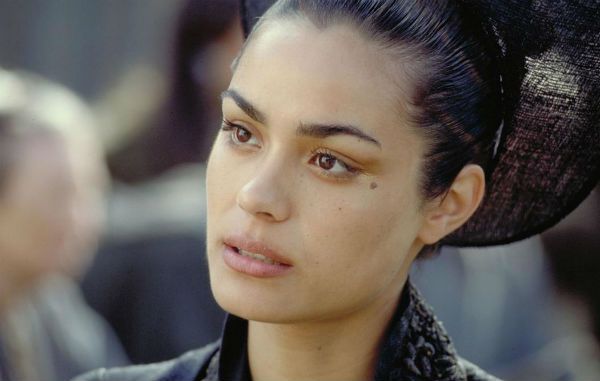 Shannyn Sossamon used to be kind of synonymous with Heath Ledger since the two starred together in a couple of movies and were seen to be a good pair. But eventually they went their own ways and as they were before meeting became their own individual people again. It could have something to do with the fact that on screen their chemistry seemed to just work, especially since any other movie that Shannyn has done has been enough to show that she's still a promising actress but has also pointed out that without a stellar cast to back her up that she's a lone star trying to carry a movie on her own. Unfortunately she's not quite up to that task despite being a lot of fun to watch. She's good, she's believable, but her shoulders aren't strong enough. metaphorically-speaking, to really handle the weight of a production all by herself.
But she's still been seen to be every bit the professional. Here's a few things you might not have known about her.
10. She was a drummer in a band at one point.
The name of the band was Warpaint and she was the drummer for a while as she's heavily into music and loves just getting into the beat. That lasted for a while and then it seems that she focused more on her acting career.
9. She did a few commercials before appearing in A Knight's Tale.
It didn't take long for her to really step into it after showing up in a few commercials. Her role in A Knight's Tale was something that a lot of people haven't forgotten as she was one of the bright spots in the movie and one of the most pleasing frustrations to be seen.
8. She added the Y in her name in her adolescence.
There's not a lot of explanation on why she changed her name in this manner, but given that she did it in her adolescence it could have been that she thought it gave her a little more of an edge in being exotic or mysterious in some way. People do some odd things sometimes but this seems fairly harmless.
7. She was a DJ for a while.
Shannyn did a few things to make ends meet before she really got into acting and DJ-ing was just one of them. Depending on where you get the gig and who it's for you can end up making a good amount of money as a DJ, but it's not one of the most stable careers.
6. She was in The Order.
The Order didn't get a lot of great reviews largely because of the way the story was told and how the plot was rolled out. It featured Shannyn and Heath Ledger and wasn't a bad story. It just wasn't executed in a very useful way.
5. She was in One Missed Call.
This was a remake of a Japanese film that went with the same story line. Evidently once you get the call you hear the sounds or the words you'll speak right before you die. The film didn't get rave reviews but it was definitely creepy enough to not want to watch alone at night.
4. She was a regular on Sleepy Hollow.
Sleepy Hollow was the new take on the Ichabod Crane legend and featured a great many myths and legends that needed to be solved, of which his nemesis, the Headless Horseman, was just one of many. Anyone named Pandora however should be kept at arm's distance until you know what's she's all about. Seriously, if you need to brush up on your mythology then do so because Pandora was responsible, in legend, for some of the worst ills to ever befall humanity.
3. She hasn't been on the scene for a couple of years.
It seems as though she's bowed out of the spotlight for a while, perhaps on hiatus or just taking a break in order to catch her breath and spend more time with her family. More and more actors from her time period and close to it seem to be doing this same thing. Maybe it's time to recharge or maybe they're seeing what the next generation is going to do.
2. She started acting in 1995.
Shannyn has been around for a while and has racked up enough credits to be worth learning about if a person really gets interested enough. She's been in TV and in film and has managed to turn in some pretty good performances.
1. She was a model for a little while.
This was when she was a bit younger as at this point she's edging into her 40s. She could still be a model no doubt but it would likely be for a much different line than she modeled for back in the day.
She's still a very lovely woman that has enough talent to continue onward with her career, so hopefully she'll be seen again soon.
Tell us what's wrong with this post? How could we improve it? :)
Let us improve this post!