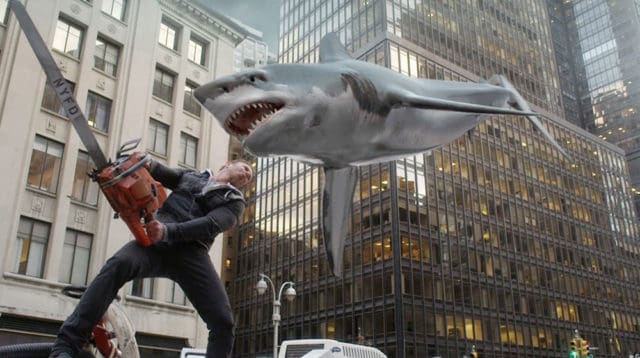 The outlandish movie series on Syfy has been entertaining fans for four years, and the fifth installment is scheduled for release on Sunday, August 6 at 8 pm ( a prime viewing time slot). When you consider the absolute ridiculousness of the movies, you may wonder why do people keep watching these movies in which Ian Ziering wielding a chain saw saves lives from killer sharks that drop from tornadoes on our major cities.
I know that there are ample reasons for why a Sharknado movie is fun to watch. Believe it or not actual research shows that the viewing audience has an above-average education. Viewers are interested in a broad variety of art and media that crosses the unexpected boundaries of culture. The events in Sharknado movies are definitely unexpected and unbelievable.
In simple terms, I suggest that these reasons contribute to the fun-factor of Sharknado movies:
1. Too Ridiculous to Be True
Everyone needs a good laugh. It is impossible to watch a Sharknado movie and not laugh. It is even more fun to watch the movie with family and friends and just enjoy the silliness. Take comfort in the fact that this could not happen. Escape reality for 80-90 minutes and just laugh.
2. Cameo Appearances
Every time a Sharknado movie is released there is a "buzz" in real life conversations and on Social Media about who may get eaten this time. The hosts of NBC's Today Show are regulars on the Sharknado series. They are also good promoters of the series. Conversations between co-workers and friends are about the predictions of whether Al Roker gets eaten while giving the weather report. Cameo appearances are sought after jobs by actors. They want to be part of a different genre.
3. Man vs. Shark
Let me begin by apologizing to shark enthusiasts and real scientists who appreciate and understand the importance of sharks in our eco-system, but there are us who are still terrified of sharks since watching Jaws. The shark is viewed as our enemy. We watch Sharknado to see if man or shark prevails. We definitely cheer with the demise of each shark.
4. Provides a Hero to Save the Day
If there is a villain, then there must be a hero. This is a theme that runs through literary works since Greek and Roman mythology. The Sharknado movies give us heroes to inspire hope for a better world without vicious weather and villainous sharks. During the series, we see the main character, Finn Sheperd, rebuild himself. He starts out as a famous ex-surfer whose life gets destroyed by fame. During the movies, he rebuilds his self-worth by saving others from sharks. He now has a new purpose in life and goes where he is needed.
5. "So Bad That They Are Good"
This is a familiar phrase. This attitude allows us enjoy a low budget movie and be entertained at the same time. They surely can not be taken seriously, and do not need to be analyzed. The props and special effects are so dated and cheap that they are laughable.
Why do fans keep returning each summer for the release of a new Sharknado movie? It is for pure enjoyment, absurdity, and just a quick reprieve from everyday life. Plus, you want to know what others are talking about.
Tell us what's wrong with this post? How could we improve it? :)
Let us improve this post!