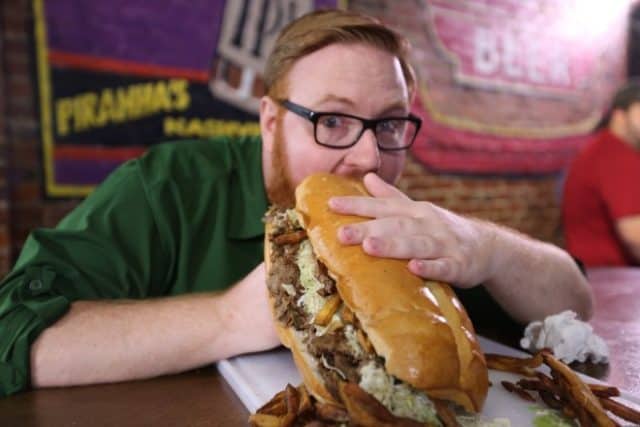 As stated by its name, Ginormous Food is a TV show on the Food Network that is all about super-sized servings of some of the most mouth-watering food that can be found throughout the United States. For people with a fondness for food, this makes it a TV show worth watching once or twice to see whether it is suitable for their particular preferences.
Here are five things that you may or may not have known about Ginormous Food:
We Love Huge Portions of Food
Ginormous Food is far from being the sole TV show out there about enormous helpings of mouth-watering food. After all, humans are hard-wired to have a fondness for food, which is what provides us with the fuel that we need to continue living. For proof, look no further than the fact that myths, legends, and folklore are filled with magical items that grant their owners vast quantities of delicious food, with examples ranging from the famous cornucopia to the Dagda's magical cauldron, which could not be emptied so long as one of the eaters remained unsatisfied.
Each Episode Is Set in a Particular Place
Like a lot of TV shows based on similar subject matters, Ginormous Food chooses the restaurants for each of its episodes using a simple and straightforward method. In brief, each episode is based on a particular city. After which, the show-makers chooses restaurants in that city that they feel are best-suited to their needs for their TV show. Although this is rather simple and straightforward, it cannot be denied that it provides the TV show with a functional structure, which is why it sees so much use not just here but also elsewhere.
Not Enough Focus on Ginormous Food
With that said, some viewers might be irked by the fact that Ginormous Food spends part of its time on the normal-sized menu items at the chosen restaurants, which leaves less time for their super-sized counterparts. On the other hand, there might also be viewers who appreciate a broader look at food even if it undermines the TV show's basic premise.
Focuses On the Production Process
Still, it cannot be said that Ginormous Food does not put most of its focus on the super-sized menu items, paying particular attention to their production process. Something that doesn't just serve to tantalize the viewers by showing the food in all of its glory but also provides some interesting information through the people cooking at the chosen restaurants.
Host Used to be a Stand-Up Comedian
On a final note, it is worth mentioning that the host of Ginormous Food, Josh Denny isn't just a lover of fan who travels on a constant search for good food but also a comedian who performs stand-up acts in the course of doing so. Fortunately, the skills that he has honed through his stand-up comedy make him that much better as a host, thus making Ginormous Food that much more watchable.