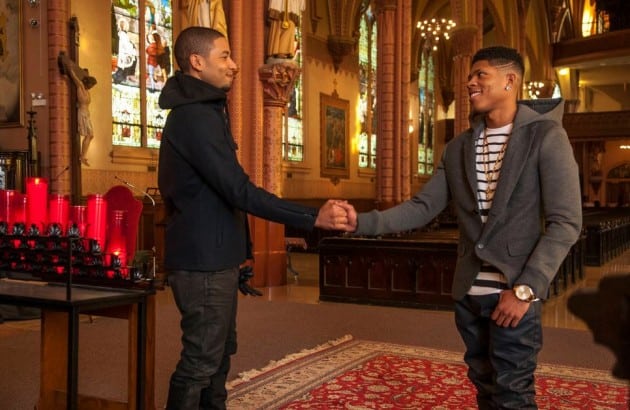 As excited as Empire fans are for tonight's season finale, so too are its stars. In a conference call with Jussie Smollett and Bryshere "Yazz" Gray, who play Jamal and Hakeem, respectively, the stars talked about the biggest moments from the show and the impact they have made.
Tonight's two-hour season finale of Empire promises to be full of twists, turns, and a great amount of music. In this spoiler-free chat (sorry folks, everybody's lips are zipped), Smollett and Gray talked about what they think has helped the show to become so unprecedentedly successful. At the very top of the list: family and the bond of brothers. Both stars say this topic will be as prevalent in the finale as it has been all season, with the audience getting to see how and if these brothers stick together.
Each of the brothers will rise to the occasion in the finale, and "you'll see a moment with Lucious and Jamal where they come together through music." This is a moment Smollett says "was one of my favorite scenes to film in the entire series." Okay, so we managed to pull a few tiny spoilers out of them.
Family is also what Smollett and Gray hope the audience takes away from the series, and the experiences, both good and bad, they give us to learn from. With both stars very close to their own families, they've come off of Empire's first season with new members to carry with them.
This bond between the cast was definitely a lifeline during filming some of Empire's most nerve-wracking scenes. For Smollett, this scene was one in which his character was in, but not him personally.
"The trashcan scene, we were all affected, all of the adults, and yet he (the child) was unaffected [during filming]," he said, describing how the scene is not only a pivotal moment in the show, but even more emotional when considering it was a real event that one of its co-creators, Lee Daniels, experienced.
Additionally, the most nerve-wracking scene for Gray to film was also one of the most raw ones of Empire's firstseason.
"The elevator scene, I felt like I was gonna pass out [during every emotional take]," he said.
Finally, when asked about their wish list of music stars for next season, Smollet said he'd love to have on "Mariah Carey and Janet Jackson," while Gray wants "Queen Latifah and Rihanna."
I'm in for those choices!
Make sure to tune in for the Empire season finale tonight at 8 p.m. on FOX.
[Photo via FOX]