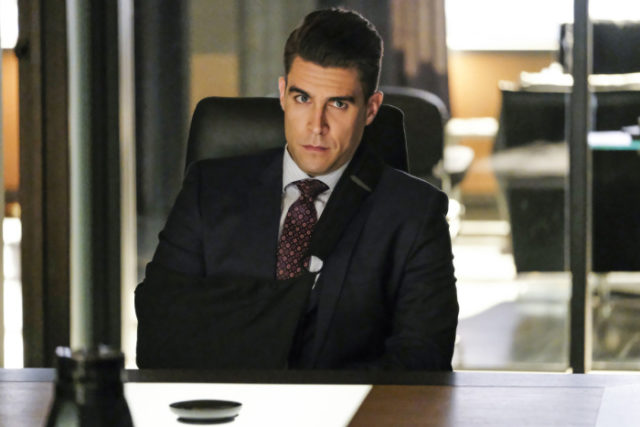 The 2016-2017 year was very busy for television! At times it was tough to keep up with, but we at TVOvermind were able to manage. What's more, we've come together to discuss the best, the worst, and the wacky that happened this year. Every good show needs a great antagonist, so we've chosen our picks for this year's best villains. They had to be surprising, they had to be nasty, and sometimes they had to top themselves in just how despicable they could be. The following villains set the bar high for evil deeds this year.
Jasef Wisener – Captain Howdy/Pazuzu (The Exorcist)
Demons unsettle me tremendously, and Captain Howdy from The Exorcist felt like a nightmare. Robert Emmet Lunney did a spectacular job at portraying the physical version of Pazuzu, and the series really managed to craft a great villain from the franchise's history. It's going to be hard for the show to top this one in Season 2.
Araceli Aviles – Diana Dubois (Empire)
Mrs. Huxtable behaving very unlike Mrs. Huxtable. That alone drew me in. With the same devotion as our beloved Cookie has for her children, the Dubois matriarch showed just how ruthless (hypocritically so) she could be when her precious baby boy was wronged. She took it to a whole new level by stealing the most precious member of the Lyon family. How could we not hate a hypocrite with money who like stealing babies?
Nick Hogan – Adrian Chase/Prometheus (Arrow)
Probably the easiest choice I've made yet is to pick Adrian Chase/Prometheus from Arrow. Josh Segarra's phenomenal portrayal of a friend turned foe still has fans reeling weeks after the fact. Prometheus was always one step ahead of Team Arrow, making it nearly impossible to predict what happened next. The final confrontation with Prometheus led to a lot of character fates being left up in the air, and even required a reunion with Slade Wilson to "defeat" him. Arrow will be writhing in the aftermath of Prometheus' time on the show for a good long while after his departure from the show, and I would be hard pressed to come up with a better villain dating back several seasons.
Blaise Hopkins – Prometheus (Arrow)
Prometheus was one of my favorite television villains ever, and I don't even know who else compares to the character for this year. Prometheus completely took things to a new level for villains in Arrow this season and is right up there with Slade (if not better) for who has tormented Oliver and his friends more. The guy is ruthless and calculated which made him the ultimate baddie.
Tiffany Chang – Adrian Chase (Arrow)
I swear he could be the next Damien Darhk. Well, minus the Darth Vader-ish powers, of course. The guy is manipulative and cunning, which is why he's always ten steps ahead of Oliver. I mean, Oliver had thought that Chase was one of the good guys and he didn't even know that there was a double agent in the midst until it was too late. On top of that, he bought the whole scared girl act from the double-crosser after being kidnapped by Chase. Looks like someone is losing their touch!
Chris King – Lenny (Legion)
I don't think anyone can name me a more terrifying villain from this TV season than Legion's Lenny, aka the Shadow King. Lenny is the most powerful parasite in the world, a being that wraps itself around your mind like boa constrictor so it can suck the life out of you. Lenny's attempts to kill David and take full control of his body during Legion's first season provided me with some of the most inventive and absorbing television I watched all year, and while I have to praise Noah Hawley and his creative team for crafting such a rich, unique villain, the main reason why Lenny is so damn captivating is because of Aubrey Plaza's magnetic performance. Seriously, Plaza was completely and utterly spellbinding on Legion, and she deserves any and all award nominations that are coming her way. Do you hear me, Emmy voters?
Just who was the Baddest of Them All?
Save