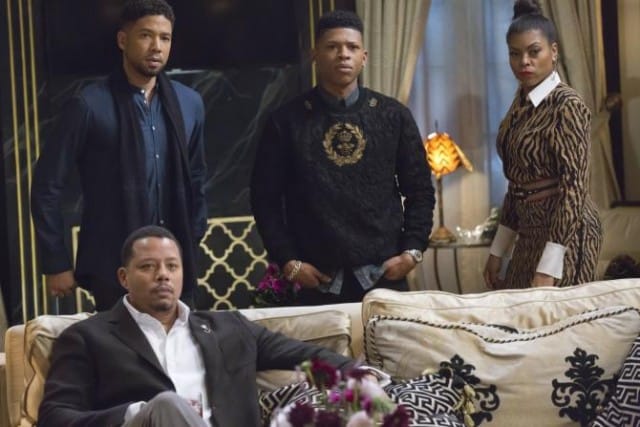 There's no shortage of father-son drama on Empire, especially when the father in question is Lucious Lyon. Lucious's sons are constantly put through the ringer, as his heirs are constantly being challenged to live up to their father. Let's face it, every Empire needs an heir. Now Anika is ready to provide one, with conditions.
Cookie is on pins and needles after learning that Frida is Frank Gathers's daughter. Frida is none the wiser about anything going on. She's having the time of her life working with Jamal. Cookie is so scared that Frida will find out how her father really died that she maneuvers Frida's tracks off of Jamal's album by pairing Jamal with an established female rapper who has an exclusivity clause in her contract. Jamal breaks the news to a heartbroken Frida, and immediately regrets his decision because he can't work with a prerecorded track. Jamal goes to Frida to beg her to come back on the album, to make something great just for the sake of loving music.
After taking some time to cool down, Andre and Lucious take a trip to the cemetary to visit Lucious's mother's grave. Lucious is trying to sway Andre to his side, but there is some truth to what he tells his son. He tells Andre that if he can't have faith in God he needs to have faith in himself. The last time Rhonda and Andre were truly happy was when they wanted the same things. So Andre takes Lucious up on his offer. He messes with Empire's new streaming service app in an effort to get control back to Lucious, and to get control of who he used to be.
Andre and Jamal rally around Hakeem as his first shareholder's meeting is coming up. Hakeem may be the CEO of Empire, but he has not been the face of the company for two decades. Not to mention Lucious has rallied further support from his autobiographical music video and the shareholders are already leaning towards him reclaiming the company. So Lucious goes in for the attack subtly this way, and in more vicious attacks like stealing the samples for the Antony & Cleopatra clothing line and planting drugs on Hakeem's touring trucks. Hakeem's frustration starts to seep through, which is unbecoming of a CEO. Lucious nearly buries Hakeem during the shareholder's meeting until Cookie steps in. She forces father and son to unite on the stage and play nice. The damage has been done though, and Lucious is voted back in as CEO.
The one storyline I didn't expect to resurface was Lola. You'll recall that Lola is the daughter of Jamal's ex-wife, who Lucious forced him to marry. Thinking that he was her father, Jamal took care of Lola until Lucious revealed there was a possibility he could be Lola's father. Lola's mother took her back and moved to another city after this debacle. Just to be sure Lucious recently had a paternity test done confirming that neither one of them is actually related to Lola. It was a strange outlier for the episode, something that probably could have been covered last season and been done away with.
Then there's the big baby daddy secret that Anika's been keeping. Anika has been trying to hide her pregnancy for months, but she can't explain away her morning sickness after Rhonda and Andre witness it. Given the timing, it's not hard to surmise that Hakeem is the baby's father. Andre and Rhonda support Anika when she tells the rest of the family she is pregnant. She definitely needs the support since no one takes the news well. This news results in Lucious and Anika having a long overdue conversation. Lucious wants to bribe Anika to give the baby up, and she threatens him with vague knowledge of his illegal dealings during their time together.
There was alot covered about fathers and sons in this episode, but the last minute revealed a huge secret about fathers and their mothers. It turns out Lucious's mother is not as dead as we thought.
Did you expect Lucious's mother to be among the living?
Empire Season 2 Episode 14 Review: "Time Shall Unfold"
Summary
Anika's baby daddy secret isn't the biggest shock of the latest Empire.