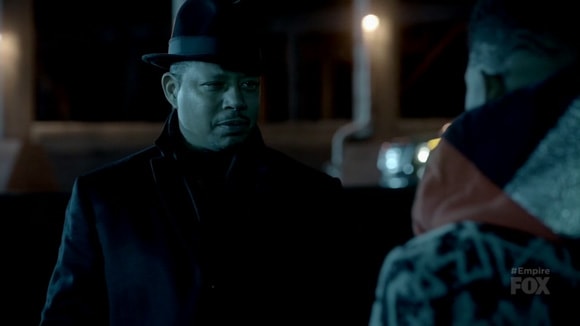 Four months. It's been four very long months since last we saw the Lyon family, and now the wait is finally over. In the midseason premiere of Empire, we learned what became of Rhonda and her baby, just how broken Hakeem's relationship now is with his family, and how the entire family plans to recover their legacy.
The show opens with Rhonda where we left her, at the bottom of the stairs after being pushed. Her attacker walks right over and the only thing Rhonda can do to help herself is trigger the house alarm to signal for help. Lucious refuses to leave Empire after being ousted as CEO. Thirsty thinks that he can get an emergency charter to prove that Camilla and Mimi illegally conspired to take the company, and he refuses to leave his office while getting that process in motion. That is, until he gets the call that Rhonda is in the hospital. Unfortunately Rhonda loses the baby.
Anika tries to support Rhonda through her pain, all the while still keeping her own pregnancy a secret. Rhonda doesn't even remember until much later that she didn't fall down the stairs, she was pushed. Who Rhonda should really be talking to is Cookie, who reveals that she and Lucious lost a little girl before having their boys.
While campaigning for his recent ASA nominations, Jamal publicly supports Lucious despite the turmoil with the company and the family. At the same time he's still trying to be a good big brother to a very conflicted Hakeem, protect his family's legacy, and promote his ASA nominations. Jameson drops Jamal from being the face of their cause because of Jamal's dalliance with Skye. It's not fair, but it's not as if he's wrong when he says this would fuel every politician looking to torch LGBT rights. Jamal is trying to speak for a generation that believes that sexuality is fluid. If he's going to speak for a generation, then he can't let anyone label him but himself.
In one night Lucious has lost his grandchild and his life's work. He and Cookie take the night to mourn, and in the morning he's back to planning revenge. Lucious and Thirsty gather a group of thugs to pay "visits" to the Empire board members. With that level of violence, the board gets the message loud and clear that anyone who doesn't have the last name Lyon does not belong in the CEO chair.
Cookie is as livid as I've ever seen her when she confronts Hakeem for his decision. And by confront, I mean beat Hakeem senseless. In his family's eyes, Hakeem made his choice. He's not even welcome at the hospital to support Rhonda and Andre. Camilla is the one offering Hakeem everything he wants on a silver platter. All he has to do is dump his girlfriend Laura, which after a lot of scotch, he does. He then crowns himself the next king of Empire.
Jamal really is his parent's son as he works out a deal to put the wheels in motion of getting their company back. Since Jamal's upcoming album was a joint venture between Empire and Lyon Dynasty, Jamal has the right to leave Empire, which would sink its stock and make Hakeem a laughingstock. Instead Cookie negotiates a deal where Lyon Dynasty is bought by Empire but Cookie remains the head of the company with full autonomy, and becomes the Head of A&R for Empire to boot. After all of this, Hakeem goes back on his word to Camilla and reunites with Laura. On his way home Hakeem is challenged by Lucious to prove he has what it takes to run Empire. On the very spot where Lucious killed Bunky, Lucious hands him a gun with which to kill him. Hakeem can't go through with killing his father, but Lucious warns him to watch his back from now on.
Cookie's Quotables:
"Awards are like politics baby. Think of this like a campaign, you're running for office. I need you to get your head back in the game and get your Gay back!"-If any one of today's politicians had Cookie as a campaign manager, the race would end in a landslide victory.
"If this isn't the saddest sight I've ever seen, and I'm not just talking about your face Yoko."-How I've missed Cookie's name-calling
"You sit down and write a song and you leave the dirty work to Cookie." "Yes ma'am, you the boss" "Don't you ever forget it!"-Lucious is reminded that only Cookie runs this show.
Thoughts on the Midseason Premiere: How will Anika's pregnancy impact the Lyon family? Who really pushed Rhonda down the stairs? Will Cookie and Lucious reunite?
Empire Season 2 Episode 11 Review: "Death Will Have His Day"
Summary
On Empire's midseason return, the repercussions of Hakeem's betrayal are just beginning.