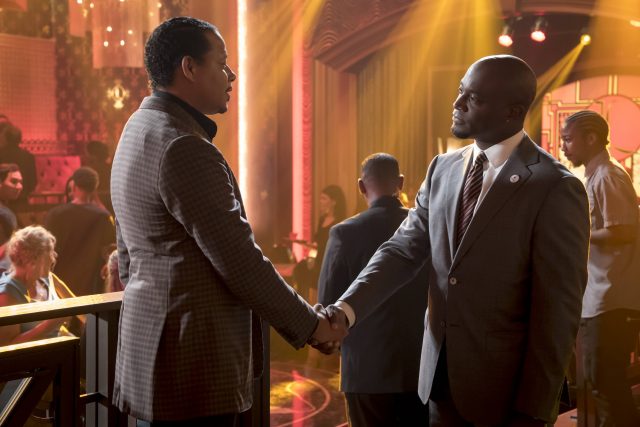 Those who say that Empire is all heightened drama, your mouth should shut tight after tonight's episode. The show didn't just talk about politics, racial tension and violence, it stuck its proverbial hand into the fire. All politically correct talk was shut down almost immediately. Everyone had their chance to give their opinions, bite their tongue, and see a new perspective. Plenty of truth, powerful music, and family strength was good enough. You should probably take a good look at your morals if you didn't want to throw something at the screen in the last minute.
Anika's never been more trapped than she is right now. Lucious doesn't want anyone gaining access to her or Bella, not even a desperately needed nanny. He will allow Hakeem to help if he feels so inclined to step up. How generous. Anika's taking it for now, but I doubt it will last. She's not so insane that she's going to betray the Lyons. In fact Anika is the one who discovers Tariq's bug in Bella's nursery.
On the business end things are flourishing. Despite Jamal's panic attack at the premiere of Empire Extreme Streaming Service, Nessa saved the night. She is immediately thrust into the spotlight as a result. Nessa is definitely more than just Shyne's niece. She and Hakeem work phenomenally together! Don't get too excited about a Nessa and Hakeem love pairing though because Shyne is still a nasty piece of work when someone looks sideways at Nessa. The business may not be flourishing for long. Becky initially boasts about how good the company is running, but is stunned when her boyfriend J. Pappa decides to leave Empire. Fearing the FBI is going to bring down Empire, he signed a new contract with a rival label and negotiated a deal for Becky too. Becky hasn't been given the A&R position at Empire yet, but is she really ready to leave the Lyons?
Since Lucious and Anika are married in name only, he sees no ill consequence to showering Cookie with extravagant gifts. These include gold street signs representing their past and present, a gold gun, plenty of shoes and a 4-foot tall stone lion! We may be impressed, but Cookie's not. Should we be scared that she returned all of Lucious's gifts except the gun? My God, he even arranges for Biz Markie to sing his hit "Just A Friend" in Cookie's living room! No seriously, that was VERY cool! Lucious's sweetest move is going for nostalgia. He plays Cookie a beat he thinks will be good for Jamal, but it's really the beat he was singing when he and Cookie first met. These Cookie and Lucious flashbacks are definitely worth watching. Young love always is. Lucious even tells Cookie that their first meeting wasn't a coincidence. Lucious saw Cookie from afar and made it his mission to make her his. Cookie remembers things a little differently. At the time she had a surprisingly upstanding, idealistic boyfriend named Barry. Barry had all these dreams, but Cookie just wanted to follow her passion for music.
Jamal is trying to refocus his life, telling everyone who will listen that he's not a victim. Whether he is or not, there's no disputing he is suffering from PTSD. He partners with City Councilman Angelo Dubois (guest star Taye Diggs) in his 'We Organize for Knowledge and Empowerment' campaign, or WOKE, against gun violence. It's difficult to tell how many times Cookie rolls her eyes at this man under those sunglasses! Lucious meets Angelo when Jamal gives him and the WOKE kids a tour of Empire. Even the hint that Cookie has been near this campaign pushes Lucious' temperament for boundaries. He offers to host the WOKE anti-violence summit at Empire. Cookie is not at all impressed. In fact she goes on a tear on the good councilman the likes of which Jamal has only seen aimed at Lucious. To his credit Angelo really listens to what Cookie says. It's actually a really powerful thing that he replaces the word "victim" with "Survivor"; not that it helps Jamal's PTSD. Then again Jamal did finally admit to having a problem, albeit after Lucious forced him to get on a stage before he was ready.
Andre's grief is painful to see. You'd think that it would have manifested into an increased mania because of his bipolar disorder, but that's not it. Andre most likely hears Rhonda because he wants to. It's an awful feeling to realize you're not going to hear the voice of the person you love everyday. He's completely coherent when it comes to his medication, and completely honest about how lost he is. His family is his touchstone now. Jamal takes over helping to manage Andre's medication. Cookie reminds Andre that unlike his brothers, he had to fight his way out of the streets just like his parents to make something of himself. Fueled by his family's love, Andre returns the favor by inspiring strength in his brothers. But this is Empire. The minute things start to feel right, they go terribly wrong. As Andre moves out of his and Rhonda's place, a racist neighbor calls the cops believing he is a burglar. In a scene that is sure to ignite a firestorm, Andre is brutally arrested by two racist white cops. Let's just say some choice words left my mouth at this moment.
Cookie's Quotables:
-"He wouldn't know the streets if it shot him in the ***"-Cookie ironically criticizing Dubois' anti-violence organization
-"I don't trust polite people stupid!"-Cookie explaining all of our attitudes towards politicians
-"Bye Fe-Lucious."- Best Ad-lib ever!
Did this week's Empire have you cheering and in uproar?
Empire Season 3 Episode 2 Review: "Sin That Amends"
Summary
Empire dives into the firestorm of politics and victimization in one of the most powerful episodes of the series.