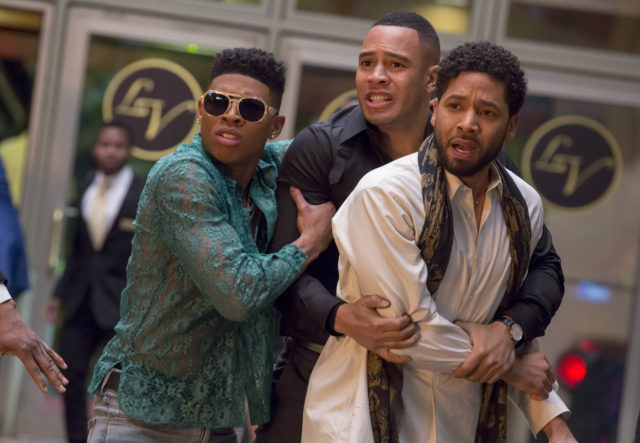 Phew, all I can say is I hope everyone had tissues handy. Season 3 of Empire has been a hell of a roller coaster ride, but it has never been so emotional as it was in this season finale. Though there were the usual twists and turns, the weight of everything the Lyon family went through was the real wonder. Per usual, everyone had a master plan that eventually went askew. It was Lucious's master plan which was the most beautiful. Which, of course, meant it was his plan which ended in the most horrific way not even he could have imagined it.
Lucious's mother really knows how to turn a situation from bad to worse. She killed Tariq, and their one sure fire shot at getting Bella back in the process. Not that Anika was helping herself. She aligned herself with the Dubois family and made Hakeem do the same. To add insult to injury, the Dubois' set Jamal up to fall for one of their own. That family isn't going anywhere, but Anika is. Mother Lyon made it her personal mission to boot Anika from the Lyon family for good. Framing her for Tariq's murder was hardly fair, but not unwarranted given all of Anika's behavior. If only the woman could have pulled the trigger on this plan after they got Bella back.
Mrs. Charlotte Frost was very clear when she approved Leviticus Las Vegas that she wanted no "riff-raff thugs" in her city. Since this is Giuliana's one claim to fame, she expected the same. Woe to those who hedge their bets on false promises. Andre is the master of the seductive bait-and-switch, which quickly takes care of Mrs. Frost. Thanks to Lucious's master plan, Giuliana gets the wake-up call she deserves.
The season finale answers the question once and for all what in the heck Lucious has been doing with Giuliana. I don't care what Cookie thinks is going on. There is no way Lucious would forgive disloyalty from someone who isn't his family. The farthest he's ever gone is with Anika and that was because she was smart enough to use Bella as her insurance policy. Not the best parenting, but effective nonetheless. There has only ever been one woman for Lucious. It was so much fun watching Giuliana's face when Lucious said so to her face.
It's all about 'When Cookie Met Lucious'. Nothing else could come close. Jamal's onstage tribute to his parents proves as much. If that glorious display which revealed that Jamal was in on his father's plan from the get go didn't convince you, Lucious's own ballad should have. He had Cookie and the rest of the room swooning. To add to the bizarre quality of their reunion, Cookie and Lucious run into Cookie's first boyfriend! There's no hard feelings, there's no drama, just old friends catching up inspiring each other. It's not exactly a proposal, but Lucious finally lets go of all the power in favor of running away with his lady. He and Cookie get their heart's desire, as do their children. Especially Andre, who is flabbergasted to literally be handed the keys to the kingdom.
Unfortunately, Andre received everything he'd ever wanted five minutes too late. He let his hatred get the better of him, and was too late to stop a car bomb from nearly killing his father. Thanks for that Shyne. Fast forward three months to Lucious in a coma with his entire family by his side. Someone else by his side is a very handsy nurse played by none other than Demi Moore! I was wondering when she would pop up, and am pleasantly surprised that her presence has nothing to do with her daughter's performance on the show. Nurse Claudia is there to help the Lyons through this difficult time, but she could not know that Lucious would wake up an amnesiac.
Can the Lyons really push forward without their patriarch? We'll find out when Empire returns this fall.
Save
Empire Season 3 Episode 18 Review: "Toil and Trouble, Part 2"
Summary
Lucious Lyon lays it all on the line in the season finale of Empire.