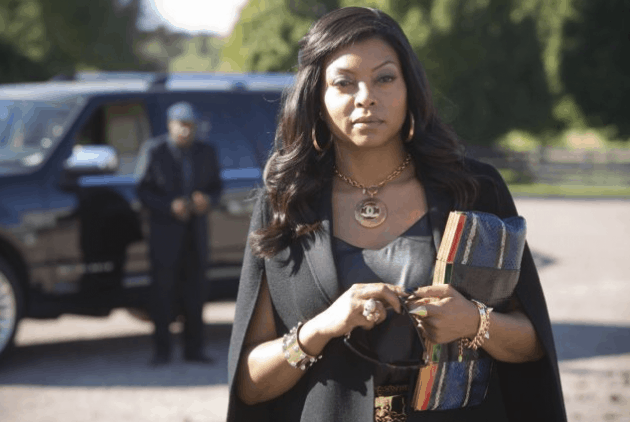 Following a series premiere that scored record-breaking ratings for FOX, Empire is not slowing down a bit. The amount of drama, chaos, and heavy objects being thrown around is causing me to watch intermittently from behind a pillow because I'm half-afraid Cookie might jump right off the screen. Move over TGIT; Empire is leading the new year in the crazy lines and moments.
Lucious is dealing with people who can't keep their thoughts and actions quiet, and for a controlling man like Lucious, what he can't control is dangerous. It begins with one of his rappers' music being tied to a shooting. Then upon finding out that Cookie has arranged a press conference for Jamal to officially come out, Lucious threatens to cut off Jamal financially. And the topper in a list of incredibly stupid behavior, Hakeem drunkenly urinates in the middle of a restaurant and calls Barack Obama a sell-out. Quite crazy indeed. Following this, Cookie's outspokenness to the press on her ex's recent troubles end up providing Lucious with the material he needs to sway his "damage control interview" his way.
Meanwhile, Bunky's death hits the family hard, while there is a hint of a smile on Lucious' face as he believes he has gotten away with the murder. From the previews, it looks like Lucious may not be as in the clear as he thinks though. Maybe Cookie's federal agent friend will join the investigation, assuming she's not already got a target on Lucious to begin with. We know that Cookie's early parole isn't the full story she's been selling her family, and whatever and whoever she has to testify to and about has the normally courageous Lyon (like what I did there?) very scared.
By the end of the episode, all three Lyon heirs are speaking out loud in different ways. Andre, who we discover has Bipolar Disorder, is having trouble with his words due to his meds being off. Jamal and Hakeem decide to ignore both of their parents in favor of singing together, just for the fun of singing together, and it is awesome. P.S. When Jamal cries, I cry. When Jamal triumphs, I jump up and cheer. That's just the way it is.
I still haven't quite figured out if I hate Lucious yet. It seems cruel to hate a man who's just been given a terminal diagnosis. Yet he did just murder one of his best friends and treats his ex-wife and kids like dirt 9 times out of 10. And yet still, in the scenes he shares with Cookie when she calls him out, it seems as if he's struggling not to gravitate towards her. He even fires that dumb rapper after he insults Cookie. I'm hoping this will be explored whenever Lucious answers Cookie's question: "What have I ever done to you to make you treat me like this?" Also, as much as he yells at his assistant Becky, she is the only one he trusts to confide in about his disease, even if it was an accident, and I find that very telling.
Before we rap up, I'd like to take a moment to appreciate the brilliance of Cookie's one-liners:
-"Shut up Dora"-to Michael, and although I find it offensive, I was so stunned I couldn't not laugh.
-"Porsche get my shoe!"- to new personal assistant Porsche, after Cookie has finished throwing said shoe at Lucious.
-"The Lucious Lyon I knew would tell those idiots the streets ain't made for everybody, that's why they made sidewalks"- to Lucious during his prep for a live interview.
-"You're a horrible parent…You'll make him [Hakeem] a celebrity, but you'll make him a fool first."- Cookie laying some uncomfortable truth on Lucious.
Now for the big question, how much more crazy do we think Empire's next episode will bring?
[Photo via FOX]