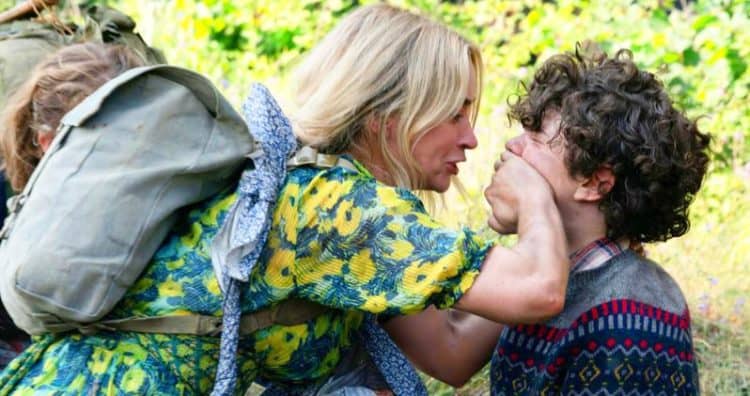 The upside is that Emily Blunt doesn't think that a role in the MCU is beneath her, but it does sound as though she's not that interested in playing Sue Storm of the Fantastic Four. Hey, that's easy to respect, right? She's not against playing a role and might look for something that might be right up her alley so to speak, but as of now, it does sound as though she might be trying to tell anyone and everyone that asks that her role as Sue is due more to fan-casting than any actual planning. Being one of those that thinks she would actually play a decent role as Sue, it's hard to hear that she doesn't really want it, but there are a lot of ladies out there in show business that could possibly fit the bill. It does sound as though John Krasinski is still open to the idea of being cast as Reed Richards, but again, nothing has been set at this time, and the only thing that anyone knows is that the Fantastic Four are coming at some point, but without any added information it's tough to say what's going to happen with the movie. A lot of people actually want to see John Cena as Ben Grimm, aka The Thing, and Zac Efron as Johnny Storm, aka the Human Torch. But as far as a villain goes, and whether or not the origin story needs to be told yet again, it's fair to say that we don't really know much of anything other than that the movie will be appearing near the end of Phase 4. Apart from that, fans are left to speculate at this time since the rumors and gossip that's been flying around has been all fan-generated really, given that the MCU isn't going that far with it except to say that the movie is coming.
That's not a lot to go on, is it? To be fair it's actually refreshing to not know that much at this time since the FF has already been mucked up quite a bit in the three movies that have been made of their exploits, the most recent in 2015 being one of the more disturbing attempts. Quite honestly, there have been moments in each movie that aren't too bad, and some of the effects weren't that horrible, but overall the movies slipped and tripped their way to the box office and didn't really recover that easily. One would have thought that Jessica Alba might have made a great Sue Storm, but there was something off about her performance, and while Chris Evans played a pretty decent Johnny Storm, a lot of the movie just felt a little too cutesy for a team like this. Plus, the fact that Doctor Doom was more of a pretty boy in two of the movies and kind of a grungy, intellectual hipster in the 2015 version didn't help. So far one of the most popular groups in the Marvel universe hasn't really been given the treatment they so desperately need, but it's already sounding as though they might be given yet another reason to worry since unless John Cena can really make the role of Ben Grimm work then it's hard to say that anything is going to get better. It's not so much that he couldn't do it, it's wondering what kind of getup that they're going to put him in make the effect work. The first time around with Michael Chiklis didn't work at all since the bodysuit was horrible, and while people might not agree, the 2015 form would have been great if the CG would have been given a few edits and a quick makeover to polish it up a bit. Otherwise, the character looked like a pile of rocks that had somehow been strung and glued together to create a humanoid creature.
Sue Storm isn't exactly a hard character to play, but she's also not a Captain Marvel, She-Hulk, or even Black Widow, meaning she's not exactly the action type that a lot of women might want to play in the MCU. In the comics, she's a rather interesting character, but somehow she's also someone that kind of gets pushed to the side too often and therefore isn't really given the kind of respect she deserves. When one thinks about the power she possesses and what she can do with it, the possibilities tend to expand since turning invisible isn't all she can do, and her invisible force fields have been enough to stop some of the strongest characters around over the years. But if this isn't the character that Emily wants to play then so be it, there are plenty of actresses out there that might want the role and despite the fact that Emily might make a great Sue Storm, pushing someone into a role is worse than not having them at all.