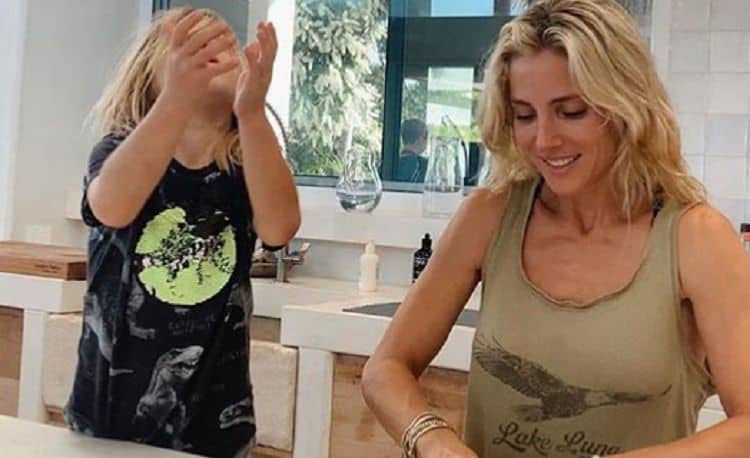 Elsa Pataky is a Spanish model, actress, and film producer who was born in Madrid on July 18, 1976. She is probably best known for playing the role of Elena Neves in 'The Fast and Furious' franchise. However, she has also appeared in films including 'Di Di Hollywood', 'Give 'Em Hell, Malone', 'Giallo', and 'Snakes on a Plane'. Although she is a well-established model and she is becoming increasingly well-known as an actress, there are still many things that people do not know about this beautiful and talented woman. Here are 10 facts about Elsa Pataky that you probably didn't know.
1. She is Multilingual
Pataky was born and raised in Madrid, Spain, so her primary language is Spanish. Her father is a Spanish biochemist and her mother is a publicist of Romanian and Hungarian ancestry. Due to her mother's ancestry, Pataky is also fluent in Romanian. Pataky's career has given her opportunities to work in various locations across the globe, and this means that she has learned many other languages along the way. In addition to Spanish and Romanian, she is also fluent in English, French, Portuguese, and Italian.
2. Pataky is Married to Chris Hemsworth
Elsa Pataky is married to Australian actor Chris Hemsworth. The couple began dating in 2010 after they were introduced by their mutual representatives and they married in the same year. They now have three children together. Their daughter, India Rose, was born in May 2012. They then had twin sons, Sasha and Tristan, who were born in March 2014. The family currently live in Byron Bay in New South Wales, Australia.
3. She Received a New York Estate for Her 31st Birthday
One of the best presents that Elsa Pataky has ever received on her birthday was an estate in New York. Prior to marrying Chris Hemsworth, Elsa Pataky dated actor Adrian Brody, whom she had met in 2006. When she turned 31 in 2007, Brody bought her a 19th century estate in New York. Brody and Pataky were featured at their home in HELLO! Magazine in 2008. The feature included a 35-page spread. Unfortunately, the couple separated in 2009.
4. Pataky Enjoys Outdoor Activities
Although she doesn't have much free time due to her busy work schedule and being a mom of three, Elsa Pataky enjoys many outdoor activities when she does get some free time. According to IMDB, some of her favorite activities include snowboarding, riding horses, and rollerblading.
5. She Loves Both Spain and Australia
Pataky grew up in Spain, but she now lives in Australia, which is her husband's home country. She says that she loves both countries equally, and she visits Spain regularly as she still has friends and family there. The things she loves about Spain are the positivity of the people, the beautiful countryside, and Spanish cuisine. In Australia, she enjoys the freedom that living in the wilderness brings. Pataky has also visited Romania to learn more about her roots, and she fell in love with this country. She says it is a beautiful place that has an interesting culture.
6. She Has Appeared on the Cover of Many Magazines
As a hugely successful model, Elsa Pataky has appeared on the cover of multiple magazines, says Panda Gossip. Just some of the magazines of which she has graced the cover include Hola Magazine, Vanidades Magazine, Glamour, Cosmopolitan, and Women's Health. By 2017, she was one of the 100 highest paid models in the world and was included in the list featured on Money.
7. She Studied Journalism
Prior to embarking on careers in modeling and acting, Pataky attended the Universidad CEU San Pablo. There she studied for a degree in journalism. Therefore, she is not only beautiful and talented, but also intelligent. In addition to studying journalism, Pataky also took acting classes while she was at university, and this gave her some useful skills for her future career.
8. She Has a Malibu Home
Although Elsa Pataky and Chris Hemsworth's main residence is in New South Wales, Australia, they spend a lot of time in the United States for their work. For this reason, the couple has a mansion in Malibu that has an estimated value of $4.8 million. Their luxurious Malibu home features a jacuzzi, a swimming pool, a sauna, and a gaming room. The couple lives at this residence whenever either of them is filming for projects based in the United States.
9. Pataky and Hemsworth Have a Combined Net Worth of $65 Million
Hemsworth and Pataky are considered a Hollywood power couple. They both have successful acting careers, and Pataky was once one of the highest-paid models in the world. Due to their continued success, the couple now has a combined net worth of $65 million. As they are both still in demand and able to achieve high fees to appear in films, they have the potential to significantly increase their combined net worth in the future.
10. Pataky Has a Huge Social Media Following
Considering her success in both modeling and the film industry, it is hardly surprising that Elsa Pataky has amassed millions of followers on her social media accounts. On her Twitter account, Pataky currently has 73.9 thousand followers. Although many of her posts feature work-related photographs, she has also posted videos of herself working out on the beach and photographs of herself having fun with her husband. Pataky's Instagram account, has a whopping 3.2 million followers. This account features various photographs of her, and she looks amazing in all of them. They include photographs of her at home as well as in various locations across the globe. Chris Hemsworth is in many of the photographs alongside his wife. Some of the photographs show Pataky enjoying the activities she loves, such as horse riding and scuba diving.