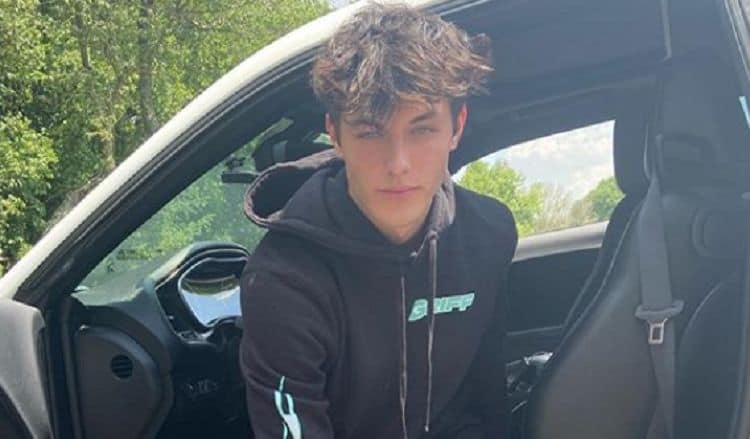 In less than a year, Griffin Johnson has gone from a typical college student to a social media sensation. It can sometimes take people years to develop large followings, but Griffin has managed to make it look easy. With millions of followers across multiple platforms, Johnson has cracked the code to creating good content. He is best-known for his dancing videos and funny moments with friends. Even though he's already accomplished a lot in a short amount of time, Griffin isn't anywhere near finished yet. As becomes more and more popularity, there's no telling what the future holds for him. Continue reading for 10 things you didn't know about Griffin Johnson.
1. He's Signed To A Talent Agency
Long gone are the days when being popular on social media was something to take for granted. Having a large following has officially become a career opportunity and many influencers treat it as such. Griffin is signed to the Talent X management agency which also represents several other successful TikTokers.
2. He's From Illinois
Griffin has been spending a lot of time in Los Angeles lately as its become the best place to be for social media influencers who are looking to grow their brands. However, Griffin isn't from California at all. He is actually from a suburb in Illinois called Dennison. While a high school student in Dennison, Griffin was an athlete, the president of the Spanish club, and the vice president of the Key Club.
3. He's In A Relationship
Griffin is probably at the top of lots of people's Man Crush Monday list, but he's officially off limits. Recently, he and fellow social media star, Dixie D'Amelio confirmed that they're in a relationship. D'Amelio previously dated TikToker Chase 'Lil Huddy' Hudson who is a member of the crew, Hype House.
4. He Sells Merch
On top of creating content, Griffin is also making his way into the entrepreneurial world. After all, with a following that includes millions of people, he already has a captive audience to market to. He recently started selling branded merchandise. At the moment, he only has hoodies for sale but he will likely expand his product offering in the future.
5. He's An Actor
Making videos for social media is one thing, but it looks like Griffin is also trying to expand his skill set. He has a role in the new web series, Attaway General, which features several other popular TikTokers. It's unclear whether acting is something Griffin plans to continue doing or if this was just a one time thing.
6. He Wants To Be A Nurse
Similar to his character in Attaway General, Griffin's future will likely consist of lots of time in the hospital with a career in the medical field. He is currently a nursing student at Indiana State University. As an incoming freshman, he was awarded the University Honors Scholarship. This scholarship is given to incoming freshman who showed academic excellence during their high school career.
7. He Likes To Disconnect From Social Media From Time To Time
Since being on social media is basically Griffin's job, it's only right that he take a break from time to time. Even though he loves posting content, he understands that it's also important to unplug. He says, "I personally try to disconnect my social media from my real life friends and plug into media on my own time. This helps me keep a feeling of being normal on a daily basis."
8. He Never Expected To Become Internet Famous
When Griffin started posting on TikTok, he didn't know what to expect. He certainly didn't have any intentions of getting famous. However, his videos quickly took off and within two months he had gained over 100,000 followers. His following has grown even larger since then and now consists of 7 million people.
9. He's On The Executive Board Of His Fraternity
Griffin's education is something that has always been important to him. In many ways, he's actually a model student. In addition to being focused on his studies, he also likes to get involved in things outside of the classroom. He is an active member of Sigma Phi Epsilon and also serves as the organization's Vice President of Recruitment.
10. He Is Committed To Staying Humble
As Griffin's social media start continues to rise, he doesn't plan on letting it go to his head. He has made it a priority to stay humble and grounded. He says that hanging out with his family and friends help remind him that underneath it all, he's still just a normal college student.