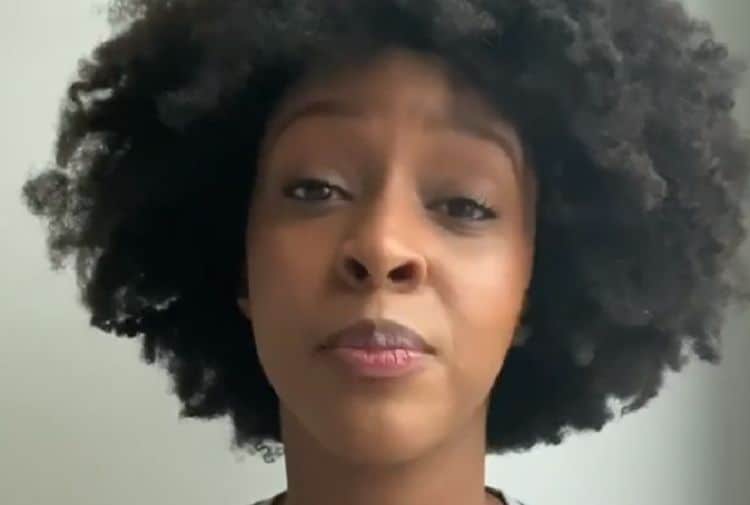 Sometimes, when you are cast alongside other stars in the film industry, people may not notice you right away. However, producers do, and you end up being cast in different leading roles that help propel your career. That was the case for Ebony Obsidian; most people may have seen her acting alongside Regina King and Angela Bassett, but they barely know a thing about the actress. Her latest series is Tyler Perry's "Sistas" in which she will star as Karen Mott. Since it premiered on October 23, 2019, the actress has raised a lot of curiosity so here is everything you need to know about her.
1. She stumbled into acting
Ebony was never interested in acting, but one day she listened to the radio and learnt there was an audition in a city close to where she lived. At only 12 and with no experience, Ebony decided to give it a try, and after being sent to Philadelphia, she acted out a monologue in front of 1,000 people. Ebony realized she needed to be better at it if she was going to turn it into a career. Therefore after graduating high school early, she used the money she had saved to move to New York City to study at The William Esper Studio.
2. Her most memorable character
Ebony has been cast in many films and shows, but one character that remains etched in her mind is Katrina from "Punkin' Pie." The short film, whose storyline revolved around a teenager (Katrina) who had to confront her greatest fears to save both herself and her mother from an abusive relationship. It was released in October 2015 and won an o!cial Award of Merit during the IndieFest Film Awards. However, it is not the recognition that makes it memorable for Ebony. Instead, it is the fact that Katrina and ebony have so much in common that ebony felt it could have easily been the story of her life.
3. She can go off-script
Some people like to go strictly by the script such that even if something should go wrong, they may not think on their feet. Ebony loves to be creative even if it means disregarding the script to make the scenes more interesting. In the film "Twelve Dollars Short," she plays Treasure. In one scene, they are arguing, and an actor throws a backpack which lands at her feet. At first, she does not know how to handle the unexpected turn of events, so there is an uncomfortable silence. However, she decides to kick the backpack back in the actor's face, and the director was pleased, although it was not in the script.
4. She studied journalism for a semester
Ebony felt that journalism was a calling because she always had a passion for telling stories. Consequently, she enrolled at Ulster Community College for a bachelor's degree majoring in journalism. However, after only one semester, it dawned on Ebony that she was getting too attached to those within her stories. Of course, that meant losing objectivity which would make her stories biased, and that is not what any journalist wants. She did the next best thing; if she could not tell their stories, she would embody them instead hence the acting career.
5. She has Sudanese roots
Sudanese are known for their very dark skin, but Ebony does not live up to the meaning of her name since her complexion is a bit light. Still, that does not mean that she does not have some Sudanese blood in her. According to Kushite Princess, her mother and grandmother moved to the United States following the Ethiopian civil war. That was in the 1980s and having been born in America in 1994, Ebony is now an American citizen.
6. Her dating life
At 25, Ebony should have her share of heartbreaks and exciting romantic experiences, but it appears that she does not want that out in public. There are no rumors of her dating anyone, and as if to confirm that she was single, in 2017, Ebony went on Twitter to say that she had asked her mother to be her Valentine. Her mother, however, responded that she would not mind but only if she did not have a date herself.
7. Her social media
By now, it is clear that Ebony likes to keep her life under the radar and her social media accounts are proof. The last post she made on her Facebook page was in December 2018, and now that the year is almost ending, Ebony does not mind not interacting with her fans on the platform. She is also not active on the other platforms since on Twitter she last posted in September 27, 2019. She does not have a lot of fans as you would expect a celebrity to; on Twitter, she has 1.3k followers while on Instagram, the number is 7.6k.
8. Her first time to appear in magazine cover
Being on any magazine cover is a significant deal for anyone looking to make strides in whatever career they are pursuing since it affords them the much-needed exposure. For Ebony, the first time she appeared on a cover was on Twenty4Seven. She appreciated it on Facebook and gave the most in-depth interview.
9. Her singing career
Ebony admitted that she has always been a singer even before she stumbled into acting at the age of 12. He favorite karaoke number is one of Whitney Houston's songs. However, it is not until the season finale of "Tough Love" in which she stars that Ebony made her debut with the single "Hold Me." She not only sang it but also showed her excellent songwriting skills through the song's lyrics.
10. She prefers her natural hair
Most black women have been brainwashed into thinking that their hair only looks good if it is permed or covered in a weave. The trend has led the hair industry to be a very profitable business as more women spend lots of dollars trying to imitate the straight hair look using costly hair extensions. Ebony does not agree with this school of thought, and from the many pictures taken of her, it is evident that she loves to keep her hair natural. She occasionally straightens her hair and the only protective hairstyle that may not involve her natural hair is braiding as seen from her Facebook profile picture.
Tell us what's wrong with this post? How could we improve it? :)
Let us improve this post!