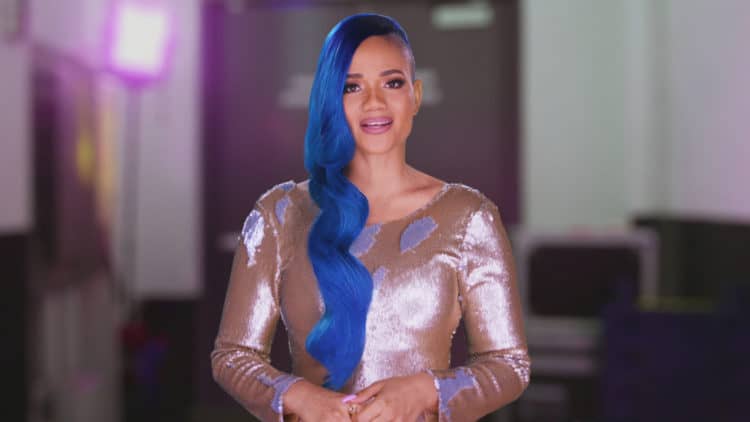 The Love and Hip Hop franchise on VH1 has proven to be a great stepping stone to success for a number of upcoming artistes. Such artistes who got their breakthrough from the reality show include Cardi B, K Michelle, Rasheeda Jones, and Remy Ma just to name a few. It seems that the success bug of the franchise has caught on with each and every upcoming talent in the music industry as its latest inductee is Steph Lecor. Lecor, also known as 'We The Best's' leading lady is all the talk in town right now as she is steadily rising up in the industry.
About Steph Lecor
Stephanie Lecor was born on September 25 in Miami Florida to Haitian parents. Her father was a singer in a Haitian band and as Steph nostalgically remembers, it was this band that gave her basis to becoming the musician she is today. To enhance her vocals she was enrolled into choir practice and also for vocal lessons. She has been active since 2009 when she began her solo career after touring as a backup singer. She joined City Boi and Jase who were looking for a female lead to form the group Kulture Shock. Poe Boy Entertainment signed the trio in a joint venture deal with Artop/ Universal studios.
Here are 10 things you didn't know about Steph Lecord
1. She is Haitian American
Steph Lecor was born to Haitian parents and despite the fact that she is American she admits she has faced colorism before. When talking to The Grio, she admitted that colorism is a huge part of the industry and most especially from record producers. She stated that most people tell her that they are unable to tell if she is Haitian because she seems too light-skinned to be so and that she can easily pass off as white. These statements she considers back-end compliments and quite racist.
2. Her dad was also a musician
Lecor's dad was part of a Haitian band of singers called the Macho Men. Young Lecor could watch her father and uncles write and record songs and she credits this to her current love for music as her father also helped in voice coaching her and this helped shape her career into what it is today,
3. She admits to having been agoraphobic
According to the Mayo Clinic, agoraphobia is the fear of crowds. Lecor is admittedly no stranger to this fear as she has confessed in interviews that she was once afraid of crowds. For the singer, joining Kulture Shock was a stepping stone to her facing her fear once and for all.
4. She was a backup singer
Most of the artists in the music industry can credit their current careers to backup singing. It is not easy for singers to have a breakthrough and for most the only sure way to cut into the limelight is to have a shot at background singing. Steph Lecor sang backup for Ky-Mani Marley and Van Halen and toured with them for close to five years before deciding to take a shot at stardom and starting her solo journey.
5. She has a son
Steph Lecor is one of those celebrities who don't have much of their information out there. However, during her interview with Baller Alert, she talked about why Miami is always going to be where her heart and home is despite having moved to Los Angeles. She gave reasons for the move as being the vibe that LA gives out and that she still considers Miami home because her son lives there. It is still unclear as to who the father of her son is and his name.
6. She is the first lady to be signed to 'We The Best'
She gave an account of events as to how she managed to become the first lady of DJ Khaled's record label 'We The Best'. Khaled had heard her song from her manager who happens to be buddies with the producer. Her manager arranged the meeting and DJ Khaled liked her style and signed her there and then. She credits Khaled as being a very good mentor and a hard-working individual with a strict work ethic. This signing makes her the first lady to be signed by the record label.
7. She is a reality TV star
Getting the gig to be part of the cast for Love and Hip Hop Miami meant that she had to go behind her team's back and as she recalls, they weren't so happy about the move. However, after learning that she had secured the part, they were supportive because they saw the tremendous effect it had on Cardi B's career post the show.
8. 'Face' was released in an episode on the show
Most of Lecor's time on the show is either spent with her friends Amara La Negra and Veronica Vega or in the studio. She worked on her single 'Face' and released it on the show. Lecor says that 'Face' is a women's anthem that seeks to encourage them to live their lives out loud and be comfortable with whom they are.
9. She is versatile
Her versatility in her genres proves that Lecor is a badass at whatever she does. She transitioned from EDM while on Kulture Shock to rap which was suggested by her manager for her hit single 'Saturday'. She is currently working on an album that will comprise of even melodic reggae tunes. This is an exciting genre to try and fans will get to see how eccentric the star is.
10. She has hosted a web series
Lecor's versatility isn't just in the music industry as she was also the host of Complex and Champs' web series 'Her Take'.
Final Thoughts
Whether you know her as the blue-haired Steph in Love and Hip Hop or the singer whose song you can't stop listening to, Stephanie Lecor has proven enough number of times that she is up to the task and is worth a good challenge. We can only hope to see more of her in the coming years.