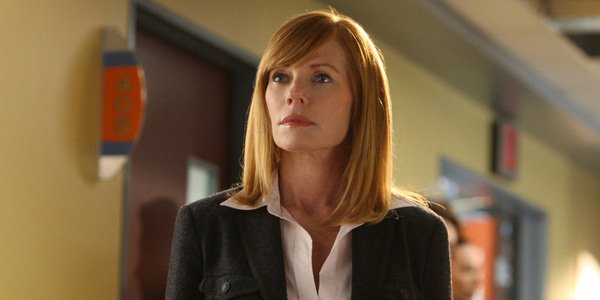 Fans of daytime soaps, horror, and CSI all know and love Marg Helgenberger. Whether you first saw her as Siobhan Ryan in Ryan's hope back in 1982, in the Species movies of the Mid-90s or you just discovered her in All Rise, everyone enjoys watching the dynamic and gorgeous Marg. Smart, attractive, and talented, it's not hard to see how this triple threat holds the audience's interest so well. We went digging around to see what else we could learn about her and came up with ten fascinating facts to share.
1. She Loves Football
Not everyone is a fan of sports, and finding a beautiful woman who's seriously interested in rooting catching a game can be difficult. Good news for all the sports guys out there, Marg loves football! This brainy beauty happens to be a single again after her 2010 divorce from Alan Rosenberg. All you sports fans can dream of the perfect woman. She watches football when she can. Unfortunately, sometimes when you're on set, there's no time to catch the game.
2. Founder of a Book Club
Marg is no slouch and keeps herself fit and busy. In addition to her love of watching sports, she decided to better herself. She started a book club to help keep her mind active and learning. We have to admire a woman with that kind of motivation. After all, being on set filming, a regular show can keep you pretty busy by itself.
3. People are Obsessed With Her Legs
When you're as attractive as Marg, it's no surprise that lots of people want to see pictures of you every day. However, this leggy beauty has a dedicated following that loves to see her long legs. We don't blame them. She does have great gams.
4. Family Name
Marg has only been married once, to Alan Rosenberg, who she met on the set of Ryan's Hope back in the '80s. The couple was married for decades before making an amicable split, but they share a son. Hugh Howard Rosenberg is named for Marg's Father Hugh Helgenberger. It's always nice to see a family that's close enough to pass on a shared name.
5. Proud Parent
Speaking of her son Hugh, Marg posts about him on her Instagram. She's very proud of her son, who gets outstanding grades. You can see pictures of him with his dog on her feed. Marg is happy to share his achievements with the world and tell everyone what a proud mother she is. He deserves it too. With a GPA of over 4.0, it's clear that brains run in the family. There are certainly worse things you can get from your parents. Hugh is lucky to have such a doting mother.
6. Bikini Body at 60
As people age, their metabolism slows down. That can cause all sorts of complications when it comes to staying fit. You have to work harder to achieve the same results. However, the incredible Marg hasn't let a few years slow her down. She's as bikini ready at sixty as she was at 25. We don't doubt this timeless and classic beauty will be posting beach body pictures for years to come. We're a little bit jealous, especially since she says she doesn't have to work as hard as you might expect. Marg is active, walking with her dog or doing yoga at least once a week, but she isn't hitting the gym daily just to 'keep up.'
7. History in Horror
Sure, Marg may have gotten her start working in a daytime soap opera, but she's also spent a surprising amount of time filming horror movies and shows. She was in the Stephen King classic Tommyknockers (1993), and of course the Species movies. That wasn't her only horror experience, though. Marg played Alex, the lead in After Midnight, a horror film from 1989 and she was in the Tales From The Crypt TV series several times.
8. Nebraska Native
Stars can come from anywhere. Plenty of the folks we see on the screen were born and raised in New York or LA, but that makes acting jobs more accessible. They don't have to move closer to where the casting directors and agents abound. Marg is one of the other kind, an amazing actress who doesn't come from a town famous for its film industry ties. She was born in Freemont, Nebraska in 1958. Her parents, Mary Kay, a nurse, and Hugh a Meat Inspector, didn't groom their children for stardom. Marg, her sister Anne and her brother Curt were raised about as far from the glamorous limelight as possible.
9. Wanted to be a Nurse
Marg didn't always want to be an actress. Instead, she planned to become a nurse like her mother. She did play the french horn in her high school marching band, but that wasn't what inspired her to become an entertainer. It wasn't until she reached college that her focus shifted. She began at Kearney State College which is now called the University of Nebraska at Kearny. After that, she moved over to Northwestern University where she earned a B.S. in speech and drama.
10. Sunshine & Deboners
Marg Helgenberger once had an alter-ego. No, she wasn't a superhero, but when she started as a weather girl at KHGI in Kearney, Nebraska, they galled her Margi McCarty. She was still in school at the local college at the time. Marg's career as a local weather girl wouldn't last because she decided to move to attend Northwestern. That wasn't the only first job she had, but it's much less glamorous to say she spent summers as a "deboner" at a meatpacking plant with her father.
Final Thoughts
We've been fans of Marg for a long time, and we're not planning on stopping anytime soon. Whether she's doing weather, horror, legal dramas or anything else, we love seeing her on-screen. Now we know more about her, we like her even better. What's you're favorite show or film from Marg? Let us know in the comments section.
Tell us what's wrong with this post? How could we improve it? :)
Let us improve this post!