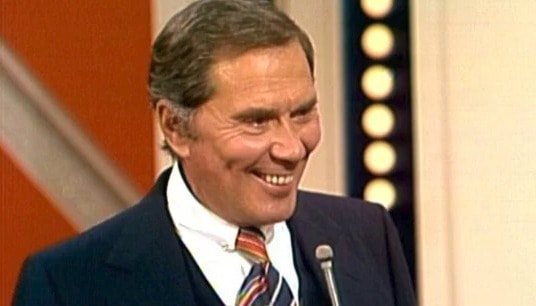 Eugene Jelyevich, known professional as Gene Rayburn, was a well known radio and TV personality back in the day and his one biggest claim to fame, the one that most people remember anyway, is the Match Game. Gene was also know for his ability to run a great show and have a great time while entertaining the guests and the audience. He was one of those once in a lifetime characters that don't come around all that often and are special largely because they understand what it takes to survive and thrive in Hollywood. Oddly enough he didn't move out to California when his show did, choosing instead to make the commute back and forth. At that time he was making enough money that it was still a possibility, but it was hard on him and his family at times since show business does tend to take people away from their loved ones. But Gene made it work and he made his name stand out in the minds of many that can remember those days. This man was someone that people will likely remember for some time to come so long as his memory is kept alive.
With the use of the internet and the historical records that are being kept and updated constantly it's likely that he'll be around even longer than anyone might have thought. Gene passed away from congestive heart failure in 1999 after a long and very successful career.
10. He chose his stage name from the phonebook.
Picking a different name isn't a big deal these days but finding a phonebook is. If a person wants a different name it's simply a matter of changing it legally and sticking with it. Back then however people changed their names frequently when they were in show business since some of them didn't care for their real name as it wouldn't draw much of a crowd.
9. His father passed away when he was still an infant.
That had to be a rough upbringing since not having one parent around is insanely tough on both the remaining parent and the children. Thankfully his mother did remarry and it seems that the family did just fine from that point on. In any time period having only one parent is tough and can have a huge effect on children.
8. His first job was at NBC in the 1930's.
He was quick to make his way into show business and had a few different jobs on his way up. He was an actor, a radio announcer, and finally he graduated to game show host where he seemed to shine the brightest.
7. He would commute to LA every 2 weeks to film his TV episodes.
He was unwilling to move with the show to LA so he would commute every 2 weeks to film the needed episodes and then return home. This seems like a lot of work to go through in order to keep one's job but apparently he did it without much complaint. Some people simply don't like to move and will gladly suffer a long commute if and whenever possible. Personally that seems like a very tall order for any one person to take on.
6. He was awarded the Lifetime Achievement Award just before he passed away.
Gene was in poor health at this time and was just barely hanging on but thankfully he managed to receive the award before he passed away. This is a great honor that not everyone is given and it was something that seemed to vindicate all the years he spent and all the time he gave to his job. Many people already knew that he was worth remembering, but something like this is just another way to say that what he did meant something to a lot of people.
5. He used to work as a radio announcer and earned $25/week.
Back in the day when he started working this was good money. As of now, adjusting for inflation, this would be well over $300/week today, which is still not horrible money depending on one's lifestyle and how they spend their money. It's certainly not enough to make a person rich, but it's a livable wage.
4. He was in the Air Force during WWII.
Like a lot of people back then Gene did his stint in the military when he felt the need. Today a lot of people wouldn't even consider joining the military given the choice. Some people would even say that it needs to be mandatory to spend at least a year in the service.
3. Regis Philbin started out working for Rayburn.
Can you imagine Regis working for anyone? He was Gene's helper at one point and it was Gene that showed him a lot about show business and really got him into it.
2. His best remembered role was as the host of the Match Game.
This is the role that made him an icon and will no doubt be recalled as his best and most influential role.
1. Howard Stern was a big fan of Rayburn's.
It's obvious that Rayburn was a big name back in his day and it's just as obvious that a lot of people saw him as a role model and someone to use as inspiration to go out and get what they wanted.
Some names go down in history, others are turned into legends. Gene Rayburn already earned his status as the latter.