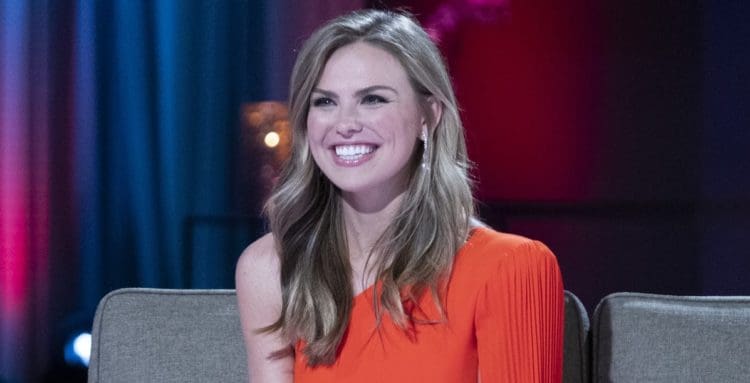 Love can prove hard to find yet we all want someone to call our own. When regular dating does not help you get the person looking for, television has come to the rescue through the bachelor and the bachelorette. So far, some have been lucky to find the person they had pegged their dreams on, and Hannah Kelsey Brown is hoping to do the same. As we get to watch men charm their way in her heart, here are a few details you might not know about Hannah.
1. Hannah is the first bachelorette from Alabama
The Bachelorette has had many women becoming "firsts" for the show. For instance, Jillian Harris, the star of the show's season five, became the first bachelorette from Canada. Other contestants have been picked from all over, but they all must first be cast on the Bachelor and finish in the first four places. For the first time since it premiered on January 8, 2003, The Bachelorette has had its first star from Alabama, Hannah Kelsey Brown.
2. She was Miss Alabama USA in 2018
"If at first, you do not succeed, dust yourself up and try again" are the lyrics to the late Aaliyah's song and Hannah has lived up to them. Since starting her pageantry career at 15, she had competed in several pageants and never won, but she never gave up that one day she would take home the crown. Her relentless efforts paid off in 2018 when she participated in the Miss Alabama USA competition, and she won.
3. She made her television debut through The Bachelor season 23
Hannah has become a well-known face across America, and that is thanks to her competing for the love of Colton Underwood in the Bachelor season 23 when she made her first television appearance. Unfortunately, Hannah, being among the 30 contestants, was not lucky to be handed the final rose which went to Cassie Randolph; Hannah finished in 7th place.
4. She suffered from anxiety and depression
Most people suffer in silence, and it is only when they turn to drugs and alcohol or worse, commit suicide, that we come to know that they were fighting a battle within themselves. Hannah revealed that she suffered from anxiety and depression at the onset of her modeling career and it must have affected her so much since she took a break from the pageantry and only returned in 2017 to compete in Miss Alabama USA 2017.
5. She loves country music
Alabama is home to some of the greatest musicians of all time with Hank Williams, Lionel Richie and Emmylou Harris topping the list. It is, therefore, no surprise that most people from Alabama have a love for music and Hannah is no different as portrayed by her love for country music. She does not just listen to the songs but sings along to the soothing tunes.
6. Hannah is an interior designer
Hannah worked for Gracefully Done since 2017 before heading to the studio to search for love. Gracefully Done is in Newport, Alabama and specializes in balancing between creating elegant living spaces and maintaining comfortability and functionality. The design studio has a knack for certain styles including "Rustic Elegance" and "Cozy Farmhouse," which Hannah has also adopted.
7. She values honesty in her relationships
It is disheartening to put your heart out there, hoping to find true love and then have someone take you for a ride. Hannah experienced this inhumanity in some people in the first episode of her Bachelorette season when one of the contestants came to the show with his girlfriend. Luckily, Hannah found out and kicked out Scott Anderson after dealing with him, causing other contestants not to have enough time to talk to her. Of course, she was a bit anxious after sending the culprit home may be wondering if anyone else was there to waste her time.
8. Her nickname is "beast."
Some nicknames are scary, and others are funny. Nicki Swift shares a few stories behind some of the nicknames celebrities have, for instance, Iggy Azalea whose height had her grandfather calling her " Stretchy" or Daniel Radcliffe whose extremely pale skin, earned him the nickname "Shrimpy", not to mention Mariah Carey who missed classes and it resulted to her being called "Mirage." Hannah also has her nickname, and it is "Beast," and it is not because she is hairy or ugly, but because she is fond of making beast-like faces.
9. Hannah has a degree in communications
Every girl wants to be complemented with "beauty and brains," but then the phrase cannot apply to everyone. Among the lucky few is Hannah, who is not just a pretty face; she is a smart one too. After finishing high school, she followed in her parents' footsteps by enrolling in the University of Alabama where she graduated Magna cum Claude in 2017 with a degree in Communications and Information Technology.
10. She grew up in Alabama
"Sweet Home Alabama," the song by Lynyrd Skynyrd became an instant hit, and other artists have recorded their versions of the song. Despite most people not knowing the true story behind the song, most take it literally and in this instance, so shall we. Hannah was born and raised in Alabama alongside her only sibling, Patrick, with whom they share a very close relationship. Her birthplace is Tuscaloosa, but she grew up in Northport and went to Tuscaloosa High School.
11. She has competed with Caelynn Miller Keyes twice
Call it fate but some people keep crossing our paths, and you have to wonder what destiny is trying to teach you through them. Imagine being in a competition and staying in the same room with your rival then after some time you decide to compete in another completion and find the rival also contesting for the prize? The first time Hannah and Caelynn crossed paths was when they fought for the title of Miss USA 2018. They were not just competing against each other, but they happened to be roommates. You would think they would become friends, but that never occurred to the two. When they met again to compete for the love of Colton Underwood, they both admitted that the tension that had begun in the pageant was now bad blood between them.
12. Hannah's net worth is $650,000
As reported by Mens Health, contestants leave their jobs to go to the show, hoping to get the love of their life. While it might seem a bit farfetched for a person to go looking for love on a television show, being chosen as the lead on either the bachelorette or the bachelor will earn a person $100,000 although the amount depends since Emily in season 8 got paid $250,000 while Meredith received $10,000. Whatever the amount Hannah will be paid, she already has a substantial amount in her account considering that she has raked in $650,000 so far.
13. She enjoys watching football
Most women would prefer to watch an episode on "Devious Maids" than sit on the bleachers to watch a football game but Hannah is not like other women. She enjoys football and will try her best never to miss a game. Matter of fact is she is a member of the Alabama Crimson Tide.
14. She was a member of the Alpha Chi Omega sorority in college
Hannah attended the University of Alabama and joined the Alpha Chi Omega sorority, where she spent most of her time. As "The Bachelor" wanted the viewers to grasp an idea of what life was like for Hannah inside the walls of the sorority house, they reached out to the sorority official who turned down the request saying it would bring unwanted attention and publicity to their hundreds of members, according to Globe-Intel. The sorority is almost a century old having been chartered in the University of Alabama on September 9, 1924. It is credited for the strength of its advisory board and excellent relationships between parents and alumni.
15. She used the pageant to spread mental health awareness
Were it another person who got a chance to be on the pageant as often as Hannah did; she would most likely have used the opportunity for her own benefit. However, Hannah is different; always thinking of helping others. Hannah, therefore, used the platform to spread her message of mental health awareness, having the experience of her own depression and still is a mental health advocate. Hannah admits that she took the pageantry as the benchmark of her self-worth and since she did not succeed, it took a toll on her and she wallowed in anxiety and depression causing her to take time off the contests.
16. She began competing in pageants at 15
While for most teenagers, being 15 means enjoying the attention of boys and striving to understand why their parents will not grant them the freedom they feel they deserve, Hannah was busy competing in pageants. Hanna entered her first pageant when she was 15, and although she never won any titles then, she came close ending up as first runner-up and second runner-up in Miss Alabama's Outstanding Teen 2010 and Miss Alabama Teen USA 2011, respectively.
17. She mentored elementary school students while in university
Hannah values education and most importantly, literacy as seen from her mentoring elementary school students during her college days. As she puts it in her LinkedIn profile, she promotes a personal platform through visiting schools and educating students on the importance of learning how to read. She is so passionate about her cause that she uses fundraisers to encourage people to take on philanthropy, and so far she has raised 10,000 books for a local elementary school.
18. Hannah has her own makeup company
It seems like Hannah has a thing for beauty evidenced not just by competing in beauty pageants but also by starting her own makeup company, H & M by Hannah. She started the company in April 2016 and has been using it to help accentuate her clients' natural beauty. She is not only a makeup artist but also a hair stylist who offers consulting services on beauty and skincare products and techniques.
19. She was not in love with Colton Underwood
People fall in love and out of love, and that could be the single reason why divorce cases are on the rise today. Although Colton Underwood had taken the initiative to take Hannah to meet his family, the evening did not go so well because he ended their relationship that day; talk about sending mixed signals. All the same, maybe it was for the best because Hannah admits that although she told Colton's mother that she was in love with her son, it was not entirely true. She had feelings of love for Colton and was falling in love with him but was yet to be in love with the guy.
20. She wants a love like that shared by her parents
We hear of people who want to grow up and become lawyers or doctors because they loved to see how their parents helped those who needed their services. For Hannah, her parents are her role models when it comes to love. They share a love so deep and true that it has inspired Hannah to want such for her own. Hannah expresses that she grew up in a loving family and that is what she wants to have someday
Tell us what's wrong with this post? How could we improve it? :)
Let us improve this post!