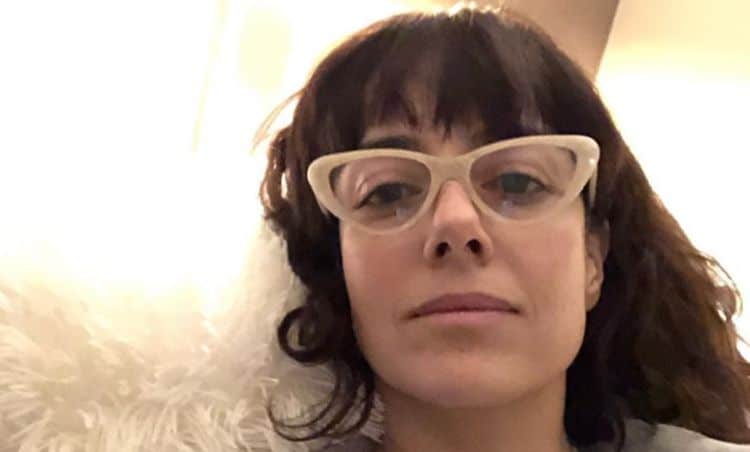 La Casa de Las Flores (House of Flowers) is back for its third season, and so too is Cecilia Suarez as fan-favorite, Paulina de la Mora. For the last two years, Suarez has beguiled us as the eldest daughter of the de la Mora family, earning herself the accolade of Vogue's best TV character of 2018 in the process. With the third season of the hit show also being it's final, Suarez is no doubt already planning her next move… although with three-lifetime achievements already under her belt, it's unlikely she'll be out of work for long. Find out more about the actress with these ten fast facts.
1. She's won three-lifetime achievement awards
If an actor's worth can be judged by the size of their awards cabinet, then Suarez's career hasn't been wasted. As well as being the first Spanish-speaking actress to be nominated for an Emmy, the actress also has the distinction of holding three-lifetime achievement awards, as well as the title of the first woman to win Mexico's lifetime achievement award in cinema, the Premio Cuervo Tradicional. Other titles include the Best Actress award at the Guadalajara International Film Festival for her performance in Tercera llamada, and a Platino Award for her role as Paulina de la Mora in The House of Flowers.
2. She never planned on becoming an actress
Suarez was born in Tampico, Mexico on November 22, 1971. As a child, she never had any dreams of becoming an actress, telling American Way, "I never played at being an actress, how boring. My parents knew that childhood was something to prolong and to respect." It was only after moving to the US to study at the University of Illinois that she discovered her passion for acting, eventually abandoning her law degree for theatre studies.
3. She made her breakthrough in Sexo, Pudor y Lágrimas
After graduating from university, Suarez spent several years earning her stripes in theatre. Her big break came in 1999 with the role of Andrea in Sexo, pudor y lágrimas (Sex, Shame and Tears). The film subsequently went on to become the highest-grossing film in Mexico. "I have only good memories of the movie through which I became a part of the story of the cinema of my country," the actress has since told American Way of her experience in the movie.
4. She's been described as Manolo Caro's muse
Suarez first met The House of Flowers creator Manolo Caro at a school recital when he was 14 years old. After Caro moved to Mexico City to pursue his ambitions in film, the two reignited their friendship. Suarez has since gone on to star in all but one of his projects, leading many to describe her as the filmmaker's muse.
5. She has a son with Osvaldo de Leon
In 2009, Suarez began dating the actor Osvaldo de Leon after the pair performed together in Othello. In April 2010, the couple welcomed their first child, a son named Teo. By that point, their relationship had already sourced; shortly after Teo's birth, they announced their separation. In 2015, Suarez, who retained custody of Teo after the split, took out a restraining order against de Leon on her son's behalf, alleging de Leon had been both physically and psychologically violent towards the child. The court ruled in Suarez's favor, although in 2019, de Leon, who has since gone on to have three further children, claimed in an interview with MSN that his relationship with Teo was now "fine".
6. She's starred in over 60 TV shows and films
If you can excuse Suarez of anything, it's never taking a break. Since making her TV debut in 1997 in the Mexican telenovela Mi pequeña traviesa, the actress has starred in over 60 films and TV shows. Some of her most notable projects include Párpados azules (2007), which won her a Press Award for Best Actress at the Guadalajara International Film Festival, Las oscuras primaveras (2015) which earned her a Grand Jury Prize at the Miami International Film Festival, Sex, Shame and Tears (1999), Capadocia (2008- 2012), Nos vemos, papá (2011), and The House of Flowers (2018—present).
7. She's an active campaigner
An active supporter of the Me Too movement, Suarez has long campaigned against the portrayal of violence against women in film and TV, and even sits on an advisory board for the Mexican government to examine the prevalence of machismo culture in media. She also serves as a UN ambassador, and in 2019, was chosen as one of 5 representatives to speak on the issue of femicide in Latin America at the UN and European Union's Spotlight Initiative campaign.
8. Her heart belongs in the theatre
Suarez began her career on stage. Despite becoming subsequently known primarily as a film and TV actress, it's clear her heart still belongs to the theatre. "The theater is a refuge," she shared with GQ. "It is difficult for me to say which role has been my favorite because I understand theatrical work as a real privilege … and because the theater is done based on pure conviction; cinema and television do not have that purity, although we do not like to admit it. I think the real litmus test for actresses and actors is theater."
9. Vogue España crowned her the best TV character of 2018
As Paulina in The House of Flowers, Suarez has won a new legion of fans, and with them some new accolades to join the already extensive list. In 2018, Vogue España voted Paulina the best TV character of 2018, describing Suarez's charisma and way of speaking as "one of the best performances we've seen in a long time".
10. She doesn't "speak" Pauline
If there's one thing we'll all remember about The House of Flowers long after its wrapped its final episode, it's Paulina's way of speaking. As soon as the show launched, fans latched on to the distinctive style, with '#PaulinaDeLaMoraChallenge' catching on like wildfire on social media. But if you were hoping to hear Suarez 'do' Paulina in interviews, you're out of luck. According to the actress, Netflix has "suggested" she doesn't use the voice outside of the show, something she says she's only too happy to go along with to "retain the magic around the character within the story".