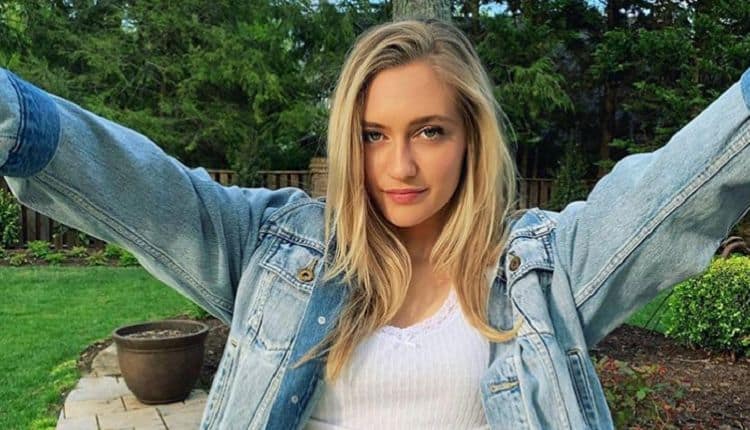 The name Maggie Sajak may not ring any bells for you yet, but that will likely change in the near future. The young and upcoming country singer has been forging a path in the industry since 2011. Despite having some connections in the entertainment industry, Sajak seems to be doing things her own way. Although she has yet to release a full length project, her first few singles have already gained some traction. Despite not releasing music in the last couple years, Maggie's talent has spoken for itself and her future is looking bright. But who is this young rising star? You're about to find out. Keep reading for 10 things you didn't know about Maggie Sajak.
1. Her Father Is Pat Sajak
If Maggie's last name sounds familiar to you, that's probably because it is. Her father is longtime Wheel of Fortune host, Pat Sajak. He has hosted the popular gameshow since 1981 and he and the show have become a fixture in home's all over the country. Maggie's mother is Lesly Brown, Pat Sajak's second wife. Pat and Lesly have one other child together, a son named Patrick.
2. She Wants To Be A Doctor
Maggie Sajak loves music, but she also loves medicine. Although singing and pursuing a career as a doctor may seem totally unrelated, Sajak hopes to do them both. She feels very passionate about both feels and says neither option is a plan b for her. During an interview, Sajak stated, "I just love them both, so I will keep doing both and see where that takes me. I probably won't go straight to medical school. I want to be able to focus on my music for a while."
3. She Learned To Play The Guitar At 12
Maggie may be young, but she's definitely not new to music. She has been passionate about music all of her life and learned to plat the guitar when she was just 12-years-old. Maggie began taking music more seriously during her teenage years and released her first single "First Kiss" when she was just 16. The video for the song was directed by Trey Fanjoy who has won several CMT Music Awards.
4. She's Worked With Teen Vogue
In addition to her work in the music industry, Maggie Sajak also has a little modeling experience. In 2013, she posed for some photos with the infamous Teen Vogue. Maggie was featured wearing stylish outfit and she also shared a few words on what she likes to wear and how she puts her outfits together. It doesn't seem like Maggie plans to pursue modeling any further, she's definitely a natural in front of the camera.
5. She Grew Up On Both Coasts
Maggie Sajak's mother, Lesly Brown, is from Maryland where she and Pat Sajak eventually settled after their marriage. Maggie was born and raised in Maryland. However, due to her father's career, she also spent a good chunk of her time living in Los Angeles where Wheel of Fortune is filmed. Maggie's parents still own a home in Maryland.
6. Maggie Isn't Her Nickname
To most people, Maggie is simply a nickname for Margaret. But that isn't the case for Maggie Sajak. Her legal name is actually Maggie. Although there's no big story on why her parents chose the nickname form over the formal, Margaret, Maggie's IG page makes it very clear that her name isn't short for anything.
7. Her Music Video Was Featured On Wheel Of Fortune
Pat Sajak is very supportive of his daughter's career and has used his platform to promote her music. For her 17th birthday in 2012, Pat Sajak played Maggie's music video for "First Kiss" on an episode of Wheel of Fortune. For many viewers, seeing the video was their introduction to Maggie as a singer.
8. Her Love For Country Music Comes From Her Father
A career in country music may seem like an unusual choice for someone who was born and raised in Maryland. But while Maggie's location may not have played a huge role in her love for country music, her relationship with her father certainly did. Before hosting Wheel of Fortune, Pat Sajak was a news anchor in Nashville where he developed an appreciation for country music which he passed down to his daughter. After growing up in a home where country music was constantly being played, Maggie Sajak, decided to make some country music of her own.
9. She Attended Princeton
Getting into an Ivy League school isn't easy for anyone, but it's especially challenging for someone who is also trying to balance the music industry. Maggie Sajak managed to do both though and she was accepted into Princeton where she was a pre-med student. It's unclear whether or not Maggie completed the program, but with her desire to be a doctor it's probably safe to say that she'll make it to med school one day.
10. She Was By Her Father's Side When He Fell Ill
Maggie and her father have a very close relationship her father. Recently, while the two were on a morning walk, Pat Sajak felt "a horrific pain" that stopped him in his tracks. In just a few hours he was in surgery. Maggie and her mother stayed by his side the whole time. Pat's condition was touch and go for a bit, but he made it through surgery and has made a full recovery. Pat has also mentioned that he has no plans to retire from Wheel of Fortune any time soon.