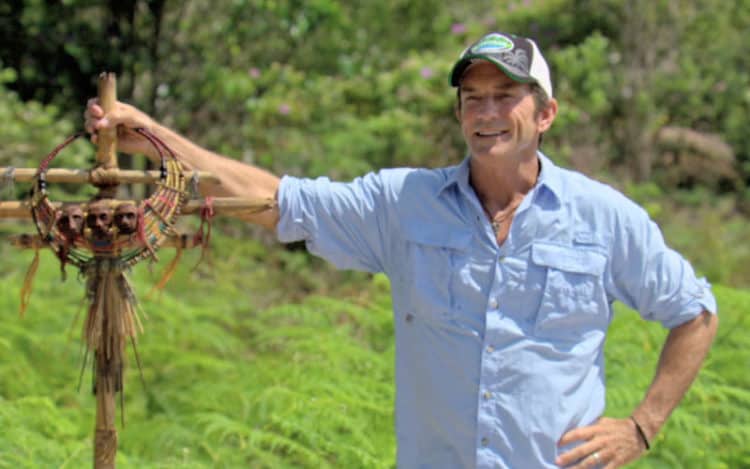 Born on November 4, 1961, in Wichita, Kansas, Jeff Probst is a well-known game show host and executive producer who began his career in the entertainment industry in 1996. He is best-known as the host and executive producer of the reality television series 'Survivor' and he first began presenting this series in 2000. He also had his own television series called 'The Jeff Probst Show'. Aired on CBS, this show lasted for just one season from September 2012 to May 2013. Probst has also appeared in many other television series throughout his career. Although he is well-known as a television host, there are many things that people do not know about him. Here are 20 interesting facts that you probably didn't know about Jeff Probst.
1. Busing Tables Was His Very First Job
While still at school in Wichita, Jeff Probst got himself a job to earn a little extra money. He worked busing tables for $2.20 an hour for a local restaurant, Elks Lodge. To get the job, he had to lie as the manager needed someone who was 16 and Probst was only 15 at the time. Fortunately for Probst, his earnings have increased significantly from what he was paid as a busboy.
2. His First Job in Entertainment Was at Boeing
Probst always knew that he wanted to work in the entertainment industry. After leaving school, he attended Seattle Pacific University. Once he had graduated, he got himself a job at Boeing Motion Picture/ Television Studio. His role at Boeing involved him producing and narrating sales and marketing videos.
3. He Has Worked Alongside His Brother
Jeff Probst has two brothers, Brent and Scott. Probst has worked alongside Scott on the reality series 'Survivor'. While Jeff has hosted the show from 2000 to the current day, Scott has worked in various roles on the crew for 25 episodes of the series between 2011 and 2012. He has mainly worked on the camera crew but has also worked as a grip and video engineer. Prior to this, Scott Probst worked as an art assistant or assistant props guy for 'Survivor' for five episodes that were aired between 2006 and 2009. Scott Probst was also the producer of the 2005 video game 'Medal of Honor: European Assault' and a production coordinator for the 2003 video game 'Medal of Honor: Rising Sun'.
4. He Has Suffered Several Injuries During Filming
Some locations pose more risks than others while filming, and the locations chosen for the various series of 'Survivor' have meant that Probst and the contestant have been exposed to some potentially dangerous wildlife. While filming in Borneo, he was taking a swim when he was stung in the genital area. On another occasion, a Scorpion crawled up Probst's boot and stung him in the Achilles' heel. While filming in Australia, Probst peed on a fence. Unfortunately, he had chosen an electric fence and it gave him a shock.
5. He Didn't Produce 'Survivor' Until Season 13
For the first 12 seasons of 'Survivor', Probst's only role was that of the host. However, he upped his responsibilities in season 13 when he became the executive producer and then later, the series showrunner. Making this move gave him the opportunity to put his own personality into the series and to take it in the direction he wanted. Probst has said that making the move was easy because a host is never only a host. They are always involved in some way in the end result of the series. He has also said that he loves what he is doing so much that he plans to carry on being a part of 'Survivor' for many more seasons.
6. He is an Ordained Minister
In 1999, Jeff Probst was ordained as a minister by the Universal Life Church of Modesto, California. It cost him just $25.00 to get his ordination papers. He originally decided to get ordained so that he could preside at the remarriage of his parents, which was to celebrate their 40th wedding anniversary. Since then, he has acted as the officiant when several of his friends have got married, so his ordination has come in useful. Probst even offered to marry both Amber Mariano and Rob Mariano in 'Survivor: All-Stars- The Reunion.'
7. He Has Won Four Primetime Emmy Awards
Thanks to his work on 'Survivor', Jeff Probst has become known as one of the best hosts on television, and this has been recognized in awards. In 2008, Jeff Probst won his first Primetime Emmy for Outstanding Host for a Reality or Reality-Competition Program. The following year, he won the same award for the second time, and then again in 2010 and 2011. This meant he had won the award for four consecutive years. Unfortunately, this run of success came to an abrupt end as he wasn't even nominated for the award in 2012.
8. He Has Mixed Tastes in Music
During an interview with CBS, Jeff Probst revealed that he has very varied tastes in music. When asked what his go-to karaoke song is, he replied that he loves anything from Van Halen. He was also asked what was on his playlist, and Probst said that he was listening to the soundtrack from Walter Mitty. This shows that he likes a variety of music.
9. He Has Directed Two Films
Although he is best known for his work as a host and an executive producer, Jeff Probst has also directed two films. The first of these was the 2001 drama thriller film 'Finder's Fee,' which he also wrote. This was about a man who finds a winning lottery ticket for $6 million. The second was the 2014 drama film 'Kiss Me', which was written by Elizabeth Sarnoff and is about a teenager diagnosed with scoliosis. This film stars Jenna Fischer, Missi Pyle, and Sarah Bolger.
10. Probst Admires David Letterman
During the same interview with CBS Probst said that David Letterman was his favorite host on CBS out of all past and present CBS hosts and he would choose to spend the day with Letterman. He explained his choice by saying that surrounding yourself with greatness is good for your soul. In the same interview, Probst was asked who he would invite to dinner and Probst chose Liam Neeson. However, he said that this was more for the benefit of his wife than for himself.
11. He Keeps Survivor Souvenirs
After each season of 'Survivor', Jeff Probst gets to keep a souvenir of the series. Each year, he has kept the torch snuffer that is used to put out the torches at the end of each season. He now has quite a collection of torch snuffers. He has said that this is the only souvenir he needs as he has plenty of happy memories of each season.
12. Probst is a Stepfather
Jeff Probst has been married twice. His first wife was Shelley Wright, a physiotherapist. The couple was married from 1996 to 2001. He married his second wife, Lisa Ann Russell, in 2011. She already has two children from her first marriage to actor Mark-Paul Gosselaar, a son called Michael and a daughter called Ava. This means that Jeff Probst is now a stepfather to two children. Probst has talked about his family life and says that he and his wife co-parent the children amicably wither her ex-husband and his new wife and that the children consider all four of them as their parents.
13. Jeff Probst Has an Estimated Net Worth of $40 Million
According to Celebrity Net Worth, Jeff Probst has an estimated personal net worth of $40 million. He has made this money predominantly through hosting and producing 'Survivor', for which he now earns a salary of $8 million each season. However, he has also earned some of his money from other television series and from writing.
14. He is Also Known for His Good Looks
While it is Jeff Probst's talents as a host that have made him so successful in television, being a good-looking man may also have helped him to gain popularity with the public. His good looks have been recognized as he was even named as one of the 20 most beautiful people in a list published in People Magazine.
15. He Was in Two Episodes of 'Two and a Half Men'
Probst has made appearances as himself in several television series. One of these is 'Two and a Half Men', in which he has appeared in two episodes. The first time was in the 2013 episode 'Some Kind of Lesbian Zombie'. He appeared in the sitcom for a second time in an episode called 'Baseball. Boobs. Boobs. Baseball,' in 2014.
16. He Always Has a $20 Bill When Traveling
Working on Survivor and traveling to different locations for shoots has taught Probst a thing or two about travel. One of his best tips is to always carry a $20 bill in his pocket as this can come in handy in a variety of situations. You can use it to get out of a tricky situation, to give someone a tip as a thank you, or to get you from one place to the next in a hurry. He has also used presenting a $20 bill at the front desk of a reception as a quick way to get an upgrade, he told GQ.
17. He is Only Away for Four Months of the Year
Probst also told GQ that it is a common misconception that he is away from home for most of the year. People think this because 'Survivor' is aired throughout the year. However, Probst says that this is not the case as the shooting takes place in concentrated periods. He usually arrives a week before shooting begins to prepare for the start of the season and make plans. The shooting then takes place over a period of around 39 days. Therefore, he is only away from home for around four months of the year.
18. He Bought Gene Autry's Estate
In 2011, Jeff Probst spent $5 million buying Gene Autry's former estate. The cowboy singer and actor had built the home in Studio City, Los Angeles, in 1949. The expansive 8,000 square feet property is a two-story Monterey-style house set in 3.68-acres. Some of the features of the property include a breakfast room, a family room with a wet bar, five bedrooms, seven bathrooms, and a library and media room.
19. He Founded the Serpentine Project
In 2007, Jeff Probst founded the Serpentine Project. This is a charity that is devoted to supporting young adults who are living in foster care with the challenges they face. This is a cause about which Probst feels strongly.
20. He Has a Large Following on Social Media
On Twitter, Jeff Probst is followed by over 477 thousand people. The topic about which he posts most frequently on Twitter is 'Survivor'. He is happy to respond to fan questions that are posed to him on Twitter and engages in online conversation in response to his posts. Probst also has an Instagram account on which he has 68.7 thousand followers.
Tell us what's wrong with this post? How could we improve it? :)
Let us improve this post!