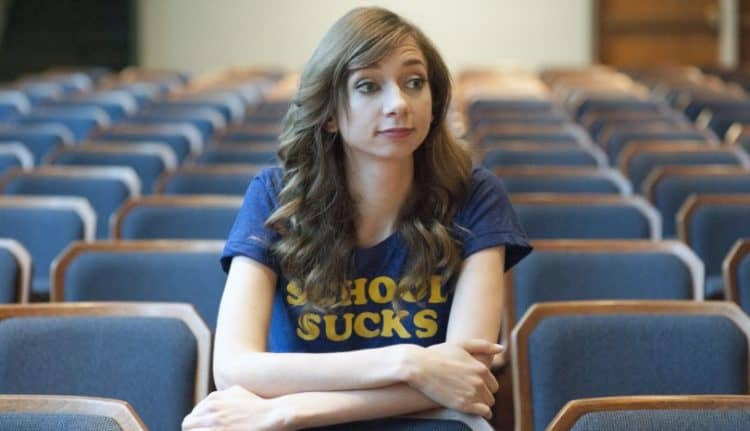 You recognize Lauren Lapkus from her many popular roles, but perhaps no role is more popular than her role as Susan Fischer in Orange is the New Black. Of course, her best role, in our opinion, was as Missy in "The Wrong Missy," alongside David Spade. She was genius in the role, and we laughed hysterically throughout the entire movie. She's in the news right now because she made a very shocking announcement, and the world is cheering her on. Everyone wants to know Lauren Lapkus better right now, so here you go.
1. She is From Illinois
Lauren Lapkus is a girl from the Midwest. She was born and raised in Evanston, Illinois. She was born on September 6, 1985. She was born Dorthea Lauren Allegra Lapkus, and she chose to take her name and scale it down just a bit to make it easier for her fans to follow along.
2. She Has Always Loved Comedy and Performing
Growing up, Lapkus was always a fan of comedy and of performing. She and her brother would make some sketches, film them, and share them with family. She also took part in her own high school variety shows and student revues. She loved it, and she wanted to pursue it. She loved things like SNL, and she credits those shows for making her love comedy even more.
3. She Took Improv Classes
As a senior in high school, she was ready to begin her career. She began taking classes at her local Improv theater, and it was something she felt good about. The improv classes she took were located at the IO Theater in Illinois.
4. She Went to College
After high school, she continued to work on her sketches, but she also went to college. She enrolled in classes at DePaul University. She studied English while she was there. She graduated with her degree in English in 2008.
5. She Began in Commercials
After her college days were over, she took a job in New York City. However, she did not stick around the city long. She was there just over a year, and then she moved to Los Angeles. That was in 2010. Her work in LA immediately began to hand her roles in commercials, and you've seen her in many. She had parts in commercials for Snickers and many other recognizable brands.
6. She is Married
Lauren Lapkus married her first husband in 2014. His name was Chris Alvarado. He's also an improviser and an actor, and they married in May 2014. However, they divorced less than two years later in February 2016. She married her second – and current – husband, Mike Castle, in the fall of 2018. Castle is also an actor.
7. She Announced She is Expecting
She and her husband made a very exciting announcement in May 2021. They are expecting their first baby together. They even went so far as to tell the world that they are expecting a little girl of their own, and these proud parents-to-be could not be happier about their new baby. Congratulations to the new family of three.
8. She and Her Husband Have Always Been Oddly Intertwined
When the couple spoke with People Magazine at one point, her husband mentioned that they've always been oddly close to one another even though they'd never met. He was always interested in her before meeting her, but they also happened to grow up near one another. He went to Piven Theater near where she lived as a child. He listened to her podcast and thought she was amazing, and they could have met on numerous occasions but never did.
9. Their Baby is a Rainbow Baby
While neither she nor her husband has gone into detail, her baby announcement used the Rainbow Baby hashtag. Rainbow baby is a term for a baby born after a loss. The loss could be a miscarriage or a stillbirth or any number of other tragic losses that occur when a woman is pregnant and loses her baby. We may not know what happened to their precious baby or babies, but as the mother of a rainbow baby, I know the myriad of emotions she is going through.
10. She's Over the Moon
Her baby news has her happier and more excited than anything else in life, and no one can blame her. She made the announcement that they will welcome their baby this summer, so we expect to see the announcement that their sweet little girl has come in the next few months. We wish them the very best.
Tell us what's wrong with this post? How could we improve it? :)
Let us improve this post!