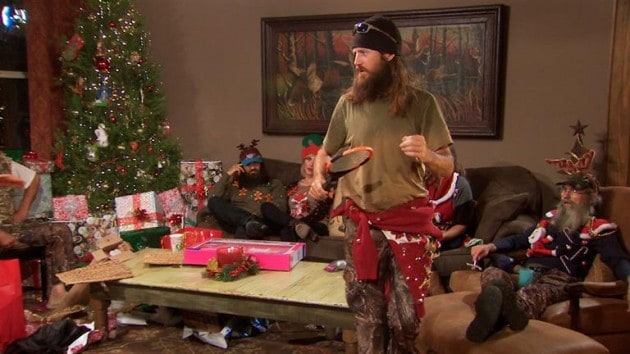 Duck Dynasty has had a lot of uplifting and emotional episodes, but this one may have bested them all. The Robertsons really outdid themselves with this Christmas-themed episode.
When the family was having their Christmas gift exchange, Willie announced that they would be giving an old family friend a new home for Christmas because she had fallen on hard times. They've known the woman for the better part of 40 years, and they felt that was the least they could do for her. Everyone in the family got on board with the project right away, and knowing the Robertsons, I knew it would be a success.
This episode contained not only a heart-warming, Extreme Makeover: Home Edition type story, but also some funny little bits about Willie and Si recording Christmas songs and Phil "teaching" his daughters-in-law in the kitchen.
Phil in the kitchen was delightfully awkward. In all of the episodes I've seen of Duck Dynasty, I don't know that I've ever seen Phil paired with his daughters-in-law. The women don't always have an opportunity to be funny on the show, unless they're playing straight to their husbands (or each other's husbands). This week, they played straight to Phil, who should probably not be let loose in a kitchen anytime soon. This was a really fun bit, though, and a good showing of Phil, who we haven't seen much of this season.
Willie's Christmas song recording was…well…pretty much how you could expect. He took Miss Kay, the kids, and Si along for the ride, so you know they're bound for shenanigans. Si wasn't a fan of Willie's singing, so he put the whole thing on auto-tune. Now, Willie on auto-tune was actually pretty funny. But, he wasn't amused by it. I can imagine that the people who worked in the recording studio were a little overwhelmed by all of it, really. Si, recording his "Christmas songs" was actually quite amazing. I'm going to have to add the "Yuletide Boogie" to my holiday playlist. Classic.
My heart filled up as they told stories of growing up around this woman for whom they bought a house. Every single member of their family didn't even question the gift, and went right to work to make it special for this family. They bought a beautiful modular home, built a deck, and made everything look great before the big reveal. Mrs. Lewis was brought to tears by the gesture, and soon after she brought Phil and Kay to tears during their prayer, all because of her humility and graciousness. It was really an incredible thing to witness. Phil doesn't seem like a cry guy, so I could tell that this was a special thing that happened. I teared up a little myself, and that doesn't happen too often in Duck Dynasty.
Of course, Duck Dynasty is still Duck Dynasty. So here are some of my favorite quotes from the episode:
"I never thought I'd say this, but we need to get back to work" – Jep
"I got some moves, you know" – Miss Kay
"Tell that guy he needs to get some decent toilet paper in the bathroom"- Si
"Si, he tagged along for his usual purpose…to annoy the crap out of me"- Willie
"It was the original man-cave, the He-Man cave"- Jep
"If Christmas was a woman, I'd marry that heifer"- Si's Christmas Song, the "Yuletide Boogie"
What did you guys think of this week's Duck Dynasty? Were you as touched as I was? Let us know!
Photo via A&E