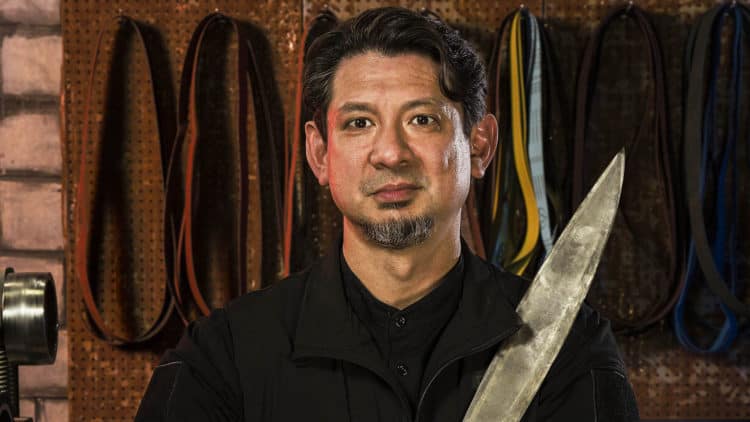 Doug Marcaida probably never thought that he'd become a TV star, but over the last few years, his face has become a fixture on screens all over America. As one of the judges on Forged in Fire, he has brought a unique perspective to the show. While he isn't a bladesmith, he is a talented martial artist who uses knives as a part of his style. When testing blades on the show, he brings his own personality and style, and he has quickly become a fan favorite. Even though he's gotten injured a couple of times while filming for the show, Doug wouldn't trade the experience for the world. Keep reading to learn 10 things you didn't know about Doug Marcaida.
1. Forged In Fire Is His Only TV Experience
As mentioned before, becoming a reality TV star wasn't exactly in Doug's plans. As usual, though, life had something else in store for him. That being said, Forged in Fire is the only TV show he's done – reality or otherwise. There's nothing to indicate that he has an interest in making a long-term career out of being on TV.
2. He's From The Philippines
Doug was born and raised in the Philippines. He is very proud of his roots however, he relocated to the United States when he was a teenager. No matter how much time he spends away from his home country, the Philippines is a place that will always be near and dear to his heart.
3. He's Been Doing Martial Arts Most Of His Life
Martial arts has been a major part of Doug's life for many years. During an interview with Offgrid Web, he said, "I started as a kid with basics of karate, kickboxing, and Tae Kwon Do, but it was always a side hobby. It wasn't until I discovered Filipino martial arts in my mid 20s that I really became serious about training. I studied under the several grandmasters and instructors of Pekiti Tirsia Kali, San Miguel Eskrima, and Kali deLeon, along with exposure to Silat and other FMA systems."
4. He Has A YouTube Channel
Doug has been on YouTube for over a decade and in that time he has built a very impressive following. On top of having nearly 80,000 subscribers, his channel has gotten more than 3.9 million views. In fact, his YouTube channel is what led to him getting the opportunity to be a judge on Forged in Fire.
5. He's A Dog Person
Doug may be a very tough guy who could drop most people in the blink of an eye, but he has a soft spot for dogs. He is a very proud dog dad to an adorable little puppy. Although he hasn't created a separate Instagram account for his dog, Doug's fur baby makes frequent appearances on his profile.
6. He's A Veteran
Most people are lucky if they get to have one great adventure during their lifetimes, but Doug has been fortunate to have several. After relocating to the United States, Doug joined the Air Force where he served for nearly a decade. When he left the military, he went on to spent 20 years working as a respiratory therapist.
7. He Loves To Travel
In addition to having lived in two countries, Doug also likes to travel as much as he can. He has been blessed to be in a position that has allowed him to visit all kinds of different destinations. Some of the places Doug has been include Mexico, Hungary, Croatia, and France.
8. He Has Learned A Lot By Being On Forged In Fire
Being on Forged in Fire has been a great experience for Doug in more ways than one. On top of giving him the chance to be on TV, it has also allowed him to expand his knowledge. He told Offgrid Web, "I have learned so much about the weapons I train with. From discovering iconic weapons from history to understanding the process of blade making. It has allowed to give a true personal understanding, and in a romantic sense, to be able to see the process where the soul of the blade smith is transferred to the weapon."
9. He's A Private Person
Being in the spotlight usually makes it hard for people to maintain their privacy, but that hasn't been the case for Doug. Since Forged in Fire isn't the type of reality show that focuses on Doug's personal life, he has been able to keep a lot out of the spotlight. Although he is very active on social media, he hasn't revealed too much personal information.
10. He Enjoys Showing Love To Fans
Nobody who works in the entertainment industry would be where they are without people who support their work, and that's something that isn't lost on Doug. He is grateful for everyone who has shown him love and he does his best to show it right back by reposting things on social media.
Tell us what's wrong with this post? How could we improve it? :)
Let us improve this post!