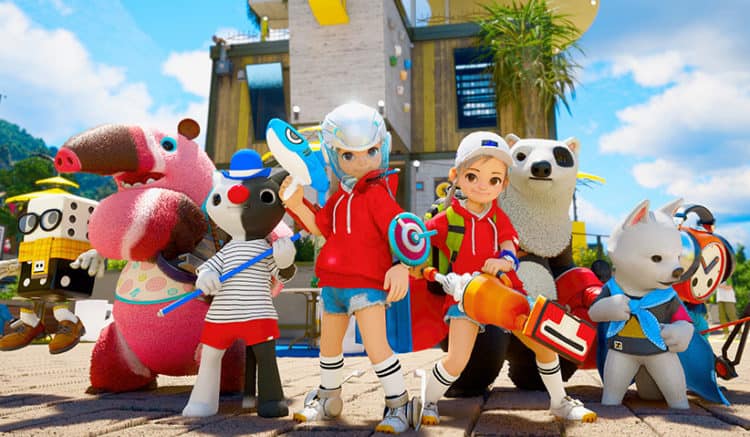 DokeV by Pearl Abyss is a new monster-hunting action-adventure game that took everyone by surprise this Gamescom. It is an open-world game that is an interesting mix of Pokemon, Ghostbusters, and a little bit of Sunset Overdrive. It comes with hyper-realistic graphics that are blended together with anime-inspired character designs. By the trailer, it is hard to make sense of what exactly is going on. There is a character that looks a lot like Ash from Pokemon traversing a realistic modern Korean town in a variety of ways. He is shown hand-gliding through the air, skating down the street, and riding his bike down a busy highway. Plus, it is shown that he can summon all kinds of zany weapons like a giant mallet and even something like a proton pack.
The creatures that players will be catching are called, "Dokebi." They are beings that live alongside humans in this world to where they encourage people to follow their dreams. Apparently, they garner strength by enticing humans to go after their goals. This is their motivation and it's a symbiotic relationship with all species involved. This open-world adventure is teeming with activities and life. There will be endless things to do and discover throughout the playthrough of DokeV. Between the development with Plan 8, Crimson Desert, and DokeV, Pearl Abyss has a lot in its hands. Being a Korean developer, they are taking their own spin with the Monster Hunter and Pokemon franchises and making something their own.
Video
Dokebi And Me
DokeV is very early in development and many things are subject to change. By looking at the trailer, the frozen faces of the characters are a good indicator of this. Pearl Abyss has a solid idea of what vibe and gameplay mechanics they want in this title. Some would argue that they might be borrowing elements from Splatoon, as well. Needless to say, this game has captured a lot of attention from gamers worldwide. Pearl Abyss wanted to make a game that the whole family can enjoy together. Evidently, a "Dokebi" isn't something that the developers arbitrarily made up. It is actually a creature based on ancient Korean folklore. The main story of DokeV is about being a kid running around capturing Dokebi and embarks on an adventure together. Players will be able to summon different Dokebi to help out in certain situations throughout the map. It appears that some Dokebi will give the player perks, like jumping higher for instance, or simply aiding in combat.
The main difference between games like Pokemon and Monster Hunter, Pearl Abyss wants this game to feel rooted in reality. The movement of the playable children is reflective of real life. There is going to be an acute sense of physics and weight in this world. These characters aren't going to have superhuman powers. However, they will be able to summon different tools and vehicles on a whim. The developers want the action to feel "dream-like" with how everything flows. There will be a grappling hook that latches to the clouds. Plus, players will be able to rocket up high above the city and float down on with a parasol like Fortnite. Not only will these tools be critical for navigating the city, but also in combat. This is clearly shown in the footage within the trailer. Players can strafe back and forth with magical roller skates and zip out of harm's way with their grappling hook. Every gameplay mechanic will blend seamlessly together with all aspects within this title.
Curious Collectibles
DokeV isn't going to be an MMO. Instead, it is strictly going to be an open-world action-adventure title. Although things are still up in the air, there might be some co-op involved. Pearl Abyss seems to be the type of developer that have an open mind and things always change and evolve during development. This game started development back in 2019 and, it was originally slated to be an MMO. However, Pearl Abyss decided to go in another direction and change up the original plans for this title. Although many players were upset with this news, others feel that a single-player experience would make a more polished game. The MMO genre is becoming a crowded market and perhaps this was a wise move on Pearl Abyss. Based how on things look in the trailer, it is hard to imagine this game without a multiplayer component of some kind.
The creature collecting aspect in this game seems to be synonymous with Ghostbusters. Players will be controlling characters that have a backpack that is equipped with a vacuum of some sort. The trailer showcases that these creatures can be unleashed by throwing out a small disc. The designs range from a polar bear wearing boxing gloves to a bipedal, bruising ant-eater. Having the right Dokebi will spell either victory or disaster during combat encounters. Most likely, DokeV could have a "Rock, Paper, Scissors" aspect to the combat that's somewhat similar to Mega Man. It is possible to capture a Dokebi with a standard weapon, but having the right Dokebi ally could make things much easier. Of course, this is all just speculation based on what was shown in the trailer. There also seem to be social activities that players can interact with. Things like; hanging out on the beach, fishing, and playing in the park appear to be optional things to do. Whether or not this corresponds with co-op gameplay or just single-player with NPCs remains to be seen.
Magical Monsters
Even though the trailer for DokeV left an impression, it is still shrouded in mystery. At least the trailer gave gamers a good taste of how the basic gameplay fundamentals work. Needless to say, this is something that could potentially launch a whole new franchise. There's still much work to do and there will most likely be many changes to DokeV before release. Until then, the trailer that was dropped at Gamescom should be enough to hold players over. Expect DokeV to be released sometime in 2023 for PC, Playstation, and Xbox.