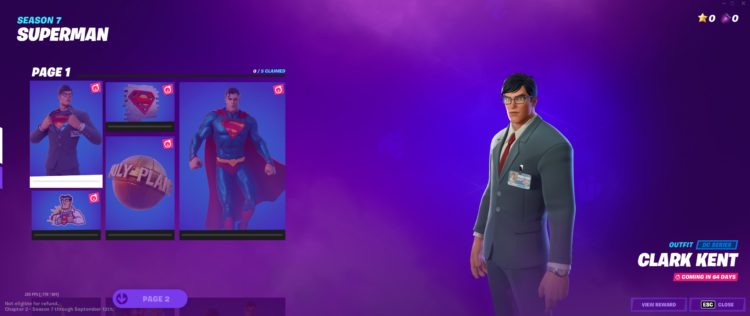 "Fortnite" itself has been an impressive game and platform from its initial launch but how every season of "Fortnite" changes the game to almost a new genre, the Zero Point comics that Epic partnered with DC Comics for opened yet another door. The highly popular battle royale game has been loaded with crossovers for the last few seasons but this collaboration was different. The Zero Point comics brought Batman and others to the world of "Fortnite" via the island's Zero Point but the comics are open-ended. Below, we've gone into detail of what the Zero Point comics could mean for the upcoming Superman skin coming to the island in 3 days, at the time of this writing, as well as what else it could mean for "Fortnite" and DC Comics in general. Please note that there will be Zero Point comic spoilers to some extent in the article below.
Fortnite Zero Point Comics Recap
The Zero Point comics mentioned above concluded last month and with that conclusion we saw Lex Luthor, Dr. Slone, Deathstroke and The Batman Who Laughs in Metropolis, seemingly plotting the next phases of their individual plans. While we knew that these comics tied the "Fortnite" island with the DC Extended Universe, it has been focused on Batman, not Superman. However as we see these villains gathered together in Metropolis and Superman was announced at the beginning of the season to be included at some point, this could mean serious implications for Superman and the future of the island.
The comics can be called open-ended due to there being no real conflict being resolved but more problems appear to be coming to life. As a battle pass holder, you can explore the future Superman content such as the Clark Kent skin with several variants as well as other items. While it's unknown how or what exactly needs to be done to unlock the skin or anything else for that matter but it's expected to be either challenges or similar to currently leveling up and claiming battle stars for rewards. Zack Snyder's Justice League finally got released and this Superman skin draws some instant similarities to the mind so that could have also lead to the hero's inclusion.
DC's Epic Future
The Zero Point comics upon announcement showed that anything was possible but the events detailed in the comics answered some very long overdue answers to the island's mysteriousness but even though the comic concluded, for now, stay aware. As the comics went on we learned of the secret hatches, actual death in "Fortnite", as well as other things that shocked players to learn. With the Zero Point comics opening the door and Season 7 of "Fortnite" alluding to Superman from the beginning of the season, readers should have seen a Superman collaboration coming.
If nothing Zero Point comic or Batman, somehow, never truly make an in-game event collaboration, the future of "Fortnite" collaborations with comic books under the DC umbrella is endless at least. Aquaman previously made an appearance in "Fortnite" but it was nowhere near the type of event that the Zero Point comics were but from here on out, DC and "Fortnite" could release quite the impressive line of comic books. DC has never been a stranger to collaborations, much like "Fortnite", so an on-going collaboration between the two companies seems very likely to continue.
Superman's Fortnite Zero Point Connection
Now, specifically talking about Superman and his incoming "Fortnite" appearance, this could pave the way for Season 8 and make it DC exclusive, much like the previous Marvel season. Usually "Fortnite" would have an event lead into the next season perfectly but lately, and possibly due to COVID, Epic has been doing events towards the end of the season instead of as an end. Since we already had an event pass this season, today to be exact with the Ariana Grande event. With a good amount of the season still to go, it's likely Superman himself could lead to another event that would kick off the new season properly.
Usually the musical "Fortnite" events don't lead to much of a story plot, but the Ariana Grande event however was loaded with interesting Fortnite lore. Another important thing to note about Fortnite's Superman skin is that one of the variants feature Shadow Superman and Clark Kent which means Superman could also be a possible new boss to hit the island, as this appears to be an evil Superman outfit. Overall, Superman may not be alluding to anything to do with the new season and may just help round out the current season but we'd have to wait a few days to know for sure.
Tell us what's wrong with this post? How could we improve it? :)
Let us improve this post!