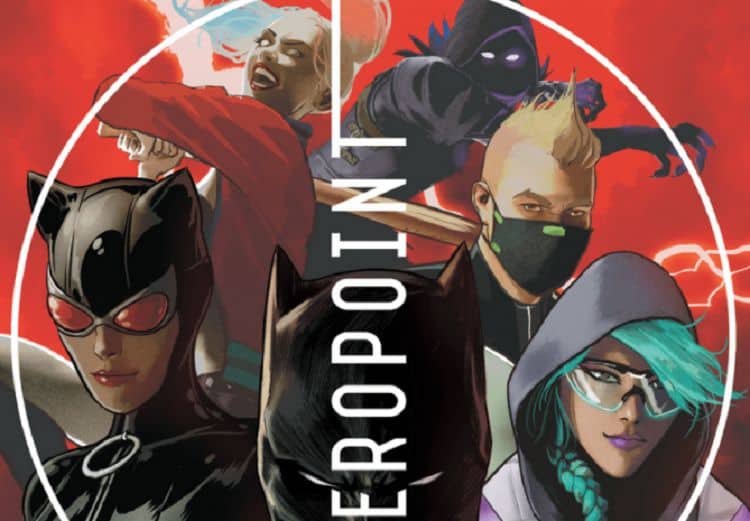 Well, I never thought I'd actually see the day that Batman would arrive in Fortnite, but here we are. The most recent Fortnite crossover event has brought Batman into the game….well, kind of. The thing is, Batman was already a skin in Fortnite, as was Gotham a designated Point of Interest, however it seems that fans of DC comics that may prefer to just read about the crossover will get their spotlight, because this entire crossover (that we know of) is limited to a 6-issue comic run. So what do you need to know about this Batman meets Fortnite crossover comic, and what in-game rewards can you obtain from reading this comic series, and where exactly are you able to read it?
What is it?
Batman/Fortnite Zero Point is a limited-run comic developed by DC and Epic Games. Here's what Epic Games describes it as: "A crack splits the sky above Gotham City… a tear in reality itself. This rift pulls the Dark Knight into a bizarre and unfamiliar world, with no memory of who he is or where he came from… DC's Batman has been drawn into Fortnite! As our hero fights to recall his past and escape an endless loop of chaos and struggle, he'll come face-to-face with the likes of Renegade Raider, Fishstick, Bandolier, and more. While the World's Greatest Detective strives to make sense of this strange new world, he'll uncover the shocking truth about the Island, what lies beyond the Loop, and how everything is connected to the mysterious Zero Point. Uncover secrets never before revealed in-game or anywhere else! Every fan of Batman, Fortnite, stunning art, and edge-of-your-seat excitement won't want to miss the Caped Crusader facing off against Fortnite champions on the Island in a desperate attempt to save not only himself but other familiar faces from the DC universe… and perhaps the Multiverse too!"
Where and when can you read?
"Batman/Fortnite: Zero Point #1 arrives at your favorite comics shop or digitally to DC UNIVERSE INFINITE (US-only) on April 20, 2021. Issue #1 launches day-and-date in North America, Germany, Italy, Mexico, Brazil, Spain, and the Czech Republic; and there are plans to release the full series in Japan, Korea, and France later this fall. Following Issue #1, the next installments will arrive twice monthly in May (May 4/May 18) and June (June 1/June 15). The six-part series concludes with a thrilling finale on July 6." Yep, you heard it right, folks! Batman/Fortnite Zero Point is already available as of April 20, 2021 in comic shops all across the US as well as DC Universe Infinite, DC's own comic subscription service. Unfortunately, if you live outside of the US you'll need to wait a bit longer if you want to take part in the Batman/Fortnite madness.
Fortnite Rewards
There's a ton of in-game rewards that you can earn just by reading Batman/Fortnite Zero Point, like the new Rebirth Harley Quinn Outfit. "Each print issue of Batman/Fortnite: Zero Point will include a redeemable code for bonus DC-themed Fortnite digital items inspired by the events in the comic, starting with the new Rebirth Harley Quinn Outfit. As an additional reward, any player who redeems all six codes from each of the six comic book issues will unlock the new Armored Batman Zero Outfit!" Honestly, the Harley Quinn outfit is pretty cool and it makes me think even more so now that the next Batman/Fortnite Zero Point issues are leading up to a full on Suicide Squad x Fortnite crossover, and while I would certainly be surprised if this was the case, I would definitely not complain about it. After seeing James Gunns' Suicide Squad trailer, I would absolutely not say no to a King Shark dad-bod skin in Fortnite. Even if you don't live in the US, or if you can't get your hands on a physical copy of the Batman/Fortnite: Zero Point comics, don't worry, because all items will be available in the Item Shop day-and-date with each comic book's release, however the Issue #1 Rebirth Harley Quinn Outfit is an exception to this rule, but will still release in the Item Shop later in June 2021.
Overall, while I was fairly unsure how I felt about a Batman/Fortnite comic crossover event, I certainly think there's potential there, and I'm sure that players and readers of all ages will be able to find some sort of enjoyment out of it – even if it's just a few items in-game, or a laugh here and there. You should also be on the lookout for special bold/dynamic main and variant covers from amazing artists like the Issue #3 variant cover that features Batman vs. Snake-Eyes from legendary DC Publisher and Chief Creative Officer, Jim Lee. There's even limited-run premium variant covers that come directly from Epic Games Chief Creative Officer, Donald Mustard!
Tell us what's wrong with this post? How could we improve it? :)
Let us improve this post!