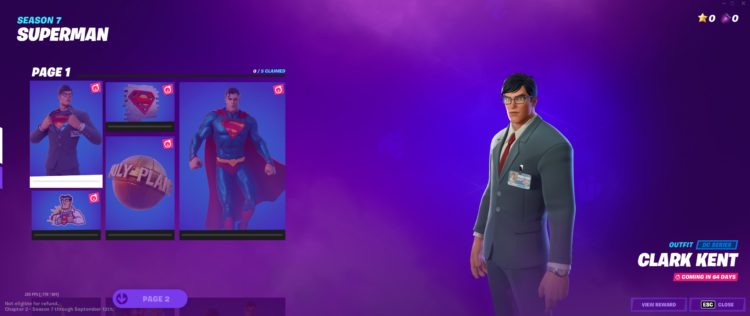 Fortnite recently launched its latest season, Chapter 2: Season 7 called "Invasion." With this new update, we've seen plenty of (quite literally) out of this world appearances from Rick and Morty, to a whole bunch of other extraterrestrial characters and weapons. This list of off planet inhabitants has now also grown to include DC's very own Clark "Superman" Kent. That's right – Superman is now in the world of Fortnite. While this may come as a surprise to many – as it did to me – if you think about it, this really shouldn't surprise any of us at all. So, why is it that Superman being introduced to the Fortnite multiverse should come as no surprise to us? Well, I'll tell you why right now!
Marvel
One of the biggest reasons why Superman coming to Fortnite shouldn't really come as a huge surprise to any of us is the fact that Fortnite has crossed over with Marvel Comics many times. Here's a complete list of every single Marvel skin that we currently have in the game, we've got: Star Lord, Deadpool, Captain America, Wolverine, Groot (with Rocket), Black Widow (expect another crossover when Black Widow finally hits theaters in the beginning of July!), Thor, Mystique, Captain Marvel, Captain Marvel, Black Panther, Taskmaster, She Hulk, Doctor Doom, Silver Surfer, Blade, Daredevil, Domino, Cable, Storm, Iron Man, Ghost Rider, Psylocke, Venom, and Ant-Man. Yeah, that's a lot of skins. Not to mention, I mean, we had an entire season of Fortnite dedicated to Marvel, we had the Infinity Gauntlet LTM, we've had a ton of Marvel content in the past. It's no surprise now that Epic Games would partner up with DC to bring the Man of Steel into the game as well. Maybe we'll finally see the Marvel vs DC crossover that we've always wanted to see on the big screen, though maybe it will just have to be on the not-so big screen if it's within the world of Fortnite.
DC
Another reason why it really shouldn't come as a huge surprise that Superman will soon be in Fortnite is the fact that Epic Games has not only crossed over with Marvel, but they've also introduced a whole bunch of DC Comics skins as well, including: Aquaman, Batman (Comic Book Outfit), Black Manta, Catwoman (Comic Book Outfit), Green Arrow, Harley Quinn, Poison Ivy, Rebirth Harley Quinn, Rebirth Raven, The Dark Knight (Movie Outfit), The Flash, The Joker, and even Beast Boy, so it only makes sense that the Last Son of Krypton would eventually make his way into the game at some point. Quite honestly, I'm kind of surprised that we haven't seen Superman introduced to Fortnite already, especially when Batman was brought into the game, I thought for sure that they would have done a Batman/Superman thing, but I suppose they were just biding their time. Since it will be quite a while before we are actually able to get our hands on Clark Kent and his Superman suit outfits, as well as his Black Suit Superman(!) skin called "Superman (Shadow)" I'm wondering if Epic will also announce a tie-in comic series for Superman similarly to how they produced a Batman tie-in comic with Batman/Fortnite: Zero Point, though I imagine we would probably know something about that already if it were happening.
Aliens
I think we're probably all aware that Superman is, in fact, an alien, since he comes from the planet Krypton and is not originally from Earth, so it would only make sense that he would be introduced with the new "Invasion" season that revolves entirely around science fiction themes and aliens. However, we did get Predator (from Predator) and the Xenomorph and Ripley (from Alien) last season, which would have seemed like it would make more sense to add in this season, but that's beside the point. Suffice to say that Superman is probably not going to be the only alien that we'll be seeing in Fortnite – I've heard some rumors floating around that we might see something about Star Trek, which would be really cool to see in Fortnite, and I think we could easily see an E.T. back bling or something of the sort introduced sometime soon.
Sure, initially seeing Superman coming to Fortnite teased by the official Fortnite Twitter account was a bit odd initially, but I do think that it makes total sense given that Epic Games has worked with both Marvel and DC Comics before, and this season is based entirely around aliens. I'm just looking forward to seeing what else Epic is bringing to the table, and I'm hoping to get my hands on the Shadow version of Superman's suit.