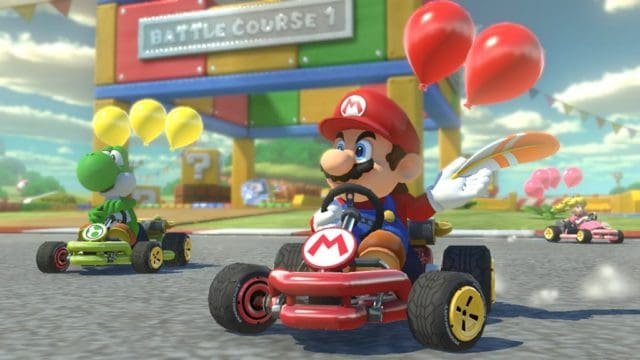 So I was just reading about a Mario Kart 8 for Nintendo Switch that has the potential look of greatness. Mario Kart 8 was originally released for Nintendo Wii U back in 2014 and went on to sell over seven million copies, placing it in sixth place among the Mario Kart series. Three years later, Nintendo is prepping the release of Mario Kart 8 Deluxe for their new Nintendo Switch console that debuted March 3 to rave reviews and long lines of eager gamers hoping to purchase one before it sold out.
From what I've been reading this game is chalk full of upgrades and people are excited. But let's not talk about this Mario Kart. Let's talk about Mario Kart 64, which will always go down as one of the best racing games in the history of Nintendo or any system ever.
Picture this. You and your buddies are in a room and there are four of you playing Mario Kart 64. The amount of trash talking is mind boggling. The sweat is in the air. Your hands are damp from the controllers and when you lose it's like grim death stabbing you in the back. You immediately scream "next!" to let everyone else in the room know that you've got next. But then someone claims they have next. The two of you proceed to wrestle over the controller and you eventually start punching each other. All of this over Mario Kart 64. Sound familiar?
OK cool, I just wanted to make sure I wasn't the only one. Amazingly I couldn't find any Youtube videos with this scenario. I was sure there'd be at least one.
Tell us what's wrong with this post? How could we improve it? :)
Let us improve this post!