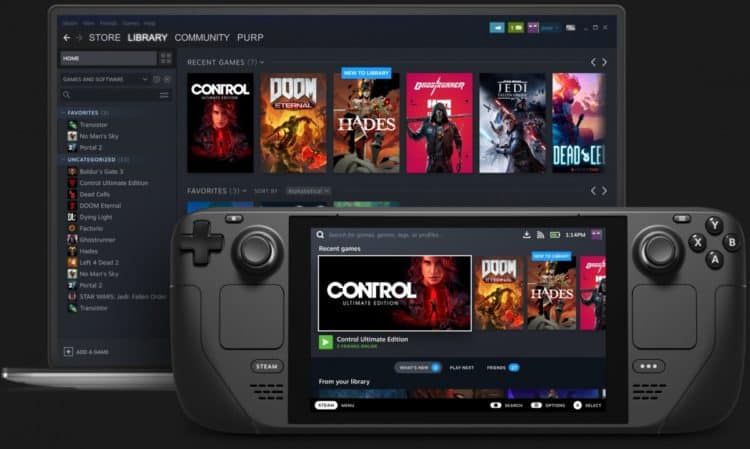 Valve has always been an interesting company, from publishing and developing hit games such as Left 4 Dead and Counter-Strike to creating their massive online PC game store and community, Steam. Most recently from Steam we got word of a new portable option from the company from their branded Steam store, the Steam Deck. Confusing for sure, as the company Elgado has already creating several devices in their line of PC products called Stream Decks to help streamline certain aspects of streaming. Below, we've discussed not only the core announcement and details of Valve's brand new Steam Deck but also how this innovative product is different from the Nintendo Switch and older handheld systems as well as its possibly huge impact on portable gaming.
The video games alone that have had any sort of Valve tag on them art not only instant hits but also very long-standing games as they still get playtime all these years later and stay in demand. While fans have been begging for a sequel of games like Left 4 Dead and Portal, Valve has left us in silence. Portal has most recently gotten a Bridge Constructor title that's available at retailers and the spiritual successor of Left 4 Dead entitled Back 4 Blood is launching in October. Clearly games with the Valve tag are worth keeping a close eye on, even today.
Valve's Steam Deck, Not Elgado's Stream Deck
Most people aware of video games, especially in today's era that's loaded with streamers, this stuff has become common knowledge but just in case you weren't aware, we've gone over what Elgado's Stream Deck is. While it's certainly an incredible piece of hardware and makes being a streamer that much easier and personalized, it is definitely not in the race as a portable PC. Elgado's Stream Deck comes in a few different forms, and like most pieces of smart hardware and equipment, Stream Decks vary in size and quality as well as capability.
With an Elgado Stream Deck, owners specifically have access to an array of buttons that they can customize to be any number of actions on their streams to help them have a more customized experience for their viewers, and themselves. However, as stated above, a Stream Deck from Elgado, while revolutionary, is nowhere near the same piece of hardware or capability as Steam Deck.
Valve's Steam Deck Compared to NVIDIA
The Steam Deck from Valve's Steam store is similar to the PSP and Nintendo Switch in concept but is more or less throwing its hat in a new ring for contenders such as NVDIA with their GeForce Now service. Specifically, GeForce Now is a cloud gaming service that is similar to the ever-growing and changing Xbox Cloud gaming service that available as well. Once again though, Valve's Steam Deck is different from all of the systems and services listed above as it's new and excited and groundbreaking. All of these systems and services are certainly groundbreaking in their own right but below we detailed the Stream Deck's impact.
With a structural appearance similar to the original PlayStation handheld, PSP, Valve's Stream Deck uses the Steam application as it would on a Windows computer and gives owners the ability to play their entire library as a handheld title. This is incredible interesting with just the thought of the amount of games that become handheld that can't even be played without a PC normally. As a Mac user, I am quite limited to the games and projects that developers decide to create for the platform so theoretically the Steam Deck could change all that with its capabilities.
Some of Valve's Steam Deck Features
The price tag is a little steep for what the system was announced to do, but it's rumored that the device will actually work similar enough to a PC to perform functions outside of just what can be done on Steam's own services and platforms. There are 3 variants to choose from for the Steam Deck, starting at $399 and offering two more expensive options at $529 and $649. The standard, cheapest bundle comes with the Steam Deck system as well as a carrying case and 64GB eMMC internal storage.
The second tier package at $529 offers case, 256GB NVMe internal storage, Exclusive Steam Community profile bundle and faster storage. The third and final tier at $649 offers everything from the previous tier, as well as other unique features compared to the others. The $649 bundle also features 512GB NVMe SSD internal storage, premium anti-glare etched glass and the fastest storage option. Price aside, Valve's Steam Deck could have a huge impact in portable gaming for several reasons.
Although there are differences with storage speed and space, among other things, but it is stated on SteamDeck.com that there is no in-game difference in frame rate or graphics between the three models. So on top the extra little perks that each tier comes with, storage really seems to be the ultimate decider over what tier most people will be choosing. It's a nice surprise to see the carrying case as a bonus for all tiers but minor features such as the profile bundle and virtual keyboard aren't very enticing.
Valve's Steam Deck Compared to Nintendo Switch
In detail, when compared to the large family of Nintendo handheld systems, Valve's Steam Deck does of course do the general task that the systems were created to do: host an array of features and video games. However, every Nintendo handheld released not only made the one before it obsolete but also only featured minor improved features from previous generations. Up until the Nintendo DS handheld system, the system couldn't do much outside of just play games and adjust various setting for said games. With the release of Nintendo's DS they added new wireless features such as app like programs to play games and communicate with friends and players and internet capabilities, also wireless. Although they were just simply applications such as a notepad and drawing boards, they still opened the door for future products with similar features.
Going forward from the Nintendo DS, the next true step in portable gaming from the company, outside of a few minimal DS re-releases and outside of their Wii and Wii U systems, came in the form of the Nintendo 3DS. The 3DS was treated as a brand new system, as if the original DS never existed, and for good reason. The Nintendo 3DS had very unique features such as camera capabilities that utilized 3D rendering technology to give owners new party-style features to work with among friends. Much like previous portable gaming systems released by Nintendo, the 3DS got various hardware and system upgrades such as the XL. After the 3DS XL, Nintendo released what was entitled New Nintendo 3DS, oddly, and also got a XL variant among other upgrades.
Essentially combining the components of their Wii and Wii U systems, and their portable gaming systems, Nintendo entirely abandoned making two different consoles and finally released the Nintendo Switch features main features of both console types. While the Nintendo Switch is overall treated as a home video system similar to Xbox or PlayStation's general systems, by simply removing the screen with attached Joy-Cons from the dock, whatever you were currently doing becomes portable. The Nintendo Switch, upon release, was a strong and surprising contender for the Xbox One and PlayStation 4 systems and over time has only become even more of a contender as it's still competing with Microsoft and Sony's newest consoles. For a good while now, Nintendo's Switch has been getting the AAA titles that Xbox, PlayStation and even PC only ever had before.
Valve's Steam Deck Compared to PlayStation's Handheld Attemps
Now, PlayStation's portable gaming system simply entitled PSP, and the re-entry into the portable gaming arena with the PlayStation Vita, had a much different fate than Nintendo's rise to the competition with their Switch system. While the PSP had standout features and was the first portable gaming system to feel like it played full-fledged console games, it didn't compare. The Vita however was more than just a portable gaming console as it also had TV options and the option of 3G connectivity. Eventually the PS Vita evolved into PlayStation TV but that also did not last too long and Nintendo remained on top with the DS family. Of course Nintendo's Switch came out in a more modern video game era with greater technology compared to the PSP and Vita.
When we compare any aspect of these consoles from Sony and Nintendo to Valve's Steam Deck, we see many, many obviously differences visually but internally and how well it works ultimately will decide the fate of this device. This is quite the gamble from Valve to say the least but even if the portable gaming system ends up being considered a flop, it'll change the handheld landscape. Regardless of what ratings or reviews Valve's new endeavor receives, the system is revolutionary and certainly interesting and new to say the least. Various aspects of all of these systems, inside and out, could be compared down to single coil.
The Rest of the Steam Deck Picture
Valve's Steam Deck could have a huge impact in portable gaming just from its core ideology that any game on their store, generally run by a very capable PC, could run effortlessly on this new device from the company. This is a huge deal, even without being able to test the capabilities of the Steam Deck firsthand. SteamDeck.com details the hardware, software, tech specs, gameplay and other features the supposed portable gaming solution will have. Everything is expected to be highly streamlined, and to an even greater extent, instead of a deciding between controller or mouse and keyboard, both options are always at hand.
That statement alone, displays the sheer level of change that Valve's Steam Deck will have on the future of handheld and portable gaming options regardless of its success. With a trackpad on each side, as well as analog sticks and other buttons such as directional buttons and your traditional ABXY style setup with other key buttons and features. Additional key features, exclusive to Steam Deck are also the Steam button, quick access, menu, view, two microphones, headphone and type-C ports and bumpers. There's also 4 assignable grip buttons to be found on the back on the Steam Deck in order to create a more keyboard type of feel.
With just the sole purpose of playing anything from your Steam library comfortably without a problem on a portable gaming solution, you can sign me up for Steam Deck. Being that I can't play the majority of my preferred games on a Mac, personally this would be a major convenience to me, especially considering it can connect to a TV or monitor. Beyond the core purpose of Steam Deck, it could still change portable gaming in a major way.
Valve's Steam Deck Provides Infinite Possibilities
It specifically states on the FAQ section of Valve's Steam Deck portion of the Steam website that "Steam Deck is a PC so you can install third party software and operating systems. The company that created the portable gaming system promoting their own product but simultaneously stating that it's capable of doing anything a PC can do makes it an something else entirely. A supposed portable gaming solution that can instead do whatever PC task the user wishes is a pretty phenomenal statement. This literally makes the possibilities for the Steam Deck upon launch limitless.
When it comes to any kind of hardware, especially something of this unique caliber, hackers are expected to expand its boundaries. However, it appears that Valve's Steam Deck may not need to be "jailbroken" so to say as it can upfront just download and use what ever software sought to be used. Perhaps it could download the Epic Games Launcher or even Spotify. While I don't believe that these will be too difficult, I'm sure it won't be long before hackers do find something that can be done to Steam Deck to make it an even more impressive piece of hardware.
Steam Deck's Likely Impact on Portable Gaming
Overall, I find the Steam Deck something worth checking into, especially if you don't have a PC that's necessarily built for gaming but have the funds to spend on something like this. One thing I would certainly be aware of with a system like this is to be mindful of storage and not to download anything until you're going to be playing it to save the strain on the system's memory and RAM. Valve's Steam Deck getting thrown into the mix of hybrid full blown console and handheld clearly shows that it's going to have a huge impact on the future of portable gaming. It could even be said that this new combined genre of systems may keep growing from companies like Sony and Xbox as well and maybe even some other contenders such as