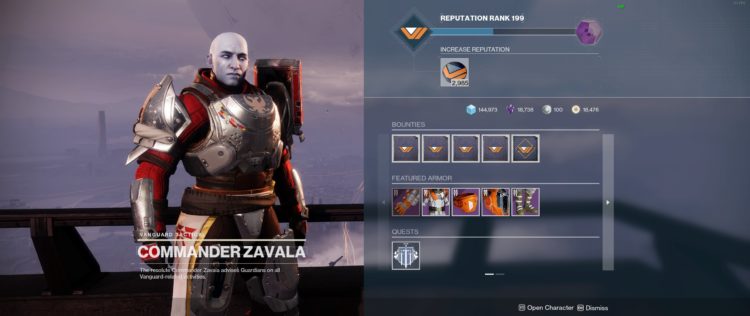 Bungie has been overhauling most of the playlist vendors for a few seasons now, starting with Crucible and Gambit, which has seen changes in the entire reputation ranking system, the way players earn rewards, and have even removed the token system entirely. The one playlist (besides Trials of Osiris and Iron Banner, which also desperately need reworks) that hasn't gotten its overhaul is the Vanguard playlist. However, in Season 15 (next season!), the Vanguard playlist is finally getting its overhaul and will be changing pretty significantly to match the other playlists and streamline reward and reputation systems. Unfortunately, for those of you that have been hoarding your Vanguard tokens, this means that you'll need to turn in all 15,000 of them before Season 15 begins, or else they'll be removed from your inventory entirely. So, how exactly is Bungie reworking the Destiny 2 Vanguard playlist? Is it going to be better than it is now?
Activity Reputation
So, the Vanguard playlist isn't the only thing that's getting changed next season. Reputation systems are also getting some pretty big changes coming in Season 15:
In Season 15, ritual reputation systems on Lord Shaxx, The Drifter, and Commander Zavala will be known as Crucible, Gambit, and Vanguard Ranks.

The names Infamy and Valor will be retired.

Glory will continue to live as our competitive Crucible reputation system.

We are also introducing Trials Ranks in Season 15 — more about that in a future TWAB.

We're rebalancing all ranking systems to have similar progression times.

Our goal is to let players reset Vanguard, Crucible, and Gambit Ranks slightly faster, on average, than Valor currently allows.
There will no longer be ritual-specific rules that impede progress.
We are removing win streak bonuses, in exchange for activity streak bonuses.
Reputation bonus weeks have been standardized to 2x multipliers when active.
Bounties will no longer provide reputations as rewards, but primarily focus on XP.
I'm definitely excited to see more of a focus on actually completing activities rather than completing bounties to earn reputation, and I love that there won't be any ritual-specific rules that prevent progress from being made, especially in those non-competitive game modes. I understand the change from win streak bonuses to activity streak bonuses, again in those non-competitive game modes, because it looks like win streaks will still exist in competitive Crucible.
Repping the Vanguard
Currently, the only ritual reputations that are in the game are Crucible (Lord Shaxx) and Gambit (Drifter), but in Season 15, Commander Zavala will also be getting a full ritual reputation for the Vanguard playlist. Players can start to earn Vanguard reputation when completing strikes, Nightfalls, and Battlegrounds (though, Battlegrounds will eventually be removed from the game), and Nightfalls will even have a reputation multiplier based on the difficulty of the Nightfall. This is something that I'm definitely excited to see, because there's not really a reason to do Nightfalls at any higher than Legend most of the time, except when you're trying to do Grandmaster Nightfalls or hit 100k for the Pinnacle reward.
Activity Streaks
Season 15 of Destiny 2 is also set to introduce activity streaks, which will incentivize players to stay in activities. The longer you stay in Destiny 2 Vanguard activities (playlist or direct launch), the larger your streak bonus will be. I'm really happy to see this, because there really isn't any incentive to actually do any of these activities throughout most of the game, so hopefully we'll see some solid rewards with these activity streaks. It's also nice that you can leave matchmaking to head to the Tower or the H.E.L.M. to grab bounties, clear out your postmaster, or whatever you need to do, without worrying about losing your streak.
Grandmaster Guild
Guilding your Grandmaster title will also be a bit of a different experience – or at least it can be.
The Grandmaster catch-up node will become available at the same time that Grandmaster difficulty is available, so long as you have the Conqueror title but have not yet gilded it this Season.
Each Grandmaster Nightfall will be available if the fireteam leader has not completed the gilding Triumph for that strike during the Season.

In other words, you may play each featured strike for a Season to earn your gilded title.
Once you've gilded your title, the catch-up node will no longer be available.
Those are really the biggest changes coming to the Destiny 2 Vanguard playlist. Honestly, I'm pretty happy with a lot of these changes. It's about time that we got a reason to participate in these playlists, and I actually think that the new Grandmaster options aren't as terrible as some people may think. All you have to do is just not guild your Grandmaster title, and keep farming the easiest GMs for that season, right? Right? Please, Bungie, just let me continue to farm Lake of Shadows.