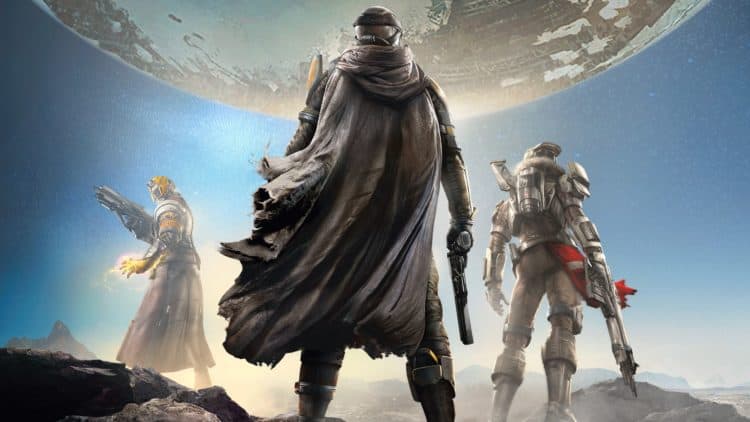 With the recent announcement that Destiny developer, Bungie, is expanding their studio size and one specific bit of information we got in the announcement was shocking. "In addition to building state-of-the-art facilities to support the growth and development of their talented employees, one of the primary drivers of Bungie's expansion is to increase the commitment to the long-term development of Destiny 2, tell new stories in the Destiny Universe, and create entirely new worlds in to-be-announced IPs." Tell new stories in the Destiny Universe is what I'm focused on here and another blurb from the Bungie announcement states "Bungie Announces Key Talent Additions and Investments at the Executive Level in Preparation for Future IP Growth and Expanding the Highly-Acclaimed and Successful Destiny Universe into New Media." New media could mean so many things, but what exactly could it mean?
Destiny Movie
I think a Destiny movie might be the most likely meaning of "new media" for Destiny 2 and honestly, I would love this. Myself and nearly every player I've ever talked to has expressed their desire to see a movie set in the Destiny universe. While it could easily be set in the context of the games, I think the best route for Bungie to go would be to explore the vast world built in the Destiny universe through the massive amounts of lore hidden in-game and within the Grimoire collections. I think it's also a unanimous decision across the entire community that there is but a single person that could play a live-action Zavala….Lance Reddick. That's right, the voice of Zavala himself, Lance Reddick is absolutely the only choice for this casting either in a live-action Destiny movie or series. Speaking of….
Destiny Series
I also think that a Destiny series would be a fantastic addition and expansion to the Destiny universe, but rather than a full-length story arc, I think that the way to go about a live-action Destiny series would be to do like Star Wars: The Clone Wars did with smaller – sometimes single-episode – arcs that tell individual stories. Think about it this way – we could have a single season related to the Hive origins and the rise of Oryx, The Taken King (which would still be awesome) or we could have an 8 episode season that gives us a single story from Shin Malphur, Rezyl Azzir, the Hive, Osiris, SIVA, Rasputin, the Awoken, and the Battle of Twilight Gap. Who knows, maybe we could get both, but I think it would be way cooler to dive into multiple stories rather than a single story told over a full season. Although, I suppose the short answer to this would be to just do multiple shows and that would solve that problem entirely.
Destiny Books
While I don't necessarily think that a series of Destiny novels is entirely likely, I definitely think it would be one of the best ways to expand on the lore of the Destiny universe. Sure, we've got the Grimoire collections and in-game lore tabs, but what we really need is some full-length novels to really dive deep and explore the lore behind the Darkness, the Collapse, the Golden Age, and the origin of the entire franchise. I would pick up the entire novel series in a heartbeat if Bungie announced that they were developing a series of Destiny novels, and I would love to be a part in writing them (but that's just a little side note in case anyone at Bungie happens to see this.) I think that a series of Destiny books could have the potential to be even better than a Destiny movie or series simply because there's so much more that can be explored within the pages of a book – there's no budget or production schedule to follow when writing a book. Clearly the narrative team at Bungie is incredibly talented when it comes to writing about the lore of the game and this would give even more people an opportunity to add their flair to the Destiny universe. Star Wars has a few collections of short stories written by many different authors that tell their own stories in their own ways, and I think that it would be amazing to see a variety of perspectives on the Destiny universe.
While I can't say for sure just exactly what Bungie means by "new media" in the Destiny universe, I can definitely say that I don't think we'll be disappointed with whatever it does mean. I can't wait for the next announcement to see what new stories will be told in the Destiny universe.