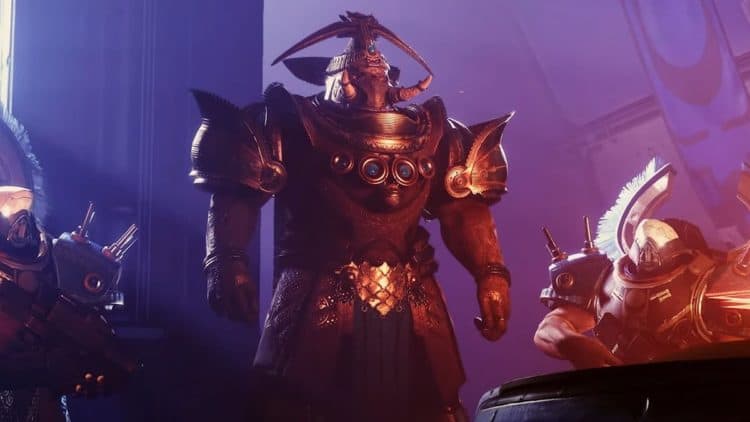 Season of the Chosen in Destiny 2 launched on Tuesday February 9 and now that I've had a few days to get my hands on the brand new (and returning) content, I figured now is a great time to let my initial thoughts on the season be known. Season of the Chosen has got plenty of new loot, a brand new seasonal activity, and new (and returning) strikes, plus some fantastic UI updates. So what do I think of the latest season to be introduced in Destiny 2? Well, just after a couple of hours of playing Season of the Chosen, it's worlds better than Season of the Hunt and as the fantastic evanf1997 puts it, it feels much more like a health update than a full season, which is definitely a welcome change to the game.
Battlegrounds
I've got a full article covering everything you need to know about Battlegrounds, the new seasonal activity in Season of the Chosen, but I'll give you a basic summary of what it is. It focuses around the Cabal. Empress Caiatl (daughter of Emperor Calus) initially proposed an alliance between the Cabal and the Vanguard, but after requiring Zavala to kneel to her and her army, the alliance was immediately rejected, thus sending us into yet another battle with the Cabal. It plays generally like a strike – still pretty linear gameplay, but a lot quicker and honestly I'm okay with it, it's not even close to being the worst activity we've seen in Destiny 2, but it's also not a replacement for The Menagerie. My favorite part about it is at the very end where you smash open the tribute chests with the massive Hammer of Proving, so if nothing else, there's your incentive to play Battlegrounds. Overall, I actually quite like the Battlegrounds activity, but I also don't see myself staying entirely engaged with it for the entire 90 day season; however we are getting a couple more later on in the season, which will hopefully introduce some new mechanics and give players another activity to complete.
War Table
The War Table is another source of perks and you can unlock these perks through gaining reputation (like Variks from Beyond Light.) So far it looks like the only way to increase your reputation rank at the War Table is by completing seasonal challenges every week and that's it. There are a total of 3 challenges in week 1 that reward War Table reputation, so it's safe to assume this will probably be the case for the rest of the weeks as well. It's kind of disappointing that this entire thing is time-gated, since I would love to be able to grind at my own pace and fully level up the War Table as soon as I can to take advantage of all of the perks for as long as possible, but I guess I understand why they time-gated it. Still, I would like to see some more sources of War Table reputation, but I doubt that will happen. Regardless, I do love the concept of the War Table as a whole, it's finally something new in Destiny that doesn't just feel like more Destiny. While it isn't exactly the biggest part of the game, I would love if Bungie used the War Table and the H.E.L.M. for future seasons and expansions and expanded on it as well.
Loot
The loot in Season of the Chosen is by far the best seasonal loot we've had in a long time. The new SMG, the Extraordinary Rendition, is my new favorite gun in the entire game. My first roll came with Surplus and a new perk called Frenzy that states "being in combat for an extended time increases damage, handling, and reload for this weapon until you are out of combat." It essentially acts like a Recluse 2.0 and it feels so good to use. This is definitely the best loot pool that Destiny has seen in quite some time, not only are the weapons good to use, they look fantastic as well! We haven't even seen all of the new loot that will eventually come with Season of the Chosen, we still have Adept Nightfall weapons, new Trials weapons, a new Iron Banner Pulse Rifle, and an Exotic quest coming that will bring us an Exotic Scout Rifle.
General Updates
There's been a few UI updates that allow players to inspect quests in full detail now; I certainly wasn't expecting this at all, but it's honestly one of my favorite features of the season. Crucible and Gambit rewards have also been reworked, so you'll just go directly to Shaxx or the Drifter to obtain your rank-up rewards and the big rank-up banner that is displayed when your rank increases has finally been moved to the bottom of the screen and is significantly smaller. I can't thank Bungie enough for doing this, that was seriously one of the biggest problems I had with these activities. Another fantastic update is that Bungie has now implemented a new Landing Zone on Europa to finally allow players to fast travel to relevant areas without needing to Sparrow-ride all the way across the map.
Overall, I think this is going to be a very good season – much better than Season of the Hunt. We've still got a whole bunch of content that will release in the coming weeks and months to look forward to. So far, Season of the Chosen has not disappointed and is already by far one of my favorite seasons in Destiny 2.