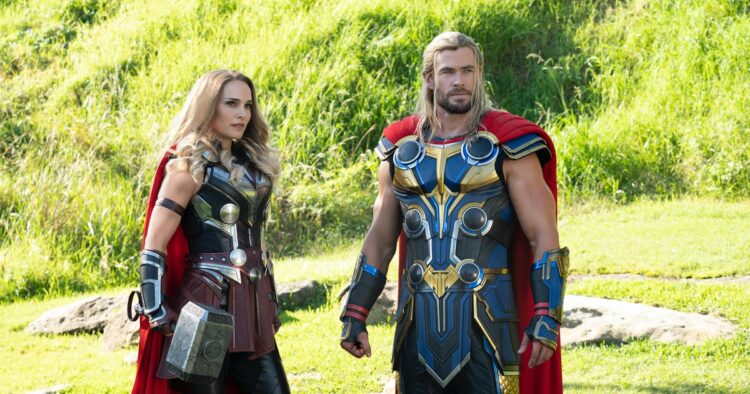 It feels as though it's a little early to start wondering if a Thor 5 is going to be in the cards, and it's even hard to think that Chris Hemsworth would stick around unless the price was right. Even Taika Waititi, the director, isn't entirely certain if he would do such a thing, but it can be said that the almighty dollar might be enough to get him back, since it's tough to turn down a payday, even when you're already rich and well-known. Plus, if you happen to be into telling a story then it's really tough to walk away since the urge to keep that story moving forward is insanely addictive, not to mention that it will haunt a person that wants to keep the story alive. But until Thor: Love and Thunder is seen to do one thing or another, it does feel as though the decision is going to hinge on how well the fourth movie does and whether or not it leaves enough in the tank for another movie. Some might even want to see a sixth movie to complete another trilogy, but the way things appear to be going it does sound as though Hemsworth might think about leaving soon.
There are plenty of fans in the MCU that would love to see this happen since there's no doubt that many of them would love to see the Avengers return in a triumphant manner and perhaps even see a Tony Stark from an alternate earth make his way back for another big crossover. The fact is that the MCU is changing, and Thor is now one of those that have been a part of the franchise for the longest since Captain America is gone, Iron Man is gone, Hawkeye is still getting a ton of disrespect, Black Widow is gone, and Nick Fury is doing who knows what as the franchise continues forward.
The point is that Thor feels as though he's being played out slowly but surely, and while this upcoming movie might re-energize the god of thunder, it does feel as though there might be a point when he'll outstay his welcome and will find that the fans are likelier to turn on him than cheer him on. It does feel as though Jane's character, as well as Valkyrie's, are who fans want to see more often at this point, and as mentioned, it's not certain that Hemsworth still wants to be there as much. This is pretty common when it comes to the MCU actors, since a lot of them have had a solid career leading up to their time in the MCU, or have found a foothold while still acting in the franchise, and might want to move on and see what else they can do without being bound to the franchise. The fear of being tied to one role for too long is kind of valid since there have been plenty of people that have been unable to shake a role once they stuck with it for too long, as fans will see them as that character and nothing else no matter what they do.
One good thing about Hemsworth is that he is going to be seen as Thor for a long time to come, but he's also been remembered thus far for other roles such as the goofy receptionist in the ill-fated Ghostbusters remake, as well as Tyler in Extraction. That's not a bad start to finding other outlets for his career to be fair, and he's still working on other projects not associated with the MCU, so it's not as though he's sitting still. But a Thor 5 feels kind of ambitious at this moment, especially since there's no way of knowing yet if Thor will have a future among the gods after this movie. There's no doubt that the idea for a part 5 is already in discussion if we're seeing it online, but it's a big hope that if it does happen that it will create a new storyline that might adhere to something from the comics, and perhaps lead Thor to a worthy conclusion at some point. There does need to be a point when Hemsworth can exit, if only because that appears to be something he might want sooner or later.
But would Natalie Portman stick around? Would there actually be a Thor left behind? It's tough to say at this time since it's a big hope that the Eric Masterson angle wouldn't be used. It feels as though the MCU might want to keep a Thor around as long as they can, which might even mean an appearance by Beta Ray Bill at some point. But as for Chris Hemsworth, it's fair to say that at one point there won't be enough money to keep him around. Thor 5 might happen, but it's easy to think that it might take a great deal of finesse.
Tell us what's wrong with this post? How could we improve it? :)
Let us improve this post!