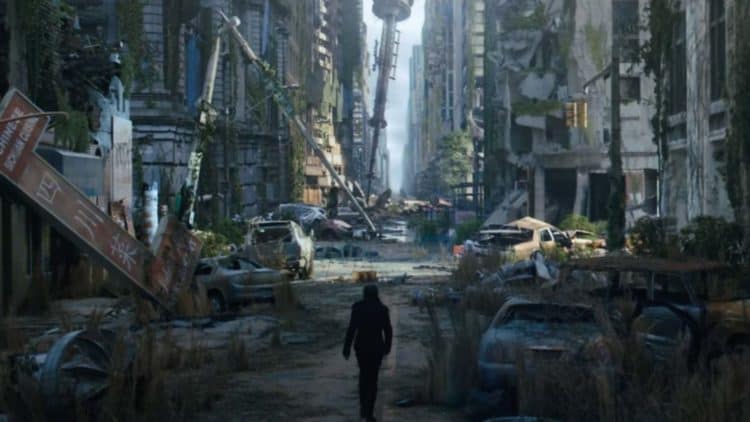 One reason why DMZ hits so close to home is that many people still believe that the USA is headed toward a revolution and a possible civil war that will tear the nation apart yet again. Some would say that the nation has already been torn apart and that it's just a matter of time before the fireworks really start, while others are hunkering down to prepare themselves for what might eventually come. In DMZ, the HBO Max version at least, the nation has already suffered a schism that has torn the island of Manhattan from the rest of the country and given it over to those that propose to create their own territory, even if they're little more than slick-talking thugs. Parco, played by Benjamin Bratt, is by far the more ruthless of the two men that are vying for control of Manhattan, as Wilson Lin, played by Hoon Lee, is more of a businessman, though he's fairly ruthless as well. The situation in the DMZ is simple enough, the war left it separated from the rest of the USA, with a border that's fiercely protected.
That's why Alma, played by Rosario Dawson, is shown to be ferried in by a guide who gives her 24 hours to find her son, as this is her main mission. During the evacuation of Manhattan, as is seen through flashbacks, Alma and her son Christian were separated from each other while trying to board a bus that would take them to safety. Eight years later, after searching all over for her son, Alma has made her way back to the DMZ to seek him out, but as it's established early on in the limited series, it's a bit too late to reconnect, or at least that's the impression we're given. Skel, the man that Christian has become, is fully integrated into the life that his father, Parco, has given him.
Alma's risk is heavier than many know since while she's on a quest to find her son, she ends up finding out what life is all about in the DMZ as she makes her way from one location to another. There are limited resources, not nearly enough for everyone, and yet men like Parco and Wilson tend to live high on the hog under the illusion that they're taking care of people and giving them the kind of life that they want and need. The truth is that their interests are their own, and this is made clear when it comes to the source of their power and how far they're willing to go to keep it. Even Wilson, who is a former friend of Alma, isn't all smiles and good news, save for the surface. The DMZ is a place where being hard is one of the only ways to rise, and surviving simply takes keeping your head down or being the nastiest rat in the pile. Parco is by far the nastiest, though Wilson does manage to make a case for being one of the more organized of the bunch. But Rose, who operates the water station, is likely one of the most powerful.
Alma's quest to meet and possibly save Skel from the person he's become doesn't go so well at first since he's highly resistant, as he believes that she left his father to die, as Parco was incarcerated when the nation split from Manhattan, and there was no one to come break him out. But as much of a badass as Skel is, he's still easy enough to break as the series shows. Even though he's Parco's son, Skel still has doubts about the future, especially when he starts to note the depths to which his father will sink. While the HBO Max version might fall a bit short of the comic series and definitely changes a few things, the story is still compelling since it brings to light a lot of the issues that America is dealing with at this time, such as one of the biggest issues, which has to do with the haves and have-nots. This is an issue that still plagues the nation and is bound to keep happening since it's older than the USA and has been around for longer than many want to admit.
But the show is still great to watch since it goes into enough detail to show people the difference between those that simply want to live peacefully and whatever dignity they can keep, and those that are willing to take everything from others to maintain their power. Their ultimate downfall is seen when they stretch too far, as eventually Parco and Wilson both find out that when you're at the top, the eventual fall is often greater than many would care to think about. It's believed that this story won't make it to a second season considering that this was designed to be a limited series. But there might be hope, especially if there's reason to think that the story could be continued.