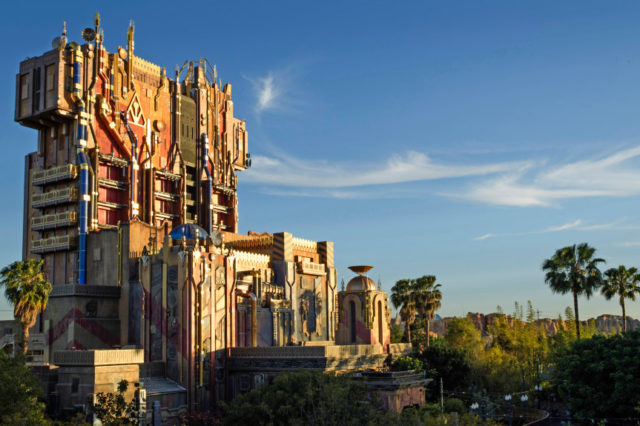 The photo above isn't exactly the sexiest of looks. It's kind of grim if you ask me. However, there's a reason that the Guardians of the Galaxy "Mission Breakout" attraction at Disneyland. Recently some journalists had the pleasure of taking a "hart hat" tour of the ride. Apparently the reason for the bland and scary building is that it's supposed to resemble The Collector, a villain in the film. As far as the right itself, here's a full description:
The premise is that a villain, known as "The Collector — Taneleer Tivan" from the movies, has captured the five Guardians, and has put them on display, along with many other creatures inside his "fortress" here on Earth. He is so proud of the collection that he has opened his fortress up for tours.
However, while on their tour, visitors find out that Rocket, the raccoon, escapes and enlists their aid in helping his fellow Guardians escape — and that's where and when the free falling elevator portion of the original Tower of Terror ride takes place, with a few differences.
It was revealed they there are "six versions of the ride portion of the attraction, with a computer randomly picking which version riders will see, hear and (when they zoom up and free fall down) feel." They also said that instead of a slow start to the top, they want to "high-impact zoom."
Check out the preview and more photos below: