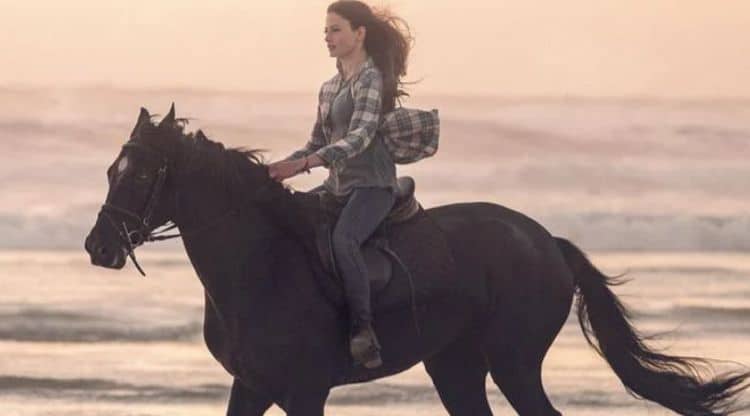 Black Beauty is a story that's been tossed around a bit over the years and each time it's been brought out people have been happy to see it, but each time it's faded off into the sunset again until someone with enough ambition decides to do it once more. That might make it sound as though each new version is missing something crucial, but in a sense, it's more like this story is something used to comfort people, to help them relate to something that can help them reconcile with a hard and painful time in their life since the story is essentially about finding someone that can understand what another individual is going through. Black Beauty was taken from her family, while the main character lost her family, which is a bond that the two of them share and as a result, start to heal over since they complete one another in a very fundamental way. People that want to scoff at the emotional ties that can exist between a person and an animal are often those that don't let themselves feel that deeply or have never experienced the tie between themselves and an animal, or they simply don't believe it since in a big way it can defy logic since the truth is that animals and humans think in very different ways.
Stories such as this point out the idea that people and animals feel in very similar ways, which is something that a lot of folks might still downplay, but many others will point to since the idea of an animal choosing to trust a human is alien to some people and familiar to others. Black Beauty is a time-honored classic that has changed and updated over the years until it's become the movie that Disney+ will be pushing to the audience around November 27th. This is one of the stories that many people grew up with since the original was presented in 1877, and is, therefore, a certified classic that's been around for longer than anyone that's enjoyed it has been alive. It's continued to be a favorite among many people since it does teach a couple of very important life lessons and it does cater to a certain crowd of people that might find the story more than a little inspirational and capable of giving them the kind of answers in life that they could find on their own but can enjoy when reading this story or watching the movie.
The touching story of a young woman that's been sent to live with her uncle and how she comes to bond with a spirited mustang that no one else can control is one that has inspired a great many stories and has turned a lot of people on to horses in a big way since, for many a generation, horses have been behind world history and have helped to shape it, but they rarely get the kind of attention that would count as a giant 'thank you' for their contributions. Some would say that it's silly to thank an animal that can't say the same in return or might not understand the gesture, but the fact is that a lot of animals are a great deal smarter than humans give them credit for and in many cases are far more empathetic than people think. There's not enough time in this article to really go into detail about horses tend to pick up on emotion and can actually choose who they're comfortable with and why, but the truth of it is that from a biological and psychological standpoint, horses are able to actually choose who they're comfortable with just as well as any other animal, and they'll gladly shy away from those that don't ask for their respect or give it in return. Dominating and 'breaking' horses has happened for generations and it's become a common theme among people that train them, ride them, and have used them for all sorts of purposes. Horses can and will be broken when needed for service, but the bond that is experienced in Black Beauty is something that many horse enthusiasts will understand as the strongest bond between a horse and their rider.
It's very easy to wax poetic about this all day since that kind of a bond can be formed between humans and a great number of animals since it's based on mutual respect and the ability to recognize something within each other that allows both parties to approach each other with a better understanding of what they need from one another. That's a part of what makes this story so great since it's a tale that shows a human being that's been hurt and a horse that has been ripped away from what she knows bonding over similarities that bring them closer together.