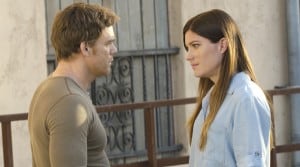 Last night's penultimate episode of Dexter did the best that it could at managing the poorly told stories that this final season has been plagued with and actually created some compelling emotional moments, a feat that I had essentially given up on ever seeing from Dexter again. While Saxon still got way too much focus and Dexter's voiceover and conversations with Ghost Harry were filled with clunky, unnecessary dialogue, the Dexter writers gave us numerous scenes between Dexter and Deb, again showing why both Michael C. Hall and Jennifer Carpenter are the stars of this series and why these two characters, and their relationship, should have been the focal point of this final season, instead of a countless number of bland and uninteresting side stories that have amounted to nothing.
Before I discuss this episode further, I have a confession to make: I didn't always love Debra Morgan. I thought she could be funny, and I loved hearing her curse; however, when a discussion of favorite television characters would come up with my friends, Deb would never be anywhere near the conversation, not even a blip on the radar of my thoughts.
That all changed during season six of Dexter (which many believe to be the series' worst season ever, although season eight may beat it for that distinguished honor), when Deb got the lieutenant job over Batista and was not saddled with another boring season-long love interest. Instead, we finally got to see what independent and intelligent Deb looked like, and it was a breath of fresh air. I actually began enjoying her scenes during season six more than the ones that involved Dexter, and my love for Deb as a character only grew when Dexter concluded its sixth season with Deb finding out that Dexter was in fact a serial killer, and in the series' seventh season, where we got to see the ramifications of this discovery on Deb and her personal struggles with her brother. For me, Deb transformed from comic relief into the series' most gripping and interesting character, and her strained, co-dependent relationship with Dexter became one of the best things I had ever watched on TV.
Thankfully, in "Monkey In A Box," Dexter finally returned to what the series so much fun to watch last season. We had scene after scene between Dexter and Deb, as she tried to cherish the last couple days that she would see her brother before he left for Argentina with Hannah and Harrison, leaving Deb alone with no family or support.
While I did not buy Dexter and Deb's explanation that Dr. Vogel had "brought them back together," every other moment that the two shared on screen felt raw and genuine, specifically when Deb shows up to Dexter's packed away apartment for one last "steak and beer night" and doesn't leave when he tells her that Saxon is coming but instead helps Dexter sedate and capture him. Even though one could make the argument that Deb's lines about how nothing would stand in the way of her seeing Dexter for one last night or how he never needed a "code" to be a good brother were a little cheesy, I thought that they were the most emotionally honest moments that Dexter has provided all season, and they were anchored by Jennifer Carpenter's delivery and the deflated, tearful expression etched across her face.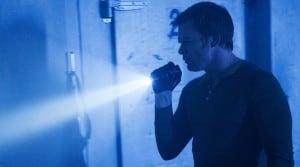 For me, those little moments between Dexter and Deb are what I will miss most about the series after it ends next week. Saxon is back on the loose, and Deb has been shot and is now in danger of dying, another indirect consequence of Dexter's decisions. We still have to see how all this business between Hannah and Elway plays out as well. Frankly, however, I don't really care how Saxon is dealt with or whether Hannah and Dexter are able to make it to Argentina. No, instead of all that incessant drama, give me some more time with Dexter and Deb, cursing and laughing and drinking beers together. That's what I want to see from Dexter. That is what I will miss the most.
Other thoughts:
– Miami Metro Update: Deb is finally back at work and is back to flirting with Quinn; the whole department, lead by Batista, awkwardly says goodbye to Dexter; and Masuka and his daughter are still kind of there.
– So, with only one episode left in the series, how do you think Dexter will end next week? And with all of this nonsensical drama hanging over the series head, do you think that there is any way that it can end satisfyingly? My prediciton: I think I'm going to be disappointed.
What did everyone else think of last night's Dexter? Are you sad about next week's series finale, or are you ready for Dexter to finally end?