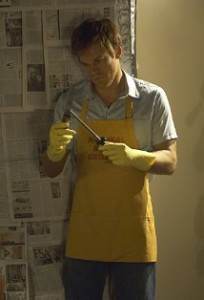 Dexter got its mojo back tonight. After a sluggish episode last week, everything we love about our Natural Born Griller was on full display in 5.03.
It seems like forever since we've seen Dexter's patented sense of humor, but tonight it was back in spades. From the opening crack about Mary Poppins, to the many voice-over one-liners and Masuka (C.S. Lee) telling Maria (Lauren Velez) she should be polishing Batista's (David Zayas) lance, it was like being reunited with an old friend.
All this levity is particularly important after the two heavy episodes following Rita's death. We needed to be reintroduced to the "old" Dexter, if only to be reminded why we fell in love with him in the first place. After all, we don't want our serial killers to be too dour.
One of the funniest moments was when Harrison popped the head off that doll just as the crisis counselor was telling Dexter there would be no impacts on the toddler from witnessing Rita's murder. It's these stark, ironic moments that make Dexter such great viewing. We're always being let in on a secret. Sure, Harrison could be normal, but where's the fun in that?
Finally, we have an idea where the Batista-Maria love fest is going. It might not be that novel or jaw-dropping, but at least it's going somewhere we may have not seen coming. Whether we think Batista was out of line or not, we can't help but root for him, which puts the audience in a potentially conflicted position.
The 'Saint Death' murders are an interesting new way to bring about another slate of killings for our Miami detectives to pursue. It's far too early to comment about where any of this is going, but so far it's provided an entertaining subplot that will reveal itself in due time.
The grisly meat of the episode, of course, was the showdown between Dexter (Michael C. Hall) and Boyd. Something smells rotten here, and it's not just that dead cat. There was a seemingly innocent line at the hospital by the admitting doctor that immediately got my attention. This isn't the first time Boyd's been carted to the ER. In fact, it sounds like his sixth. So who kept putting him there?
Boyd's final words were equally as telling. I don't know about you, but I believed him when he told Dexter that Dexter didn't know what he was getting himself into. Is it possible Boyd really was some kind of Kervokian figure that actually was doing what he thought to be the right thing? If so, that begs the question about who's inflicting the suffering. And why did Boyd keep insisting that he was such a 'safety guy'?
Julia Stiles' first appearance puts Dexter in quite the dilemma. She wouldn't be the first innocent person Dexter has killed (thanks to last season), but that would be a far stretch even for him. More likely, we'll see some kind of bond form between the two as perhaps Dexter gets to see victimhood from a completely different perspective. We don't know yet what it is her character will teach him, but we can count on it being a harsh lesson. Or maybe she's not quite the victim she appears to be.
Regardless, the clusterfail Dexter created for himself by leaving a witness may be the least of his problems. Killing Boyd was supposed to be part of his "healing process." And maybe it will turn out that way in the long run. But for now, Dexter felt no different after killing Boyd than he did before. Maybe it's because he still doesn't have an answer to the question Boyd posed to him earlier in the episode: "What is it that you want?" Until Dexter can answer that question truthfully, he'll continue looking for relief in all the wrong, bloody places.
Just remember…you can't always tell if they're dead.
Grade: A-