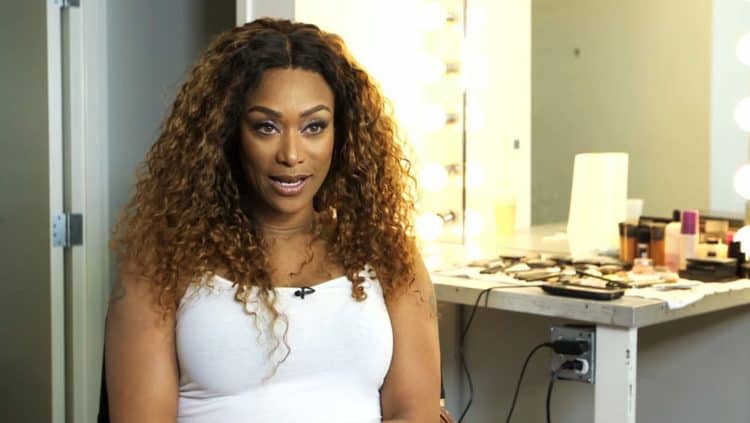 American actress, model, and TV personality Tami Roman first came to our attention on the MTV reality TV show, The Real Word. Since her debut in 1993, Tami has become an almost permanent fixture on TV, appearing as a host, an actress, a reality TV contestant, and even a weather girl. Since 2010, she's been lighting up our screens in two of her biggest shows to date, the VH1 reality TV series, Basketball Wives, and its spinoff, Basketball Wives LA. With the latter returning to our TVs this summer, now's a great time to catch up on all you need to know about its star.
1. She was a latchkey kid
Tami was born Tamisha Akbar in Mount Vernon, New York, but was raised in White Plains, New York. After her birth parents split, Tami was bought up by her mom, who was forced to work three jobs to support herself and her daughter. During those early years, Tami was a self-professed latchkey kid and was largely responsible for bringing herself up. Her life changed dramatically When her mom met and married Ali Akbar, who taught the young Tami the values of a strong family and a higher education.
2. She lived on the streets for 6 months
Despite her stepdad, Ali, introducing some much-needed stability into Tami's life, his influence wasn't to last- after finding out that he had been unfaithful, Tami's mother promptly kicked him out of the family home and started divorce proceedings. The following years were rough on Tami, and at one point, she was even forced to live on the streets for 6 months after her mom was dismissed from her job.
3. She's close to her mom
Despite (or perhaps because of) the many challenges of her youth, Tami developed an incredibly close relationship with her mom. The two weathered the storm of failed marriages, poverty, unemployment, and even homelessness to come out fighting and closer than ever.
4. Her big break was on The Real World
After flirting briefly with the idea of becoming a model, Tami abandoned her plans for the chance to appear on MTV's The Real World in 1993. Tami was an immediate success on the show, and her obvious charms and talents drew the attention of the bosses at MTV. Following her exit from the show, she landed a hosting gig on MTV Beach House (1993), closely followed by MTV Jams (1996), and Rude Awakening (1998).
5. She hit the big time after her divorce
Although Tami saw a series of minor successes in the 1990s, it was after her divorce in 2001 that she really hit her stride. The newly single Tami started broadening her reach on TV, taking on acting roles in such shows as Summerland (2004), Sex, Love & Secrets (2005) and Moonlight (2007), and in films such as MacArthur Park (2001), With Thomas Jefferson Byrd, Hair Show (2004) The Last Stand (2013) and Something Like a Business (2010). She also secured a regular gig as a weather correspondent on Los Angeles' KTLA-TV news, and a co-hosting job on the game show Card Sharks (2001).
6. She's building a business empire
Following her divorce in 2001, Tami didn't just start to see greater success in her media roles, she also started to develop a new career in business. As well as launching her own consignment boutique, Tami's ventures have included an interior decorating business, and, according to her official website a new line of affordable cosmetics, TAMI ROMAN, that's currently in development.
7. She's working on a series of cookbooks
Not content with her already highly successful in media, Tami is working on expanding her influence even further by becoming an author. As well as writing The B.I.T.C.H. Chronicles, a memoir IMDB describes as " (a) no-holds-barred look at Tami's real world", the talented star is also working on several cookbooks, in which she plans to serve up some low calorie, family favorite recipes.
8. She promotes weight loss pills
Diet pills may be a somewhat contentious subject, but that hasn't stopped Tami replacing Holly Madison and Carmen Electra as global spokesperson for 'NV Supplements and NV Sprinkles'. The position came off the back of Tami's own dramatic weight loss, which over the past few years has attracted some substantial negative publicity. Tami has responded to the backlash with some strong words of her own, taking to Instagram to write "I didn't lose weight, I lost my willingness to die. So enjoy yourself laughing,..but I have two beautiful daughters and I'm gonna' live for them by ANY means necessary."
9. She got married in secret
In June 2019, it was revealed that Tami was married, having secretly wed her younger partner, 32-year-old Reggie Youngblood, the previous year. According to court reports obtained by the Blast, the couple obtained a marriage license on August 17, 2018, and got married in Vegas that same day. Before their wedding, Tami had dropped several hints about the prospect, telling Sister Circle "I'm 48 and I don't want to spend the rest of my life by myself. So I'd be selfish to not travel down that road with someone who I really love and who loves me." This isn't Tami's first marriage: between 1994 and 2001, she was married to NBA star Kenny Anderson, with whom she shares two grown daughters, the social media personality, Lyric Anderson, and the up-and-coming hip hop star, Jazz Anderson.
10. Her kids are her life
Tami might be living the dream, but her life hasn't always been a bed of roses. Whenever she's facing challenges, she seeks solace in her daughters, who she says are her biggest comfort. "When I'm feeling down, they make me laugh. When I want to cry, they cheer me up. When I'm feeling unloved, they shower me with hugs and kisses. " she's shared.
Tell us what's wrong with this post? How could we improve it? :)
Let us improve this post!