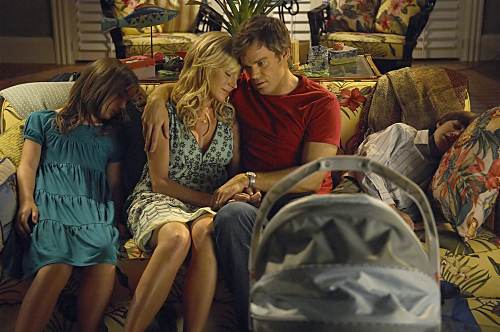 This week Dexter, America's favorite serial killer, took on one of his own – and delivered one of his best stalkings in the process, gave advice for the lovelorn, and may have discovered he is developing feelings. The other folks in the Dexter-verse didn't fare so well as Deb finally decided her romantic destiny, and may have paid the ultimate price as a result.
The episode kicked off with Dexter being left alone for a full 72 hours while Rita and the kids traveled off for a wedding. Immediately we are introduced to Dexter's kill, a dirty cop named Zoey. Zoey killed her family and blamed it on a drug dealer. Harry finds parallels between what Zoey has done, and what Dexter should do if he wants to be as successful as Trinity – revealing the cruel calculus that rules Dexter's subconscious. Although he emotes these thoughts through his inner Harry, the innuendos that percolate throughout the episode as Dexter makes his case against Zoey betray the fact that he has an ice cold spot in his heart for his family, er, cover.
But does the inner conflict also betray something else, that Dexter has feelings for his family. When the family gifts him with an 'I Love You Dad' mug on their way out, complete with – to Dexter at least – the double entendre of a crimson baby Harry hand print on the bottom, Dexter seems to develop a palpable ache. I though I was seeing things, until the end. More on that later.
The Trinity plot moved forward with Lundy and Deborah managing to predict where the killer will strike next. Thanks to Quinn's pillow talk with his reporter girlfriend, though, Trinity is also aware that an ace serial killer man-hunter is on his trail. Meanwhile, both Deborah and Lundy decide it is time to lay their romantic cards on the table and they wind up hooking up. Oops. The full impact on the Trinity case will be downright devastating though.
On the Dexter end of things, our boy is able to get the evidence to prove that Zoey has gotten away from murder, but he also find out that she is quite an efficient sociopath herself – despite her mistakes. She confronts Dexter and it is quickly apparent that her vigilance is going to make it next to impossible for Dexter to catch her off guard. Dexter's solution is fascinating to watch, and the result of some very smart writing – he essentially tricks her into trying to take him out, leading her directly to his home. It's impossibly to recap the genius, you'll have to see it for yourself.
What is interesting about this kill is that Zoey turns out to be quite a skull mechanic. Keep in mind that Dexter has already been struggling with his urge to shed his family-man skin through any means necessary, and Zoey seems to be aware of this as she delivers her last-ditch pitch with earnest trying to convince Dexter that he will eventually kill his own family just as she did hers. Dexter makes a comment about being better than her because he can continue to covet his family despite what he does sets off an epiphany within Dexter. At this moment, the deal is sealed – Dexter does love his family, and his state-of-the-art will be to keep that love encapsulated while he does the horrible things he does.
The Lundy situation does not turn out so well. After giving into their still very strong feelings for one-another, Lundy and Deborah are shot in a parking lot – and it looks a lot like Lundy doesn't make it. Not good.
The 'C' story for the episode was Laguerta and Angel each coming to Dexter to get advice on their love life. Cute, but I'd still rather see Angel in the grittier story-lines – I'm sure his time will come this season.