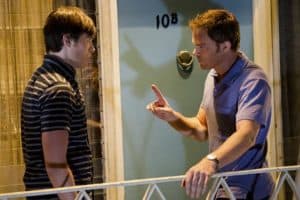 While I've felt that the past couple episodes of Dexter have been lacking a sense of urgency, tonight's new episode of Dexter, "Dress Code," definitely had more spark than in previous weeks, and in my opinion, that was largely due to the reappearance of Yvonne Strahovski's Hannah McKay. Even though I wouldn't ever say that Hannah is the most dynamic character that Dexter has ever seen, Strahovski and Michael C. Hall's easygoing chemistry, along with Hannah's ability to connect with Dexter and drive a wedge between him and Deb, was always more of a pleasure to watch than a pain. Now, with Deb barely recovering from her PTSD and still dealing, in some way, with her weirdly romantic feelings for Dexter, Hannah's presence, whether it is threatening or truly caring, should cause dramatic tension between Dexter and Deb, possibly creating a schism that neither sibling would be able to fix.
Along with Hannah, another aspect of Dexter that was stronger in tonight's episode (even though the actor portraying him is still pretty weak) was the Zach Hamilton storyline. Last week, I greatly criticized the Dexter writers for throwing too many miscellaneous distractions in our favorite serial killer's way rather than focusing on the promise of this season's early episodes, which looked to explore Dexter's emotional capabilities and decide whether he was more monster or man. Fortunately, it is beginning to look that this plot with Zach will lead Dexter to question more about himself internally instead of being a simple, crappy Karate Kid­-esque mentoring story. Whether Zach killed Cassie or not, her murder forced Dexter to confront an important issue: Was it Harry's emotional humanity hat made him such a good teacher, and if it was, then how can Dexter possibly teach Zach the Code? By addressing this question, Dexter rediscovers the themes that it began to discuss at the start of this final season, empathy, guilt, and humanity, and it regains the power and resonance that the series possessed last year and in its earlier seasons.
Additionally, I find it interesting how Dr. Vogel has slowly become less prominent as the season has progressed. In tonight's episode, I believe that she was only in two or three scenes, talking with Dexter about Zach in one and talking to Dexter and then Deb about Hannah in the other two. It appears that she has become more of a moderator for the major issues that the series wants to probe instead of a central character; however, I foresee her and Deb possibly teaming up to take down Dexter and Hannah in some way. I don't believe that this would be the series final conclusion, but I do believe that things for Dexter and Hannah are going to end bloodily; Deb, with some unintended (or maybe intended) influence from Dr. Vo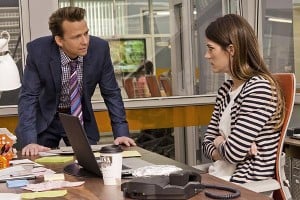 gel, may be the source of this violence as she desperately tries to rid Hannah from her life and somehow reestablish the relationship that she used to have with Dexter.
All in all, "Dress Code" did a good job of turning up the intensity during this final season of Dexter. While I still feel like there is one key piece missing (why is no one suspicious of Dexter or Deb yet? Dex definitely has to die, get arrested, or cause Deb's death before the show is over), this episode did a better job of establishing real, compelling conflict and also rediscovered some of the season's central themes, which had mostly been abandoned after the third episode. With only five episodes left, the Dexter writers need to keep it up and do even better if the series hopes to end on the high note that all Dexter fans want for the show.
Other thoughts:
– Miami Metro Update: Quinn is moving in with Jamie, Angel is not too happy about it, and Masuka found out that Niki worked as a server at a topless sports bar and tried to get her to agree to a job as an intern in the lab at Miami Metro.
– Really loved Elway calling Deb out on her behavior towards him. He's obviously into her, but it's good to see that he's not some chump. Also, Sean Patrick Flanery is just so freaking charismatic in the role that it's hard to find something unlikable about the guy.
– After her botched introduction last week, Yvonne Strahovski was such a welcome presence as Hannah in this episode. Maybe it's just because I rewatched the entire series of Chuck this past year, but I think she's great in everything that she does and her scenes with Michael C. Hall seriously sizzled.
– Who do you think will lead to Dexter's eventual downfall? (Cause it's gotta be coming, right?) Will it be Hannah, Zach, Vogel, or Deb? Or some combination of those people?
What did everyone think of tonight's episode of Dexter?