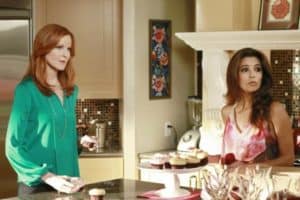 It's been a long 8 years for the women of Wisteria Lane. Together, the ladies have survived deaths, marital troubles, natural disasters, injuries/sicknesses, family issues…and that's just the tip of the iceberg! The final season kicks off with a premiere aptly titled 'Secrets That I Never Wanted To Know.'Always nice to begin on a dark note, right? Then again, this is Desperate Housewives we're talking about, and I can count on the fingers of one hand the number of premieres that haven't been full of drama.
We start only minutes from where we left off at the end of last season — with Gabrielle saying goodbye to her neighbors as they leave the dinner party, unaware that they have just spent the evening with one pretty dead stepfather in their company. The ladies take care of driving the body to an undisclosed wooded location, where they begin to bury it with the help of Carlos.
Could it be that simple for our favorite Wisteria lane girls? Of course not. While Carlos goes to get the car, Gabrielle's stepfather's cell phone starts to ring. The girls are freaked, and rightfully so — I'd imagine if I was an accomplice in covering up a murder I'd be pretty freaked out myself. Susan wants to go to the police and see if they can drum up a story to take the blame off Carlos, but Gabrielle refuses since she doesn't want to see her husband go to jail. Ever the voice of reason, Bree finally steps in and reminds them that 'this is a very bad man. He attacked our friend and her husband protected h er. And now we are going to protect them.'And so the girls make a pact to 'bury the body, bury the secret. Forever.'
As Mary Alice narrates, we segue into a month later and learn that the ladies are all responding to their secret keeping in different ways. Bree is still sleeping with her beau, Detective Chuck Vance, although he's noticed that her friends haven't really wanted to talk to him since the dinner party. Susan is stressing over the fact that she's lying to Mike, and Mike begins to notice something's off when her strange behavior spills over to obsessive-compulsive cleaning. Carlos is suffering from a large bout of guilt (and probably a bit of post traumatic stress) that has left him irritable to his family and unable to sleep at night. Tom and Lynette, meanwhile, aren't too tied up with any thoughts — they're trying too hard to prove to their children that separation does not necessarily mean divorce. Lynette wants to keep pushing the announcement off, and Tom thinks that it's because she's truly not ready to let go (which Lynette denies.)
While the girls watch their sexy and rich new neighbor Ben (Charles Mesure) move in next door, Susan goes for a run and we learn that she's been avoiding her friends for quite some time. Gabrielle tries to coax her back into the social circle with (what else?) margaritas, but Susan seems to not want to have anything to do with her friends or their secret. Her plight isn't about to get any better, though — the death of the class pet in her substitute teaching class pushes her over the edge and in classic Susan mode, she's forced to deal with her feelings rather openly when she buries the body in the schoolyard in front of the kids.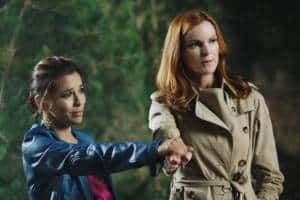 Over homemade cookies, Bree learns from Chuck that he found a dead body — and although it's obviously not THE dead body, Chuck's talk about the killer having a car sparks something in Bree. She takes Gabrielle to go find her stepfather's car, but realizes it's a stick shift – which means that of course the girls trouble driving it. Enter Chuck, who shows up and offers to drive them himself. Gabrielle and Bree make up a story about returning the car to Gabrielle's fake Aunt Shirley, and luck intervenes when they pull over for a pit stop and the car gets hijacked by a young thief. Bree seizes the opportunity to make sure the thief takes off with the car, thus keeping their secret safe.
While Renee decides to move in on Ben (which doesn't work out so well, much to Lynette's amusement), Gabrielle tries to get her priest to talk to Carlos. The priest attempts to dodge Gabrielle's request by telling her he's leaving on a trip, but that doesn't stop her from hijacking the car (there was apparently a lot of car hijacking during this episode) and driving him to the house to see Carlos personally on a detour to the airport. Although he tries his hardest, Carlos simply can't be okay with his sins and tells the priest as much. He confesses to Gabrielle later that there's nothing he can do, he just has to live with the guilt of what he's done. Gabrielle tells him how much it means to her that he killed someone just to save her.
Lynette keeps having nightmares and not knowing what else to do, she goes to Tom seeking comfort. One thing leads to another and they end up kissing, with Lynette staying the night. The next morning, Tom says they should talk about maybe getting back together. Lynette says last night wasn't about that, and when Tom asks what it was about, Lynette tells him it was just because of a nightmare. Tom gets upset and offended that he was used simply for comfort, and when the kids come down for breakfast, both realize they have no choice and need to tell them what's going on.
Mike, meanwhile, becomes worried about his relationship with Susan when he realizes how distant she's become. When the girls gather for Gabrielle's annual barbeque, Susan admits she's going to tell Mike about their secret and Gabrielle flies off the handle, resulting in a tug-of-war that lands all of the ladies in the pool — a classic Desperate Housewives moment.
As the ladies sit around afterwards, sobered by the results of their actions, Lynette breaks down and admits how hard it's been without Tom. Gabrielle says because of being so wrapped up in this secret, they're guilty of all not being there for each other. Susan realizes how important her friends are and promises keep to herself even though she's not exactly happy with it. And all seems right in the world, for now…until Bree returns home to a mysterious letter that indicates things might not be okay after all.
Early reports have mentioned that Desperate Housewives will harken back to its original roots with this final season, and that's definitely the feeling I got after the premiere. As someone who has watched avidly since the beginning, my favorite moments have been less about drama and more about the underlying friendship and devotion of these four ladies. It seems like they're really going to drive that feeling to a new level this year.
What did you think? Are you ready for the wild ride of the final season?