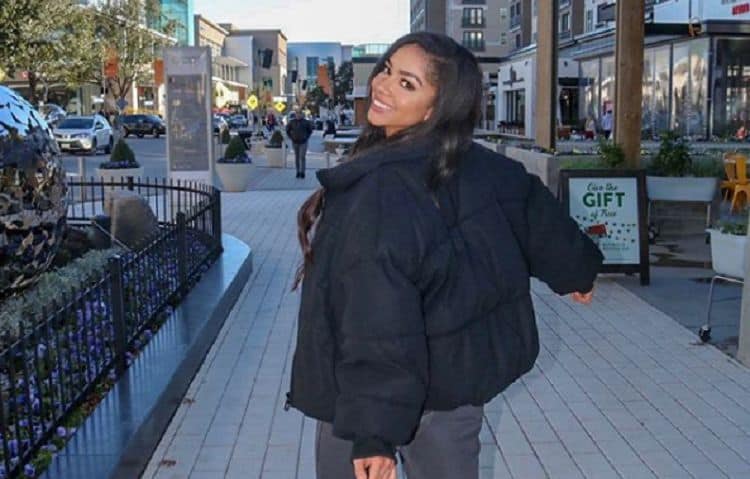 Fans of the lovely and very outgoing Deandra Kanu love this Texas gal's big smile and her big heart. Whether you're rooting for her on The Bachelor or want someone else to win, we were captivated by her Texas-sized personality. From the moment she first did the Floss and smiled her way on screen, you could see there's something special about Kanu. She says she's only been in one serious relationship before, but she's ready for her forever. Do you think she'll find it with this season's oh-so-eligible bachelor Peter? However things turn out, we've managed to turn up ten things you didn't know about Deandra Kanu.
1. The Deandra Show
When she's not on national TV, you can still get your Deandra fix. She is a social media influencer with her own Instagram, and she has her own YouTube channel where she gives her viewers more of that dazzling smile, and plenty of content to go with it. She reviews products and gives her fans a lot of health and beauty related content. You can find this reality star working out, sharing her eating habits, and much more. If you're stuck between Bachelor episodes, and you need to kill some time, watching Deandra's channel is a great way to learn more about her.
2. Deandra thrives in the spotlight
It should come as no surprise that Deandra commands attention. She thrives in the spotlight and wants people to know her name. While that's not uncommon for a Reality star, Deandra has more reason than most to have serious motivation to be seen. Read on to find out why.
3. Time In Nigeria
Most people in the world never travel more than ten miles from where they're born. If you grew up going on family vacations that might seem a little crazy to you, which says something about how privileged we really are. However, to a woman like Deandra, your trip to Disneyland might seem pretty limited as well. She's spent plenty of time traveling back and forth to Nigeria. Not only is it where her father was born, but he is also apparently heavily involved in the politics there, according to Cheatsheet. She and her siblings moved around a lot when they were young, but trips to Nigeria were one constant.
4. Home For the Holidays
The Spice Girls might say that you have to get with their friends to have a place in their lives, but for Deandra, it's all about family. She spends the holidays with her siblings and parents and considers it a necessary commitment. Anyone who wants to be her lover is going to need to be ready to head home for the holidays every year. If Peter chooses her, then he'll have to become a real part of the family, or things won't work out between them.
5. Sleep Issues Plus
On her YouTube channel, Deandra talks about why she started filming herself. Kanu suffers from sleep issues and anxiety. While it may be hard for many people to understand how anyone can have anxiety and still want to be in the public eye, they're not mutually exclusive. Worrying that things won't work doesn't necessarily mean someone like Deandra isn't going to try anyhow.
6. A Crowded House
Remember when we said Deandra has plenty of reason to seek out extra attention? You would, too, if you were one of ten children in your family. Among others, she has four sisters named Destiny, Danika and Darcy, and Daley. Getting noticed when you're literally a face in the crowd is tough. It might lead some people to get away from their family, but Deandra remains close to her family, and that's not likely to change.
7. Getting Schooled
Deandra isn't just some dippy girl who wants to find her Mr. so she can become a housewife. She graduated from the University of Texas at San Antonio with a bachelor's degree in Communication and Public Relations and a minor in Business Administration according to her LinkedIn profile. Kanu is also a Gamma Phi Beta sorority sister. This educated beauty is more than capable of taking care of herself, except when it comes to one thing…
8. Spiders
Sure, she has a degree and a successful career as an influencer, but there's one thing Deandra doesn't do. She runs from spiders. Any guy who wants to win her heart has to be willing to handle any eight-legged issues that arise while she runs the other way. Going out to a horror flick so your date can wrap herself up in your arms is a classic move, but watching Arachnophobia isn't a good choice if you want to see Deandra a second time. Of course, she may be off the market anyhow.
9. The Windmill "Thing"
This season's Bachelor is chock full of aviation jokes, but they're also bringing up the windmill story more than once. Deandra showed up dressed as a windmill in honor of the bachelor Peter's famous 'windmill incident' where he had sex in a windmill, apparently four times in one night with Hannah Brown. He's been pretty good-natured about all the jibes so far, and Kanu certainly got his attention with that look.
10. Hot & Cold
Though she was born and lives in Texas, Deandra was raised largely in Maine. She considers herself a Texan, but that doesn't mean this Bachelor beauty can't handle the cold. In addition to her international experience, Kanu has lived in all sorts of different weather. That makes her pretty well rounded, at least in terms of life experiences.
Final Thoughts
We're not sure who will ultimately win this seasons' Bachelor, but Deandra is definitely one of our favorite contestants. When it comes to love, this loyal Texas gal knows what she wants from life and her man. Is that what Peter wants too? We'll all have to tune in to find out who gets the final rose. Who's your favorite bachelorette this season? Let us know in the comments below.