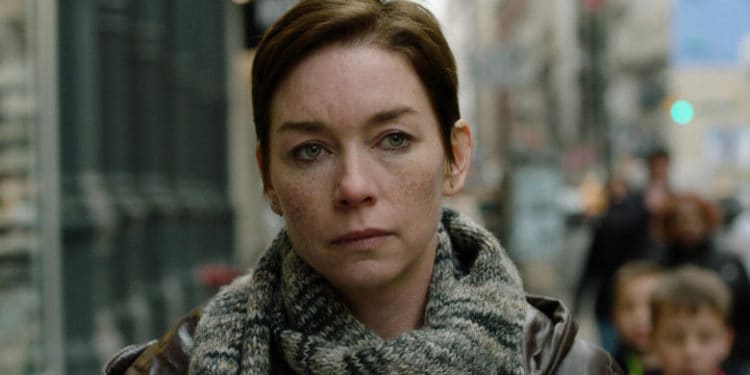 It's very likely that you've seen Julianne Nicholson around since she's played a few very notable and memorable characters and she's done so very well in fact. In some cases she's played a very low-key, not very emotion-laden character and in others she's perked up a bit and been slightly more animated. She does seem to have a very calm mien about her that doesn't invite a whole wide range of emotions, but the looks she gives and the quiet nature of her acting more than make up for this since she doesn't have to be wild and all over the map with her acting in order to get attention. She's done just fine in fact being the calm and composed person she appears to be and has made a few roles actually extremely memorable because of this. Some actors simply don't need to emote as much.
Here are a few things you might not have known about her.
10. She was in Law & Order: Criminal Intent.
Wheeler was one of her more composed characters that usually stayed calm and didn't really allow her emotions to play out throughout her role in the show. That was more up Logan's alley, as he was the hothead of the two.
9. Her career started in 1997.
She's been around for a good long time since her acting career has spanned a little over two decades now and is still going. It'd be interesting to sit down with anyone that started in the 80s or 90s and ask them just how much has changed in the industry in the last 20 years.
8. She was in I, Tonya.
She played Tonya Harding's trainer in the movie and had a rather reserved part that came and went as the main part of the movie was all about Tonya of course. But a lot of folks have expressed disbelief in thinking that Tonya was the victim rather than involved in Nancy Kerrigan's attack.
7. She was a model for a while.
This lasted for about six months it sounds like and then she was moving on. Modeling seems like something she could do if she really wanted but her time on screen has proven that she really has what it takes to be an actress and should likely stick with it.
6. She was in Boardwalk Empire.
The Volstead Act was a serious blow to the US when it came to the consumption of alcohol and the illegal process that went on behind the scenes. While the show wasn't entirely realistic in terms of the characters it did manage to show just how the act really affected the nation. Needless to say it was never a very pretty sight if you were on the side that wanted liquor banned.
5. She was a stage actor.
This seems like it might be something that's out of her range but maybe not since she seems reserved at times but it's also been seen that she can dial it up when she needs to and surprise people by bringing her acting skills to a completely different intensity than a lot of people have seen.
4. She was in Black Mass.
This is another movie that a lot of people had something to talk about since it seemed to show glaring inaccuracies that weren't adequately covered in the transition from reality to the big screen. She did display a great deal of emotion in this one as her character had a lot to deal with, namely her husband dealing with a notorious gangster.
3. She held down a waitress position for a while.
This is actually pretty typical for a lot of people looking to make the big time since the bills need to be paid and it's never cheap when making one's way into the spotlight. What people start out as in their early lives is usually pretty simple, and no matter what it is the job pays for the chance to make their way forward in life.
2. She quit school to go into acting.
It seems like a few people have done this throughout the history of cinema and it's not the worst thing that anyone has ever done. In fact for some it becomes a justified departure from the educational system since they manage to create a great life for themselves by taking a chance and finding something that they're good at.
1. She's kind of a tall woman.
She's only a couple of inches above the average but that seems to be enough to call her a tall woman since average is still at 5'4″, which seems awfully short when you really look at women today. Maybe the average needs to be assessed again.
Julianne is someone that you might forget about for a little bit but she's easy to remember if you mention just one of her more notable roles.