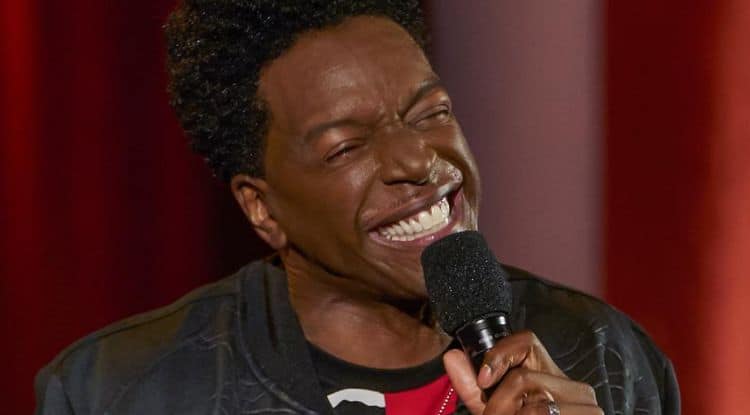 Dean Edwards is funny. He's not just a little funny, though. He's hilarious. Of course, that's a good quality to have when you make your living as a comedian, wouldn't you agree? He's one of the most famous stand-up comedians and actors in the business, and it's all because he's good at what he does. He's been in so many of the things that you've seen on television, and you might not even realize it's him. It's time for his fans to get to know him a little better.
1. He's in His 50s
It's hard to believe he's in his 50s, but he is. Edwards was born on July 30, 1970, so he got to celebrate his 50th in the 2020 year. So many people called it the worst year ever, but there were also so many amazing aspects to it, like celebrating a 50th birthday. We'd say that's a good year.
2. He's a Voice Actor
Some people recognize his voice more than they do his name. There's a good reason for that, too. He's a voice actor. He's used his voice to become Scottie Pippen as well as Spike Lee in something called "Celebrity Death Match," and he even took over the role of Donkey for Eddie Murphy when "Scared Shrekless," was created.
3. He's a Television Star
You've seen him in commercials, too. He's got a lot going on in his life, and working on the commercials is one thing he's done big things with. He's advertised for companies like Ford and Snickers in their commercials, and it's probably why you know his face when you see him.
4. He's a Married Man
While we don't know too much about his family or his marriage, we know that he has a lovely wife. Her name is Tracey Walters. We don't know when they got married, but we do know that they got married and had two kids at some point.
5. It Took Him A While to Propose
Oftentimes, when a man knows he is with the woman he wants to spend the rest of his life with, he asks her to be his wife as quickly as possible. Other times, a man simply doesn't know, isn't sure, or doesn't really have any rush to get married. It seems like he's the 'didn't have any reason to rush getting married,' kind of guy, because he took 7 years to ask his wife to marry him. It's a long time.
6. He's Ready for Tiffany Haddish
He's got a new project, and it involves Tiffany Haddish. He's making an appearance on "Tiffany Haddish Presents: They Ready," and he's got some great new content to showcase for his fans. It's going to be a fascinating project, and fans cannot wait to see him in this new role.
7. He's an Impersonator
It might be redundant to mention this, but he's very good at so many things. Go ahead and add impersonations to the list of things that this man is good at doing. He's been able to impersonate everyone from Jay-Z to Denzel Washington to just about everyone else in the business, and people love it.
8. His Instagram is All Work
If you don't already follow him on the 'gram, it might be time to do that. He has a lot of his work and his comedy on there for the world to see, and it's a great way to keep up with his projects and his comedy. He has a decent follow of more than 13.7k followers, and we imagine he will grow his following substantially in the coming weeks thanks to his new project.
9. He's Private
Dean Edwards is a private man. He doesn't talk about his personal life. He doesn't mention his wife or daughters. He doesn't post photos of them. He does not share anything about them in any capacity, and that's all right. He's dealing with his private life the way he feels is best, which is by giving his family the privacy that they need, want, and absolutely deserve.
10. He's Doing all Right
We could not find an exact estimate on his net worth, but we found many places that state his net worth is anywhere from one million to one hundred million. Either way, he's doing all right. We imagine he'd like to be in that $100 million range, but anywhere with a million at the end doesn't seem like a sad place to find yourself when you're working as a comedian, does it?
Tell us what's wrong with this post? How could we improve it? :)
Let us improve this post!