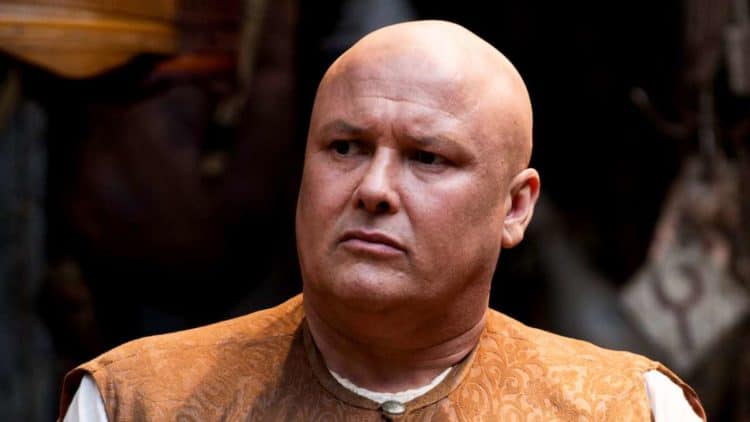 Conleth Hill is an Irish actor that is best known for his role as Lord Varys in Game Of Thrones. He has also had an extensive career on the stage. Here are ten things about him that you may not know.
1. He Was Born In Ballycastle, Northern Ireland
He was born 24 November 1964 in Ballycastle, County Antrim. County Antrim is one of the six counties that make up the country of Northern Ireland. He still lives in this area today. One of the reasons that he decided to take on the role of Varys was that a lot of the filming for Game Of Thrones took place in the Belfast area. He liked the fact that he could be back at home less than an hour after filming ended for the day.
2. His Siblings All Work In The Entertainment Industry
Hill's father was a cameraman and his siblings all work in the entertainment industry in some way. According to Wikipedia his elder brother followed in their father's footsteps by becoming a cameraman and his sister is a producer. His younger brother, Ronan is a sound engineer that also worked on Game Of Thrones and has gained several Emmys for his work on the show.
3. His First Broadway Role Was Stones In His Pockets
He starred in Stones In His Pockets as one of just two actors on stage who play the parts of all fifteen characters in the play. The play first opened in Belfast and Hill and his co-star Sean Campion then took it to London's West End and then Broadway. He has since acted in several other Broadway shows and has been nominated for two Tony Awards.
4. He Has Appeared In Two Of Peter Kay's TV Shows
He has starred alongside British comedian Peter Kay in two of his shows. He appeared as the mother of Kay's character Geraldine in the spoof documentary Britain's Got The Pop Factor about a contestant who appears on a TV talent show. He later had a role in Car Share, as a colleague of the two main characters who were all attending a fancy dress party. He was dressed as Smurfette and underneath his make up and wig there were not a lot of people that realized who he was.
5. He Does Not Often Get Recognized As Varys
His character in Game Of Thrones, Lord Varys is famous for being completely bald. However, Hill has a full head of hair which was completely shaved when he was filming Game Of Thrones. This changes his appearance more than you may imagine and so he does not often get recognized by fans of the show. He is not the only cast member that looks completely different from their character in the show because of their hair. Emilia Clarke is a brunette while her character of Daenerys is famously blonde.
6. He Has A Net Worth Of $2 Million
According to Celebrity Net Worth, his total fortune is in the region of $2 million. This is an accumulation of thirty years of work in the film, TV and theater industry. He has had recurring roles in a number of highly rated TV shows such as Suits and Game Of Thrones for which he would have been well paid. He was one of only a few cast members that starred in all eight seasons of Game Of Thrones. He has said in the past that he knows he has enough money to never have to work again and this allows him to only choose projects that he can get excited about.
7. He Has Won Two Laurence Olivier Awards
He won his first Olivier Award in 2001 for his performance in Stones In His Pockets. He won the Best Actor award and the play also won the award for Best Comedy in the same year. He won his second award in 2005 where he was named Best Supporting Actor for his role in The Producers. This was an award which would have meant even more to him because The Producers is a play that he has always wanted to star in.
8. He Will Present An Award To David Benioff and D.B. Weiss At The Upcoming Emmy Awards
David Benioff and D.B. Weiss are due to receive the Founders Award at this years Emmy Awards which take place at the end of November for their work as the show runners of Game Of Thrones. This award will be presented by Hill at the ceremony which will be held in New York. The Founders Award is given to people that have made a real difference to the world of TV and have raised its profile on a global scale. Game Of Thrones was one of the first shows to have the budget and production that was only usually seen in movies, but there are many more programs that are now made this way because of the success of Game Of Thrones.
9. He Has Never Had A Job Outside Acting
In an interview with The Stage he revealed that he had never had a 'real' job. He got his first acting job as soon as he left college and he has been lucky enough to be able to find work ever since. In the same interview he said that he may have become a gardener if his acting career never worked out. Gardening is something he now does to relax in his spare time.
10. He Made A Point Of Not Reading The Game Of Thrones Books
When he first got the part of Varys, he had not read the books that the series is based on. He made a decision not to read these books until after the show was over. This was because he knew that the character of Varys in the show would have had differences from the character in the books. He wanted his portrayal of Varys to be based only on what was written in the scripts, rather than any preconceptions he may have gained from reading the books.