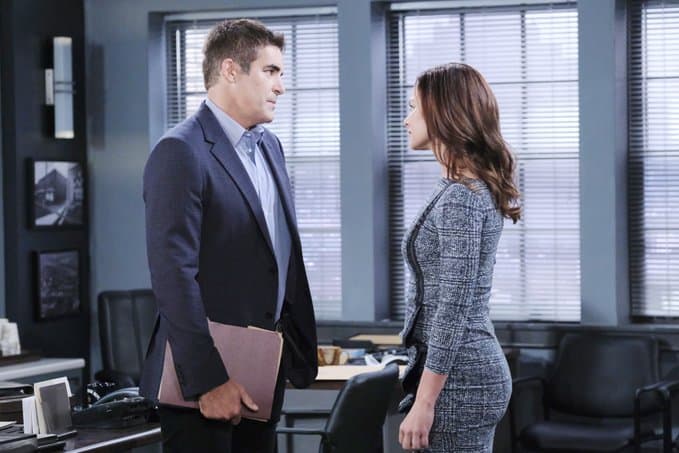 Days of Our Lives fans are still trying to process all that happened last week. For one, not one of us was able to keep up with all that was happening. Abigail and her hallucinations are taking the rest of us on a wild ride that doesn't even allow us to differentiate between what is real and what is not. We don't know anymore what is real and what she is seeing and we are simply seeing through her eyes. It's a lot. She's got to make some life choices, and we are thinking that she and Chad did just that. Orpheus has little David, and everyone is upset. Zoey is still lying to Rafe, and people are shocked by that. That, to be honest, is not something we get at all. She lies. It's what she does. Why are people shocked by this? We don't get it in the least.
Sarah is not going to forgive Xander, but he will not stop trying to make that happen. On the other side of that is Victor, who wants Brady to forgive him. That's not happening, either. No one seems to get that things are just not going to work out for everyone around here, and we are not sure why anyone is confused by that. Ciara and Ben are planning their wedding, though it seems that this will not be an easy task for them thanks in large part to the fact that they are not supported by everyone. We know that there is always going to be a problem for them because of who Ben is and who her mother is, but this is too much already. They are clearly not going to break this couple up, so why do they continue to try? We don't get it at all.
What's Happening on Days of Our Lives
Congratulations to our cast and crew on their Daytime Emmy nominations! #DAYS pic.twitter.com/9siTUNSlfo

— Days of our Lives (@nbcdays) May 21, 2020
Congratulations!
What's Next on Days of Our Lives
While Ciara and Ben celebrate their engagement, Brady and Sarah make an intimate connection and plot revenge. Watch #DAYS, weekdays on @NBC. pic.twitter.com/DN851fhnq9

— Days of our Lives (@nbcdays) May 15, 2020
It's Monday. That means that things are taking a new turn for a new week, and it's a holiday. Most people are home from work today, but that's not really any different than the past few months, is it? Most people have been home from work for many days since this is the way people are living now, and that's just that. We hope everyone is relaxing a bit and taking advantage of what their communities have to offer right now, though. The world is opening back up, and that's exciting news. Today, though, we will see that Steve and Marlena are meeting with Orpheus. They have to save John. Then we will see that Hope and Rafe have to find David, who we hear is going to help John in some way.
We also hear that Eric is going to ask Nicole to be his wife, but we don't expect that this is going to go over well at all. We know she's leaving the show, so we don't see this working out. On that note, we are sitting here trying not to be that excited about it as a result. It's too much for us, honestly. Nicole is also busy with a warning to Abe. She doesn't feel that he is making good choices in his desire to hire Kate. He feels that she is a woman who is too dangerous, and we cannot help but agree with him in some way. She is dangerous. She is not a good person, and he probably should not have hired her.
Stay tuned for more Days of Our Lives and be sure to check out TVOvermind daily for the latest Days of Our Lives spoilers, news, and updates.
Tell us what's wrong with this post? How could we improve it? :)
Let us improve this post!