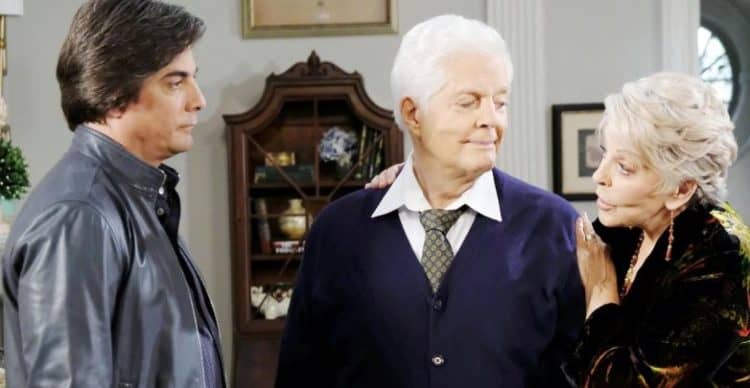 Days of Our Lives fans are all excited about the most beautiful wedding, but what happens now? Sheila is officiating all that is going on, and they are going to get married despite all that is going on in their lives. This is a beautiful moment for them, and they want to spend their time with one another enjoying every second of this that they can. They are not men who want to waste another moment not being married to one another despite all that is going on in their lives, and even what is going on with Leo and the threats he's made against them. They are stronger as a team, and seeing them together on their wedding day was just a beautiful moment for all of us. We are so excited to see them in the middle of what is meant to be something so good and so perfect.
However, there is nothing that will do much more than it did to Chloe than that letter she got from Nicole. Her old friend (sometimes enemy) is dead and gone, and there is the matter of her daughter to take care of. She's in a bad place right now, and she's not sure what to do. There is nothing to stop her from wanting to keep this baby for herself, and she's going to share what she's learned with Maggie. However, there is nothing that will stop her from being the kind of girl who stops in her own tracks to get her life in order. She's going to make it possible for all of us to enjoy what is happening in our lives, and she will make it possible for us to really get to the bottom of all that is going on. All the while, Sarah is working diligently to help Eric ensure he gets the baby.
What's Happening on Days of Our Lives
#DAYS vet Susan Seaforth Hayes (@DaysHayes ) talks about her years on the iconic soap, working with her husband Bill, and more. https://t.co/p64sPwE1nv

— TV Insider (@TVInsider) December 11, 2018
That's a lot of years, and she's a lot of woman, and we love every second of this. She's the kind of woman we love to love, and she's the kind of woman who will always make us feel good about her life. She is a superstar, and we loved hearing her talk about her time here.
What's Next on Days of Our Lives
This holiday season, the people of Salem aren't just getting even, they're getting ugly. Watch #DAYS, weekdays on NBC. pic.twitter.com/90qBX5gBZP

— Days of our Lives (@nbcdays) December 7, 2018
Sonny and Leo's wedding is not going to go as planned, but we all knew that before it happened. We all know that no one gets married around here without someone coming in and interrupting it. Someone might get killed. Someone might end up injured. Someone might just end up in a place where they cannot make it work for them. But that is not something that we can focus on if we do not get this situation together. We are just going to focus on the fact that we can easily get through the worst of times when we believe in their love, and we have no confirmation that whatever is happening is all that bad. It might not be so bad. It might just be a small matter we can get into ourselves.
But, we do know that something or someone will come in and interrupt it all, and that's never good. There will be something that happens that will bring someone down. There will be something that happens when things are going to work out, and there will be something that happens when nothing else will work out. We love all of this, and we just cannot help but wonder if there is anything that we can do to make sure this stop in its tracks. This is going to be epic, and we just hope that it doesn't permanently ruin anything for anyone. We do want to see these two young men married again, after all.
Stay tuned for more Days of Our Lives and be sure to check out TVOvermind daily for the latest Days of Our Lives spoilers, news, and updates.